Marketing strategy is constantly evolving. As we descend further into an immersive digital marketing landscape, the online sphere has become the place to be for smart start-up marketers aiming to improve exposure.
With 4.8 billion internet users rapidly multiplying across the globe, the online social sphere continues to adapt to accommodate new forms of communication, interaction and entertainment for a digitally smart demographic.
As the globe strives to become more tech-savvy, demand for digital transformation continues to be more prominent than ever before, as immersive aids such as the Oculus Rift VR headset, aim to pioneer the way forward towards a modern augmented reality.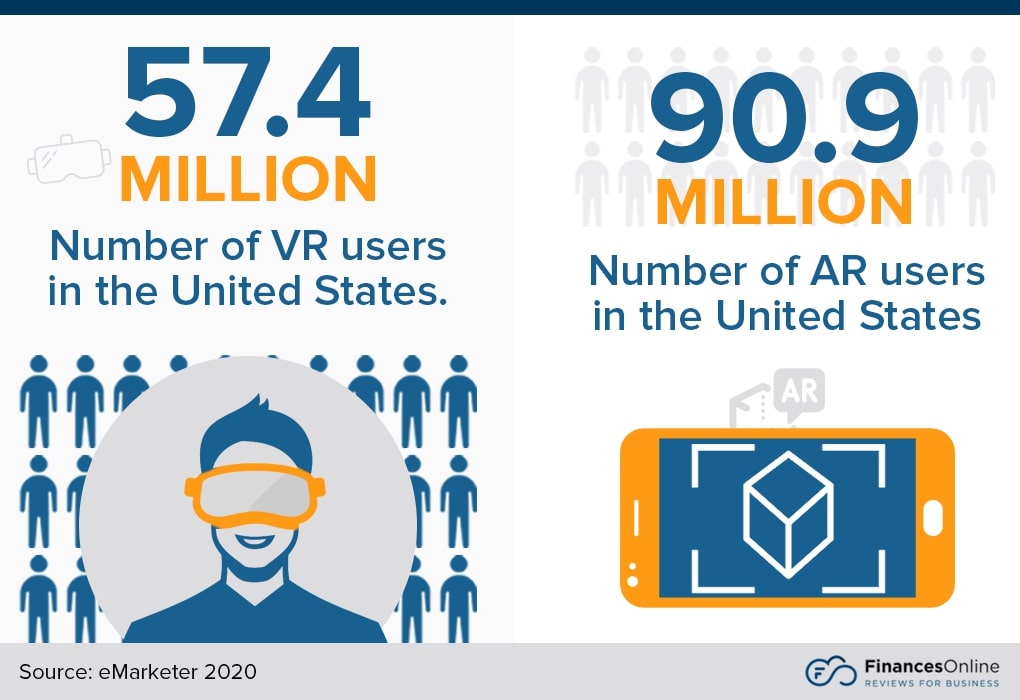 Transforming the way we game, communicate and even work in a post-covid landscape, virtual reality experts claim that nearly 58 million people in the USA alone currently use at least one form of VR/AR technology once a month. 
The question is, what could this mean for smart marketers as traditional forms of PR advertising begin to become stagnant? With the reality of the metaverse drawing closer, could an entirely virtual world see marketers sink or thrive amongst competitors?
Table of Contents:
Defining The Term 'Metaverse'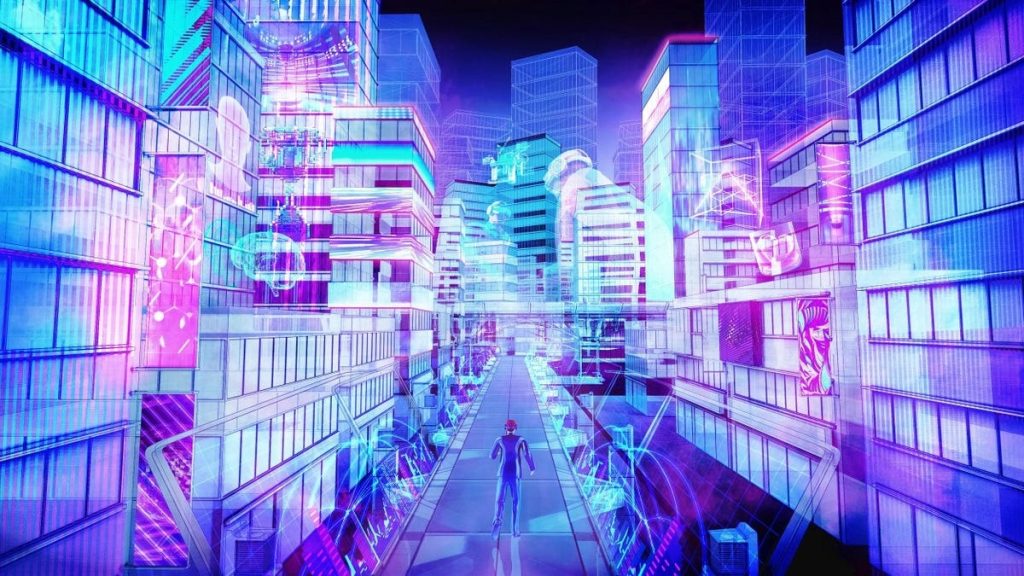 First mentioned in the 1992 sci-fi novel, Snow Crash, author Neal Stephenson first discussed the potential of the metaverse, using it to describe his version of a 3D virtual world that he could interact with and be a part of.
The term 'Metaverse' has never been forgotten since remaining at the centre of many of the modern-day debates surrounding the future of the online landscape. A modern-day metaverse would incorporate virtual reality, augmented reality and holographic forms of communication into a normalised online sphere.
The Influencer Marketing Hub define the modern-day metaverse as "something that is always active, exists in real-time, players have individual agency, it's a self-contained and fully functioning universe and contains user-generated content."
Realistically, the metaverse could easily become a second fully functional virtual world in which we are represented by virtual avatars. In the same way as the physical world, it would grow and develop based on user interaction and decisions, continuing to expand as more users joined the platform.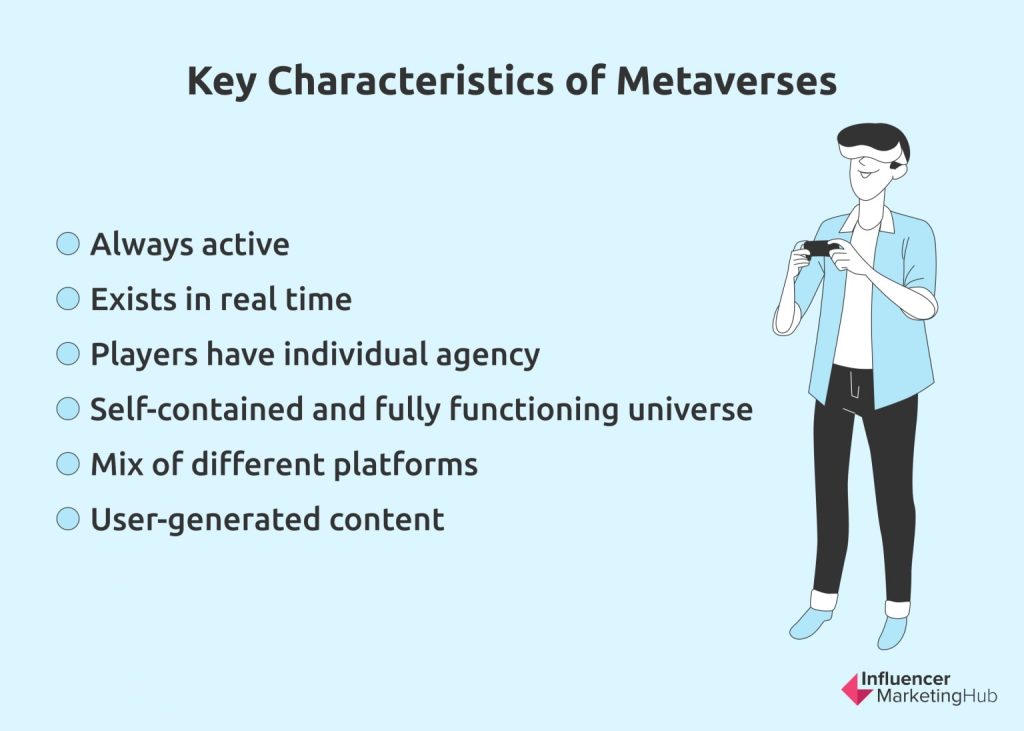 Some of the key characteristics that could drive the success of the metaverse are its ability to be constantly active and exits in a real-world time frame. Users could interact with one another, in the same way, they would outside of the metaverse, providing them with opportunities to create, own, sell and invest across a multitude of platforms.
This is where it gets interesting for smart marketers. As the metaverse continues to become a modern form of reality where users have the powers to buy, sell and invest, could it be time to shift marketing efforts to target a new virtual audience?
Read on to find out just how important metaverse marketing could be as we step into a future of interactive audience targeting and immersive 3D advertising.
How Will The Metaverse Affect The Future Of Marketing?
The metaverse is set to transform the future of marketing practice like never before. As the number of virtual conversations grows exponentially, there are more opportunities for brands to be not only a part of the conversation but leading it using a series of virtual marketing techniques.
As leading brands such as Nike, Facebook and Gucci continue to slot themselves within the current metaverse, using gaming platforms such as Fortnite and Roboblox to create immersive forms of advertising and modern forms of viral brand awareness, the sky is the limit for smart marketers on the block.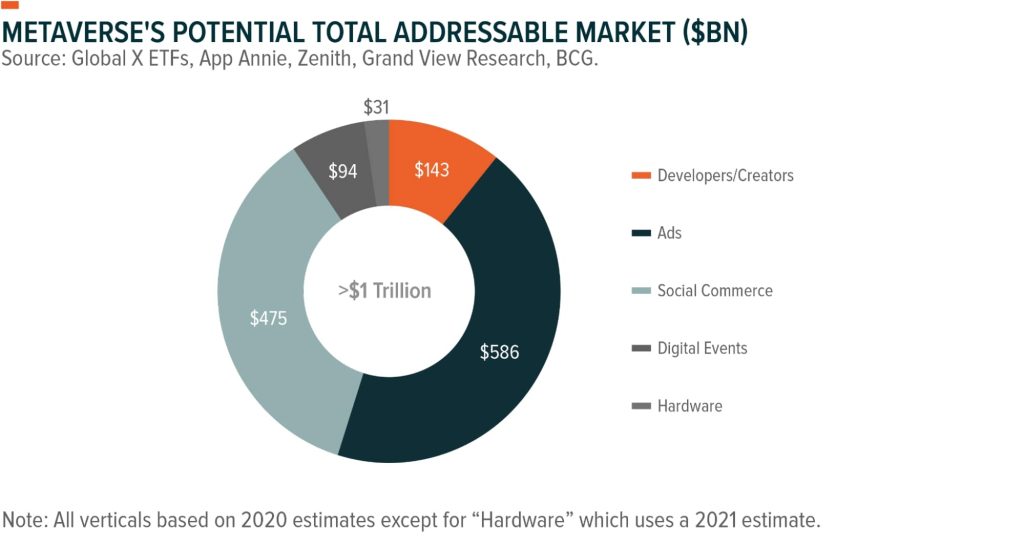 As you can see here, Metaverse's potential market growth could see advertising and social commerce dominating profits as more consumers move into a virtual future.
As new non-gaming metaverses continue to appear and VR begins to slot itself into new sectors across the world such as corporate, finance, business and healthcare, the global demographic for advertising potential feels infinite. Prioritising new forms of interactive content is more likely to start a conversation amongst your audience. Slotting into the virtual world won't only gain you exposure in the metaverse, but boost your conversions in the real world too. 
Changing The Future Of SEO
As the metaverse continues to dominate the online sphere, it's time to start optimising your content for VR success.
In the same way, marketers once optimised their content to gain awareness across Google search engines, it's time to start analysing the ins and outs of metaverse optimisation.
Firstly, take a step back and review your demographic. Are they Gen Z or Millennials? How is your specific audience currently interacting with the metaverse? Using platforms such as Finteza or Google Analytics to analyse your demographic's trends and engagement within the online sphere is a great way to refocus your targeting as you move into metaverse marketing. 
Experts are still unsure about how much of an impact the metaverse will have on the future of SEO tactics, but one thing we can be sure about is keyword and visual search optimisation.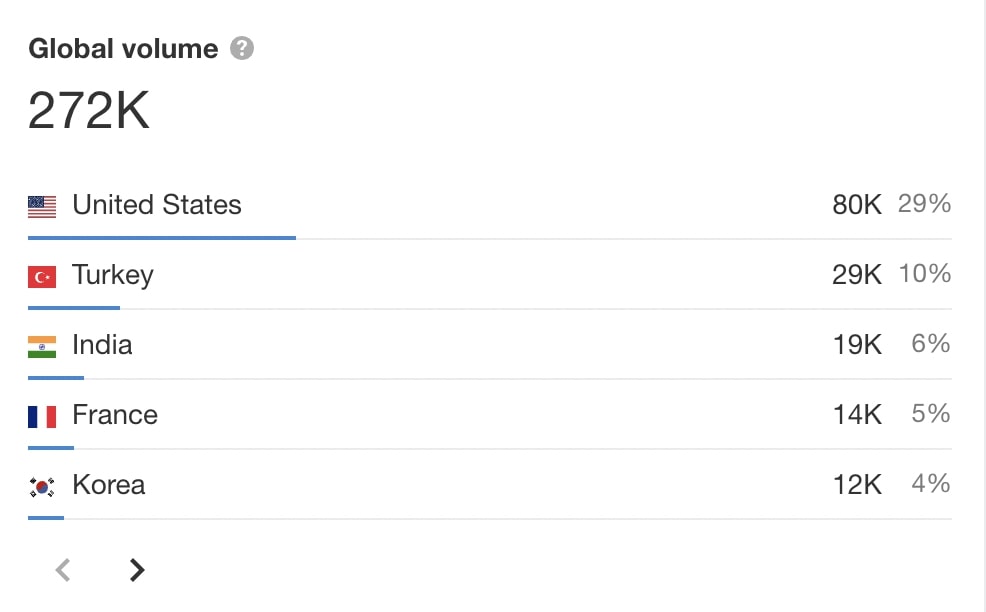 With a search volume of 272K across the globe in January 2022, the term 'metaverse' needs to start appearing within your content, meta descriptions and social platform posting.
Visual search will also play a key role in metaverse optimisation as Google continues to get better at understanding the search value and quality of images.
Creating Interactive Parallels
Did you know that currently only 3% of online content is deemed interactive? 
As we see metaverse's influence on the marketing scene, we can expect that passive forms of content marketing such as photos, infographics and videos will become increasingly redundant as a new Gen Z dominated audience continues to demand immersive alternatives.
Snapchat has already started to incorporate elements of AR into its platform, and we expect that Facebook's META rebrand will only see other platforms follow a newly immersive route.
If marketers want to survive within the metaverse, it's time to start thinking about creating AR, VR friendly content that promotes immersion and interaction. Interactive content allows for discovery, creating a parallel between metaverse characteristics as advertising becomes more user-driven.
The Benefits Of Marketing In The Metaverse
The benefits of entering the metaverse weigh out the costs for brands looking to gain awareness from a predominantly Gen Z/Milennial demographic.
Providing immersive experiences that allow users to interact with the products and services brands are selling in a virtual setting, is much more likely to produce a higher rate of sales leads.
Take Vans for example. After collaborating with some of the largest current metaverse platforms such as Fortnite and Roboblox, the skateboarding brand launched an immersive virtual skatepark that allowed users to try new tricks and earn points to spend in their virtual store.
The brand has since revealed that the park has had 48 million visitors to date and in turn, has increased brand awareness amongst 13-35-year-olds.
Meet The Brands Leading The Way
As New AR/VR based tech such as Meta's new AR Glasses encourages users to jump into the future of an immersive social media landscape, it's no surprise that a number of digital brands are hopping straight on the trend.
Navigating the future as a PR professional is not an easy task. As users now expect both immersion and interaction, brands need to be doing more to meet their growing gratifications. An active audience needs to be just that, active. They need to be able to actively interact with your campaign and see high levels of personalisation.
From immersive clothes shopping to NFT based branding, let's delve deeper into the brands that are navigating the metaverse and using virtual product placement partnerships in order to gain success within their niche.
From Product Placement To Immersive Advertising: How Are They Doing It?
While the metaverse may still seem like a new phenomenon for many, some of the globe's largest brands are already dipping their toes into an immersive future.
Product placement in particular has become the quickest way to gain exposure within the metaverse. While product placement was once a known tactic within print, broadcast and social media marketing, brands are now branching out and increasing their brand awareness in the metaverse as the platform aims to serve a large Gen Z/Millennial audience that is extremely likely to engage with digital-based promotion.
Using smart design template builders such as Envato and world-building platforms such as Roblox, marketers of today can build creative and immersive campaigns. 
In fact, you'd be surprised at just how much traction, predominantly gaming based platforms such as Roblox and Fortnite are able to provide for keen brands looking to expand their demographic reach.
Balenciaga's Immersive Clothing Collection
One example of metaverse based promotion success has been demonstrated by Balenciaga, the global fashion brand worth over $1.7 billion. In 2020 the popular high-end clothing retailer became the first fashion brand to release its fall clothing collection digitally in the form of a video game.
Called Afterworld, the video game aimed to combine interactivity and the fashion world, encouraging users to virtually try on and sport Balenciaga using their avatars while organically playing the game. In fact, the brand promotion was so subtly spread across the gaming platform, users were cleverly not overwhelmed with promotion, but we're still encouraged to interact with the brand after playing.
On the back of the gaming-based campaign's success, Balenciaga continues to draw the pathway to the future of marketing in a new collaboration with the popular gaming platform, Fortnite.
In fact, Demna Gvasalia, the company's creative director states that metaverse collaboration is the future for PR professionals.
"We have continued to be inspired by the creativity of Unreal and Fortnite communities," She commented in a recent interview with Dezeen. "It made total sense to me that we collaborate further by creating these authentic Balenciaga looks for Fortnite and a new physical Fortnite clothing series for our stores."
Pokémon & Selfridges' Virtual Collaboration
As 2021 marked the 25th anniversary of Pokémon, the brand teamed up with the popular global high-end shopping retailer, Selfridges, to create an exclusive virtual shopping experience.
Designed by Charli Cohen and Yahoo RYOT Lab, the brands paired up to create the Electric/City that allowed consumers to become immersed within a 3D digital space and try on digital garments using AR-based body tracking software.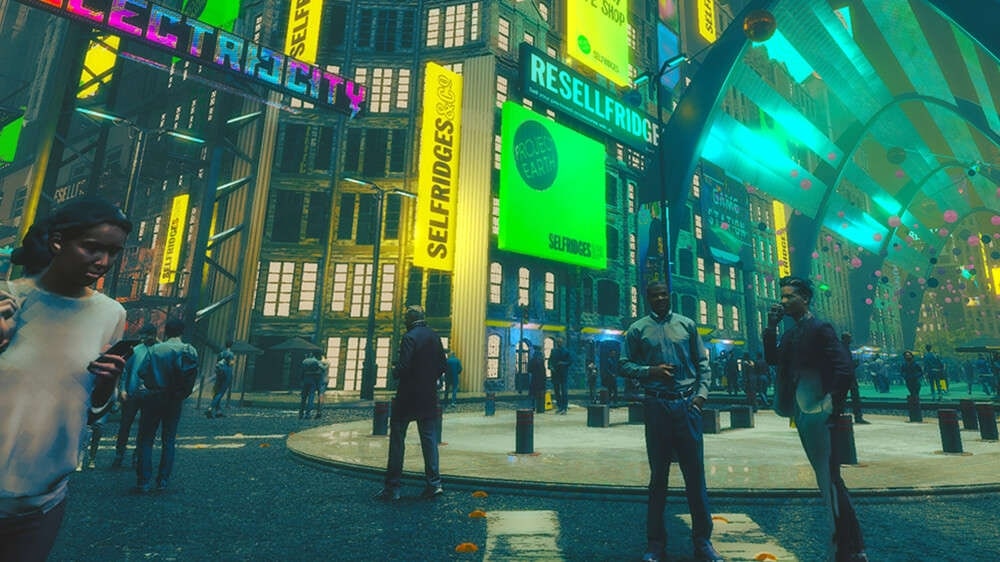 "The digital Kaleidodrip collection is an experiment in digital identity, and we can't wait to see customers rocking it in games and social spaces across the metaverse," states designer Charli Choen. "This whole project has been so exciting – we've been able to build out our dream world in Electric/City and have pulled off a legendary 25th birthday party for Pokémon!"
Clinique's #MetaOptimist Campaign
Clinique is using the rise of the metaverse to pull their existing customers into the future of marketing. Rather than specifically targeting a demographic who are already well acquainted with the metaverse, Clinique are are simply dipping their toe in the water while taking their audience with them.
In their recent #MetaOptimist campaign the brand is exploring a future of creating digital-based commodities. Mainly focussing on the rise in popularity of NFTs, Clinique has used their #MetaOptimist campaign as a gateway into metaverse marketing.
The key here is cross-promotion. Talking to their current audience using their social media platforms, Clinique created a competition that enabled customers to win an NFT version of their products, mimicking the retailing of digital commodities within the metaverse.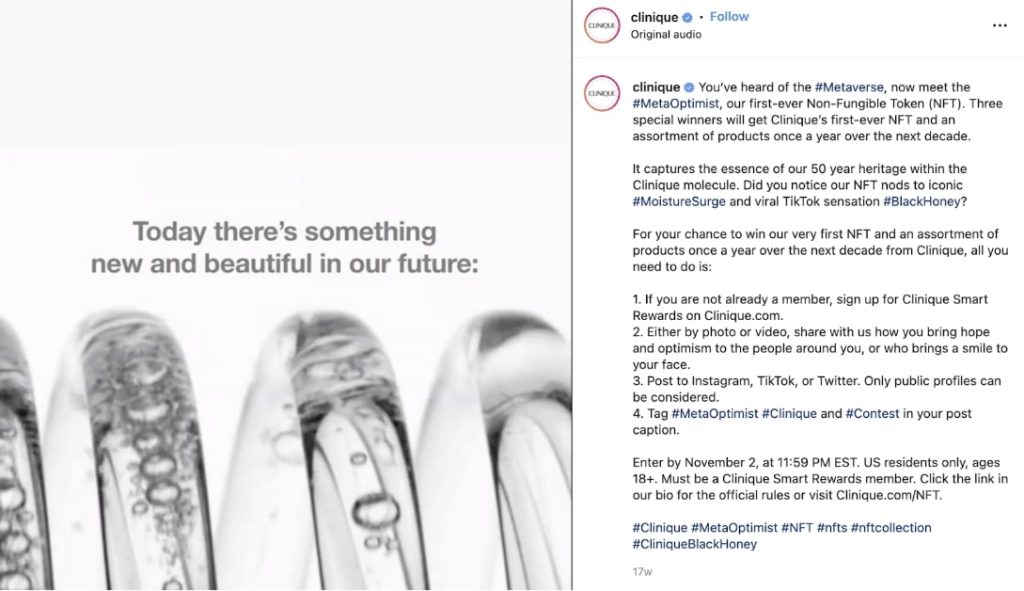 While it may not be a full-scale step into the metaverse, the brand is continuing to expose its demographic one step at a time in order to see guaranteed success and bring a multi-platformed consumer group together.
Looking To The Future
We expect that the metaverse could be the audience targeting tool of the future. As smart marketers continue to keep their audiences up-to-date and engaged with their products in both reality and virtual reality, it's clear this immersive marketing tool will define the future of engagement and success for businesses across the globe.