Wendy Clark once famously said, "If your plans don't include mobile, your plans are not finished!" This statement comes from a woman who's a responsible face of a brand that's changed the way we perceive storytelling today.
Marketing of yester year had a story that suited an ensemble cast (read: print, television, radio, etc.). But it's different today. The change in the marketing ecosystem has made 'mobile' the protagonist of the story that we plan to tell our users, and there are no two ways about it!
Telling a good story and selling without a sales pitch to mobile customers isn't easy. As opposed to the web, a mobile customer has to be enticed in a unique way to discover your brand. For many it, may end up at an app. But that's just the beginning. Just like a great story, a brand's 'app'roach should be novel, memorable and useful to its mobile user.
But before conceptualizing and finalizing a story for your mobile customers, it's always wiser to learn a few tips.
The following brands have been successful in keeping mobile users appeased by re-inventing their apps. We'll also be looking at today's best tried-and-true practices to keep winning at the mobile game.
Want even more ways to grow your brand? Download our free ebook on monitoring.
4 Brands Rocking Their Mobile Storytelling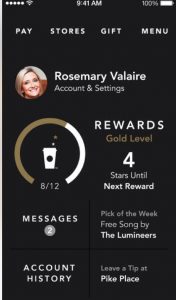 Starbucks: a story of early adoption and innovation
Starbucks is at the forefront of good storytelling, and the same extends to its mobile app as well. Hooking walk-in barista clients to order from a mobile app is challenging, but Starbucks sighted this gap early and created something many may have not even imagined.
The mobile app was in line with the way customers preferred purchases along with providing them much needed convenience. According to FastCompany, Starbucks has close to 13 million mobile app users and caters to over 7 million mobile transactions every week.
This early adoption also helped the brand build a reputation of innovation, but it didn't come easily. There was a time when they failed to generate user excitement. It's a different story today, where Starbucks has successfully rolled out a mobile ordering service that lets it users pay, tip baristas, and participate in a reward program.
In a nutshell, the Starbucks mobile app keeps the offline experience alive for its users without compromising on their daily dose of caffeine!
Airbnb: a story of connecting the dots
Most brands that launch an app are clueless about their forward journey. In most cases, an app is part of the brand journey, since it "fits in" with the changing trends. But not for Airbnb.
Interestingly enough, they were inspired by 'Snow White and Seven Dwarfs' when it came to their 'mobile mission.' Joe Gebbia, the chief of product, has said:
For us, it's a dance between online and offline. And this has been our biggest challenge." He further says that "We saw it play out in the storyboard. We realized the key is mobile…. Mobile is that link between online and offline."
The lesson learned here led the brand to launch their first Android app, along with updating their mobile site with features like chats between guests and hosts. There's always a debate between mobile app vs. mobile site. But Airbnb utilized both options to grow.
While all this was happening in 2012, the folks at Airbnb moved a step forward and introduced an in-app referral program for their app users. These personalized referral codes added to the brand's popularity and growth.

Dunkin' Donuts: a story of risky beginnings
Customer loyalty is vital to the growth of any brand today. Companies tend to avoid experimenting or taking risks when it concerns their loyal patronage. But not Dunkin' Donuts.
In 2014, Dunkin' Donuts decided to shelf their paper and web-based loyalty program and decided to move the mobile way. According to Dunkin' Donuts' Chief Global Marketing & Customer Officer, mobile was devouring the world and it was worth the risk.
This the one of the earliest versions of their mobile app, which was later improved upon. The refined version of the app offered users in-app discounts and location-based benefits.
Coca-Cola: The story of getting a step closer
Good mobile stories need time to resonate with an audience. They aren't built overnight.
Coca-Cola, however, has been an exception to this rule. So whether it's a unique campaign involving singers or a sports event, they have been able to capture a mobile user's imagination like no one else.
However, the real deal is the way they embody a mobile experience to gets closer to their end users.
An excellent example of this merger was the social music app that Coca-Cola launched in 2013, in partnership with Spotify. This app gave users a unique opportunity to combine the physical experience of drinking a Coke, with the virtual experience of blending that moment with music through placelists, as discussed here.
Coca-Cola has also tried to build a more human brand by amalgamating a mobile experience that is both realistic and thought-provoking, just like in their campaign 'Reasons To Believe.'
A well-made example of an app story lies in Coca-Cola's 'movement is happiness' campaign, which was conceptualized to help people adopt a healthier lifestyle.
4 Tips for Mobile Branding & Storytelling
While creativity and technology will differentiate your brand's app from your competition, there are a few tips that can help you market your story better.
Understand the app's true hero
Fitness brands and app integration was unheard of when Nike first launched its mobile app. Today the brand has several apps under its umbrella, including Nike+, Nike Plus Fuel, and Nike Training Club. Just like the vast array of choices in their stores, Nike has also understood the meaning of an individualistic approach in their apps.
Nike teaches us that the an app's real hero is not your developers or marketers, it's the end user.
Tell stories without inhibitions
A great story is told without inhibitions, the same stands true for a mobile story. Many times we tend to restrict ourselves by saying, "this can't be told through an app."
But the idea is to constantly experiment with your storyboards. A great example here is Frito Lays' app to support their "Do us a flavor" contest.
Adapt to technology
Adapting to technology and weaving it seamlessly into your story can do wonders for the growth of your app and the brand. A brand that can evolve with the changing time is hailed very highly.
Tinder has changed the way developers look at apps today. Apart from breaking the dating market with their groundbreaking app, it's also recognized for its 'left' and 'right' swipe feature, which has revolutionized the way people use an app.
Tell a local tale
You may be telling a great story, but does it have a local spin? If not, it may be a good time to re-think your marketing strategy.
Whether it is supporting a local food festival, fetching guests from a prominent event, or simply supporting a local community cause, Uber has done it all.
Final thoughts
Simplicity is the best way to tell a mobile story. By empowering a user's mobile experience, a brand is not only providing usefulness, but they are also making them a brand loyalist and evangelist. It adds to a brand's overall charisma.
Has your brand understood the real meaning of telling a mobile story? What's unique about the app that you offer to them? Do you think your brand can conquer the fort without a mobile cannon? Do let us know your thoughts in the comments below.
Learn how you can grow your brand even more with monitoring: