In the early days of digital marketing, the competition was low, and businesses thrived despite leveraging the myriad benefits of digital marketing. But today, with more and more small and medium businesses moving towards digital marketing, the growing competition is leaving behind those who are not making the most out of these digital marketing opportunities. Resultantly, when businesses fail to adapt, they can become subject to the threat of Digital Darwinism.
Amid all the disruption caused by the digital-first approach of companies, more and more companies are turning towards outsourcing their digital marketing projects. But, outsourcing is not as simple as it seems, especially when it comes to writing tasks wherein it's very challenging to outsource without fretting over ROI. You must consider multiple things, from management issues to varying quality and costs. This is why businesses are conflated between the choice of Professional Writing Services vs. Content Marketplaces, and rightfully so.
In the following paragraphs, we'll discuss the pros and cons of both options to help marketers decide which one of these two is best suited for their business. But first, let's start with the basics for those who are not well-acquainted with the topic at hand.
What are Professional Writing Services?
Professional Writing Services are provided by a group of experts in writing with a vast range of experience in multiple different niches and topics. These professional writing service providers are most often part of a marketing agency and are either full-time employees or independent writers working on contracts. Each writer is an expert in their field; one might be a copywriter, whereas the other might be a content or a creative writer.
Moreover, a professional writing service provider can also arrange for a marketing manager to hire freelancers on your behalf and assure timely, cost-effective, and quality work in exchange for their services.
What are Content Marketplaces?
Content marketplaces are freelancing platforms such as Upwork and Fiverr, where writers from different countries and specializations sign up for selling their services. These marketplaces provide a platform for buyers and sellers with a safe environment for making business transactions in exchange for a small fee.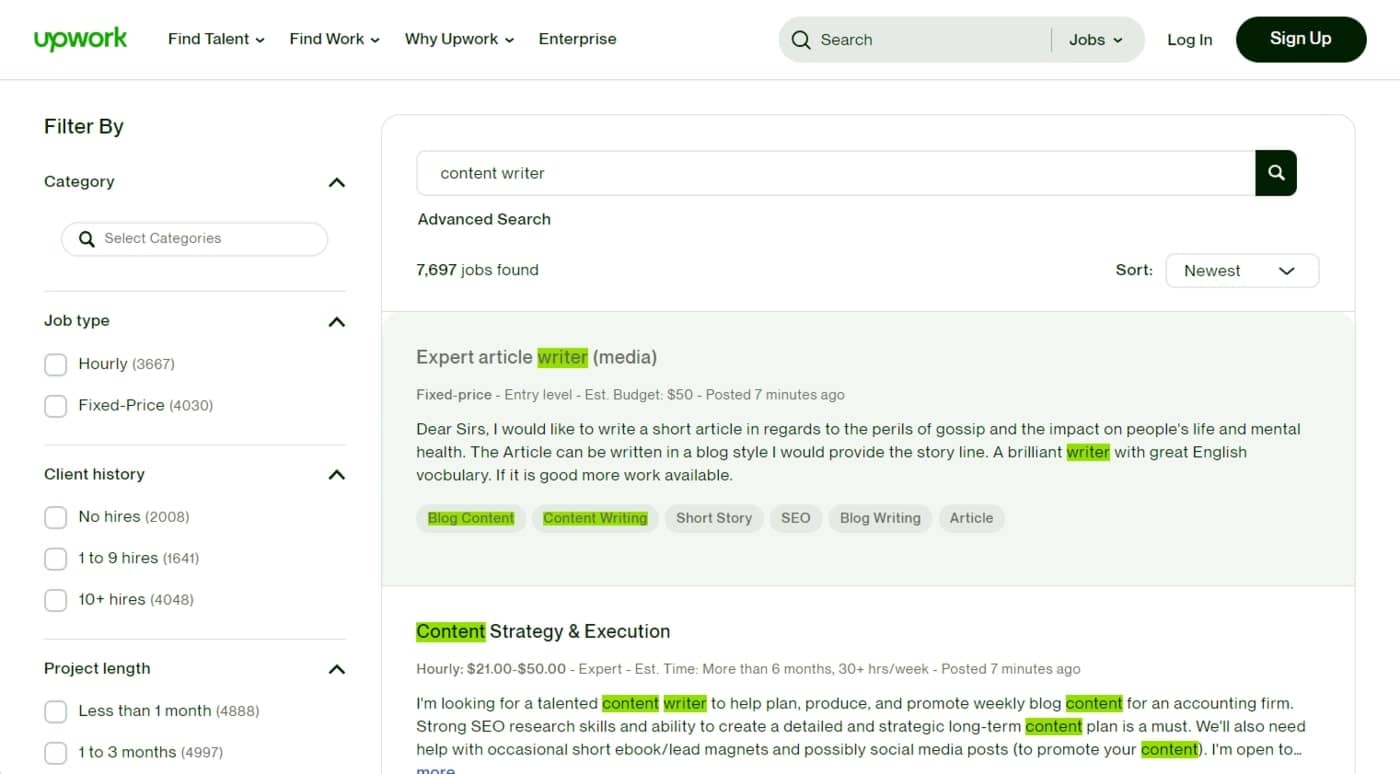 However, unlike Professional Writing Services, Content Marketplaces do not guarantee a freelancer's service quality. Now, choosing a freelancer or professional writing service for your projects boils down to the project type and the kind of service you expect. Both options have their strengths and weaknesses in different scenarios.
A Comparison Between Agencies and Freelancers
As discussed, each of the two options has its pros and cons. To make it easier for you to choose between the two, depending on whichever suits you, here is a detailed comparison:
Hiring Freelancers Through Content Marketplaces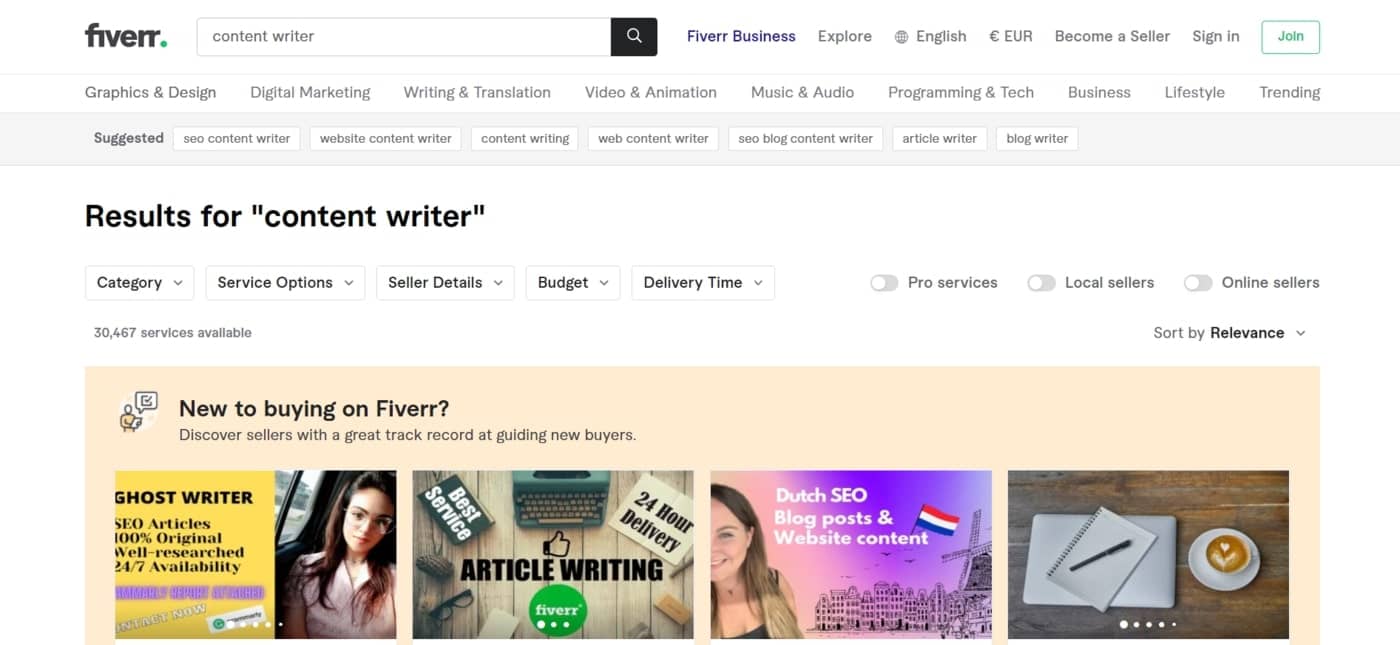 Turning to Content Marketplaces for your marketing needs can be a cost-effective option for medium and small businesses. It provides greater flexibility and demands less emotional baggage when moving forward to find a better freelancer. Here are the various reasons you might want to work with a freelancer.
Cost-effective
Benefits: When hiring a freelance writer from a content marketplace, the freelancer's fee is far less than the cost of hiring full-time employees or even an agency.
This lower pay is not due to a poor standard of work, rather, the growing competition in the content marketplaces encourages freelancers to work at lower rates unless they have a very high rating, which gives them an upper hand in negotiating service charges.
Drawbacks: There are fewer options for a comfortable payment schedule. And hiring freelancers could be more expensive if you choose to work with the popular ones. On the other hand, a similarly talented person could be part of an agency. Yet, the agency might charge less because they're responsible for paying their star employees a handsome salary, not you.
Prioritization of Work
Benefits: Another advantage of hiring a freelance writer is that they can prioritize your project when it needs their utmost focus. They openly listen to your feedback and are more willing to make changes as requested. That's because usually, freelancers do not take too many clients at a time and can choose to submit work on short-spanned projects with a mutually decided date. This gives them more time to ensure that their current clients are happy and satisfied.
Drawbacks: Despite prioritizing your project, a freelance writer can take longer to finish a project due to limited resources. And in case a writer has taken up more tasks than they can manage, even providing quick revisions can be a challenge.
Expertise and Skills
Benefits: Usually, freelance writers are well-rounded individuals who can write content and work on keyword research and other SEO changes (although, they may not have advanced level skills in all areas of content services)
Drawback: A piece of writing can belong to any niche. However, writing with expertise on any subject is a herculean task as writers are subject to limited knowledge. This can be problematic, which is why many people turn to professional writing service providers because their teams are adept in various subjects, which makes them a good choice for a project. After all, who can write a SEO content writing guide, other than one who is adept at SEO optimization?
However, they may charge for the extra SEO. You'll need to hire more than one freelancer for different specialized articles, making it challenging to work with different freelancers.
Service
Benefits: Freelancers are dedicated individuals who have a lot at stake regarding their online rating and reputation. In short, their personal brand is on the line, making them work harder and more dedicatedly to ensure that the client receives the best possible services. They realize that if they fail to do so, the client will not convert into a returning client, nor would they recommend the freelancer to any potential client, which is something that the freelancer would never want.
Drawbacks: Freelancers may not be prompt at replying instantly because of a significant difference in time zones. Also, because a contract doesn't bind them to work for you, you must sometimes expect them to be unavailable. In such a scenario, you'll need to look for another alternative that could be cumbersome.
Flexibility of Work
Benefits: The best thing about hiring freelancers is that they are not shy about working odd hours, which could be highly beneficial when you need to finish an urgent last-minute task before the next day. In such a scenario finding a freelancer to help you with a project would be a good idea for successfully getting the required results.
Drawbacks: Working during evenings and weekends could be more expensive as freelancers may charge you extra.
Easy to Layoff a Freelancer
Benefits: Often, firing old-time employees who are underperforming and not adding value to the time like before may carry a lot of emotional baggage. Also, companies are legally bound to follow a proper procedure for laying off an employee, which could take some time. In contrast, it's a lot easier to lay off a freelancer on Fiverr or Upwork.
Drawbacks: This benefit is a double-edged sword because freelancers feel the same ease in knowing that they can stop working for a client whenever they deem fit. This is one of the reasons why many freelancers are reluctant to join contracts because it binds them legally.
Dedication to Work
Benefits: Freelancers, unlike agency writers, interact directly with clients and can dedicate more time and effort to providing one-on-one consultation. The client and the writer build a mutual understanding on a professional level, which drives a freelancer to focus on giving their best to the client.
Drawbacks: None
Client-Provider Communications
Benefits: Generally, hiring a freelancer gives you the advantage of reaching out to them in wee hours. The added benefit of working with a freelancer is that they're more willing to be on long meetings with you whenever it's needed. In contrast, agencies may have heaps of other meetings in the pipeline and may not be able to compete with a freelancer in this regard.
Drawbacks: Surprisingly, a drawback of working with a freelancer is that despite their best efforts and willingness to have long meetings with you, their lack of a 360 expertise on content marketing, or the fact that they're working on your project single-handedly, may make it difficult for them to come up with the best solutions to any unforeseen problems.
On the other hand, an agency can be more well-equipped to assist you with a large team, catering to various areas of expertise. So for instance, in case you're working with a freelance content writer, they may not have the level of skills to help you out with an advanced level issue with Search Engine Optimization.
Hiring a Professional Writing Services Provider
Hiring a Professional Writing Services Provider is as friendly to your pocket as hiring a freelancer. The service charges of writing service providers are relatively much higher, but working with them has its own pros and cons.
Expertise and Skills
Benefits: Usually, a team of professionals in an agency have experience writing in different niches. Each writer brings their expertise to the table. It means that a client neither faces difficulty explaining his vision and goals nor wastes time looking for freelancers who meet the level of expertise required for writing in different niches and formats. In short, an agency can fulfill all the client's requirements under one roof. Moreover, writers who have agency experience know the ins and outs of the trade. They understand how to approach a task and do not confine themselves to a few select niches.
Drawbacks: Usually, the professional writing services providers have sales and business development executives to aid communication between the clients and the writing team. This is a drawback because, this way, the communication gap can possibly delay responses.
Prioritization of Work
Benefits: Because a digital marketing agency has an abundance of resources, its turnaround time for projects can be speedy. They can quickly meet deadlines by dividing a project between multiple writers without impacting the quality of work because all the writers work with the same guidelines, principles, and techniques in mind.
Drawbacks: Agencies usually have heaps of projects piled up, and it's humanly impossible for a single person to match the turnaround time of an agency; however, agency writers can not match the same dedication towards your projects because, unlike freelancers, on a personal level, they are detached from the clients.
Flexibility of Work
Benefits: The freelancers can work for you at odd hours amid times of crisis but consequently have an unpredictable work schedule, whereas professional writers have a fixed time of work hours, which could be beneficial for your business, as it allows you to schedule your business according to the work hours of the agency. Also, having their payment gateway enables agencies to have a more flexible payment schedule.
Drawbacks: The difference in time zones might cause a delay in response times, which means that you might have to wait for the agency to open during their traditional business hours. However, the high turnaround time may not let this delay cause much of a difference.
Costs and Expenses
Benefits: Agencies can charge a higher fee as compared to freelancers because of the overhead costs; however, the increased turnaround time, the expertise, and the quality of services mostly warrant the choice as an excellent return on investment. Moreover, agencies usually charge less for long term projects compared to a one time task. So it could actually cost you less in the long run.
Drawbacks: If you want an SEO article with a custom-designed banner image and want the writer to take care of all these things, that's impossible. This is how freelancers are able to charge less, because they only work on the writing part of a project; however, agencies hire experts from different fields to provide you with the best possible service in all aspects of the content services. Consequently, in doing so, the service charges also increase.
Quality Assurance
Benefits: Professional Writing Services often have proofreaders and editors in their team, which helps in quality assurance. Freelancers may not be able to cross-check their work as effectively and may find tools like Grammarly too expensive. The abundance of resources gives agencies a significant edge over freelancers in consistently maintaining their quality of work.
Moreover, language aside, agencies have project managers. As mentioned earlier, they are responsible for choosing subject experts for writing articles with high-quality content. The approach helps cover every aspect of the writing process excellently without compromising on the quality of the work provided.
More Minds, More Ideas
Benefits: An agency has a group of specialists who work together to create an impressive content strategy for your business. From marketers to sales, creative and content marketing executives all come together to provide their expertise. Where a single freelancer has to work on an entire project, they can't match the collective genius of a group of experts. This teamwork is what brings forth fresh and original ideas for your brand.
Drawbacks: The more people involved, the higher the agency charges.
Consistency and Reliability
Benefits: Working on long-term projects demands a commitment that an agency can better fulfill. That's because it's important to be consistent with a marketing approach and the material that's being produced for a client.
A freelancer may not be as reliable in this regard. That's because they have limited resources and less knowledge as compared to a group of experts, which is why they may struggle to consistently maintain the quality of work, in order to keep up with marketing plans.
Moreover, if you encounter any hiccups, a freelancer may not be able to help you in case of an advanced level issue. But, an agency can be more readily available to assist you with a large team, catering to various areas of expertise. So for instance, in case you're working with a freelance content writer, they may not have the level of skills to help you out with an advanced level issue with Search Engine Optimization.
Tips for Choosing a Professional Writing Service
When choosing a Professional Writing Service, people often make the mistake of only considering the quality of an agency's work, while they overlook how suitable an agency is for outsourcing their business:
A professional writing service may be more actively working in a particular market niche, while having less experience in other niches. The key to finding a suitable agency is to analyze their portfolio and notice how often they have worked with businesses of a similar nature to yours. Being able to understand your customers and the challenges of your market gives them an edge over other agencies.
Often, some agencies prioritize working with larger businesses, while also taking up some smaller projects when there's room for them. However, their priority as well as their expertise remains in assisting larger organizations. Such agencies may not be the best fit for your small business.
Businesses should be wary of outsourcing projects to agencies that have vastly different values and culture to yours. This would ensure that your partner and you work on similar principles, which massively helps in avoiding disputes and relational problems in the long run.
Choose an agency that does not only provide you with content, but also assists you in learning useful strategies, because this will help you out long after your contract with the agency expires.
Tips for Hiring a Freelancer Through Content Marketplaces
Looking for the right freelancer for your business can be a very time consuming matter. Especially because gauging their performance is not as easy, and despite a good rating their work may not meet your company standards. Therefore, we've some tips to help you out with the process.
The first point is obvious: you must begin your screening process by reviewing portfolios to assess a freelancer's skills and expertise. It is more likely that a freelancer is comfortable writing in a particular niche, so you must make sure if they can handle projects of a different industry. For instance, a freelancer may be good at writing on subjects like informative speech topics, but not really efficient in writing articles related to the field of medicine, or computer science.
Cross-check their online social profiles and ask them for testimonials to ensure their reliability.
Choose a freelancer who has expertise in working for clients from your industry.
Compare all the freelancers based on their skills, industry expertise, rates, etc.
To Sum It Up
Choosing between the options of outsourcing your digital content to a professional writing service vs. Content marketplaces is a difficult choice. The purpose of this article was simply to help you gain a better insight on the similarities and differences between the two options. Hopefully, by making sure that both the parties involved have their values and work ethics aligned with each other the partnership could become very successful.