Welcome to the first edition of our Expert Series! In this interview series, our goal is to bring you the most up to date tips, tricks and best practices according to the brightest people in the industry.
Meet Our Expert
Today we're excited to chat about using video to boost sales with Terrance Kwok, Sales Development Manager at Vidyard. We had the pleasure of meeting him at #Inbound17.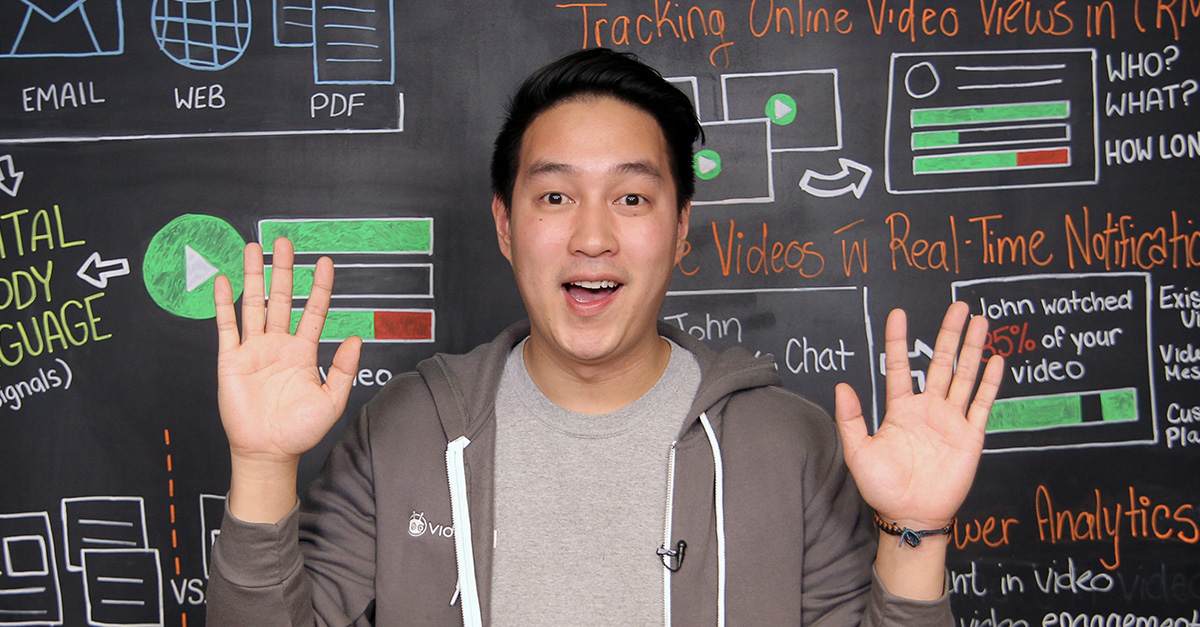 Source: Vidyard
A little about Terrance…
He works for Vidyard, a company based in Canada
Vidyard is the leading video hosting and management platform for business. It enables companies to use video more effectively in their marketing, sales, support and internal communication efforts
He manages a team of sales development reps, who use video to build out outbound source pipeline and find new customers to start conversations with

Since Terrance is the Vidyard expert here, I'll let him explain…


Why you should create sales videos
Unless you've been living under a rock, video has been a huge theme for marketers in 2017. In fact, video currently represents three quarters of all internet traffic, and that number is projected to soar in the coming years. 
For businesses, there are a number of ways that they can benefit from using video in their marketing. Videos not only put brands in front of audiences, but also help them tell a story.
Here are 3 reasons why Terrance thinks your team should get started with video ASAP:
1. Video is taking over the internet.
"In 2018, 80% all web traffic will be consumed by video. Today alone, over 20 billion videos are being viewed, online, every single day. People want to watch video!"
2. The majority of your buyers are watching videos.
"Even if you think back to your personal life, like the last time you bought a product, like a phone – you probably watched unboxing videos, review videos, and you educated yourself on that product before making that decision. It's the same in the world of B2B."
People are already watching all types of videos online. A lot of those videos affect their buying decisions.
No matter the type of products or services, people are watching videos to help them with their purchase decision
72% of your B2B buyers are watching videos throughout their buyer's journey (Salesforce)
3. Video converts better.
"Sales teams using video in their sales process have found that they're able to book 3X more meetings when they include video in their prospecting."
In fact, not only do most marketers think video content is more effective than other forms of content marketing, but 59% of them agree that it is the type of marketing content with the best ROI.  
Video converts more effectively than other types of content
When videos are included on a landing page, prospects engage with the content longer
Teams using video in their sales process are able to book more meetings when they include video in their prospecting
Tell us more, Terrance…

But I'm a salesperson, I don't do videos!
Did you know that the average prospect receives more than 100 emails a day? This gives you very little time to get their attention as a sales person – about 8 seconds.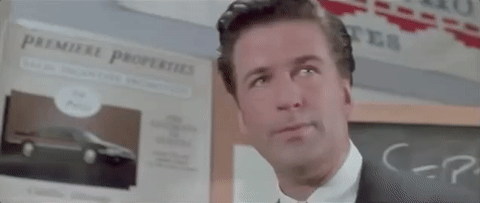 This is a great reason to try new and different methods in order to stand out in their inbox. However, salespeople tend to shy away from using videos for sales for different reasons from: "it's too time – consuming" to "it's too personal," to "they'll never watch it". On the contrary, video can be very effective and extremely simple to add to your sales process.
What Terrance wants you to know about creating videos for sales:
Making a video can seem intimidating at first, but it just takes practice (like most things)
Sales automation has distracted our buyers
Video is an easy way to humanize your sales conversations
"It's too easy now to send out email templates en mass to thousands of people. So they're super distracted, they don't know what is real and what is not. Video gives you an easy way to communicate like a human. Humanize yourself! Send a video that is personal to your prospective customers, get their attention and start more sales conversations."
Don't take my word for it, let's hear it from mr. sales guy himself:

The 3 types of videos that every salesperson can create:
There are many different video styles that reps can use in the sales process. Here are the three that Terrance recommends you to try out:
1. Camera-only video
"A camera-only video is basically putting yourself on camera, introducing yourself to your prospects. Talking to them directly and showing them a little bit of your personality."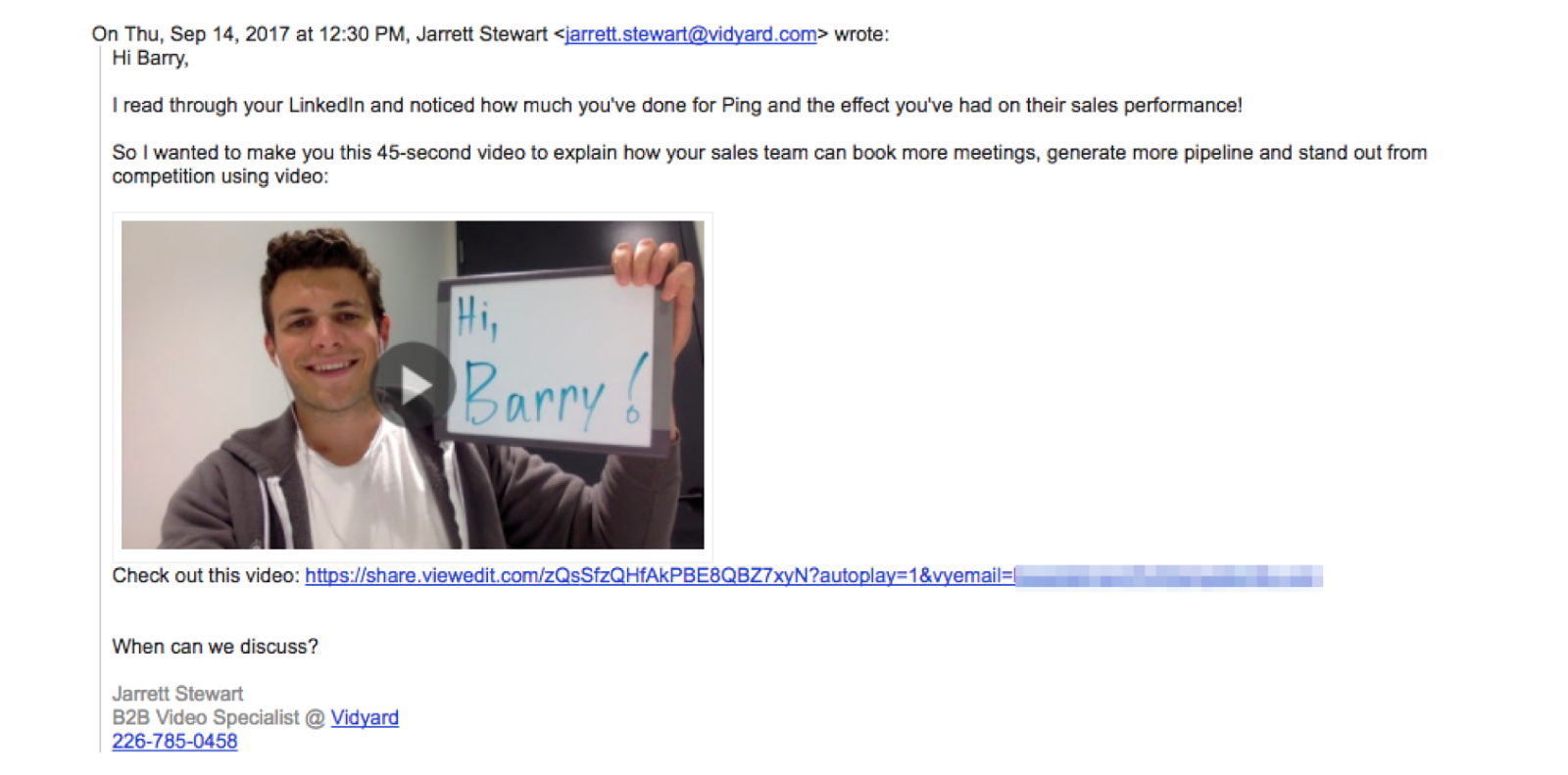 2. Screen capture video
"This is great for storytelling. So, say for example you saw a great blog post that your prospects have written online, you might record your screen, showing that blog post, highlighting key points that you think are relevant to the solution that you're selling."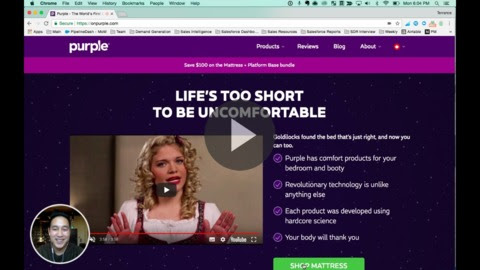 3. Micro-demo
"The last type of video you can do is a micro-demo. Now, you're not always able to schedule live demo calls with your prospective customer. So create short micro-demos anywhere between 2 – 3 minutes in length, showcasing your solutions, and skip the scheduled calls. "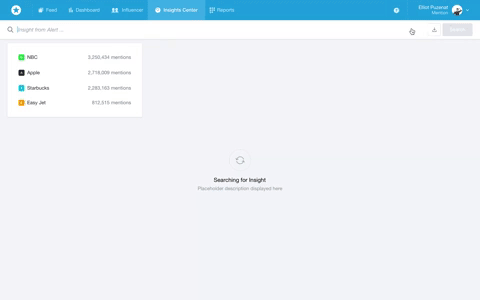 I'll let Terrance explain how it's done…

3 things that every salesperson should consider when creating their first video
Getting started with video doesn't have to be complicated. All you need is a good video tool, (we're big fans of Vidyard's GoVideo extension) and your best camera face!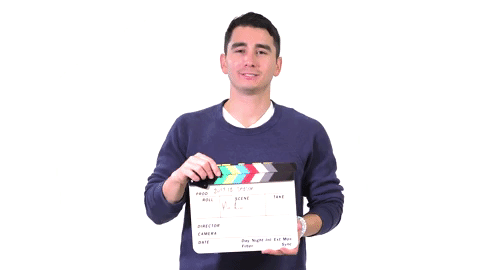 In addition to these, Terrance has 3 things that he wants you to keep in mind:
1. Audio and lighting
"Audio doesn't require elaborate microphone setup. Just use a pair of headphones with a microphone like earbuds by Apple. And that's probably enough to make sure that the audio is controlled and the prospect can actually hear what you have to say. In terms of lighting, just find somewhere in the office with a bit of natural night. As long as there isn't a light source behind you, your face won't be backlit and your prospects can actually see your face."
2. Video thumbnail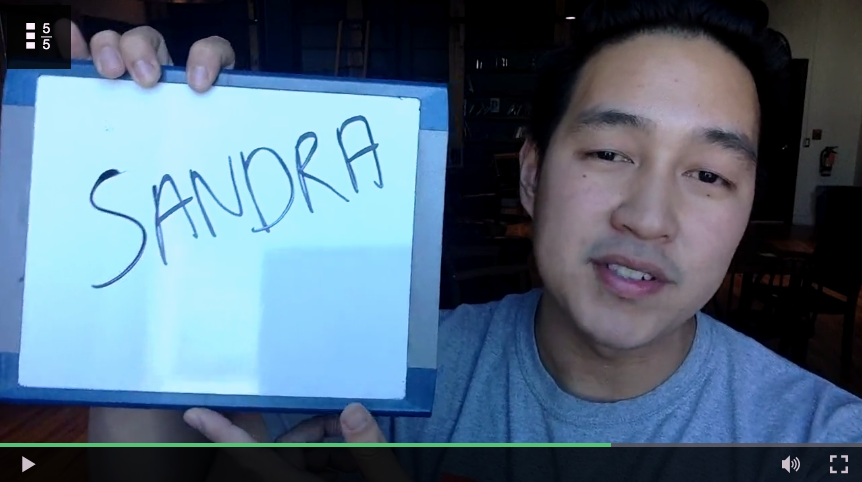 "You want to make sure that the video that the prospect receives in their inbox, that they know that this is specifically meant for them. We use whiteboards like this one, and we write our prospect's name on the whiteboard. So when they receive that video in their inbox, they know to click play because they know it's been personalized specifically for them."
I'll admit, I was a little skeptical about the personalization aspect of videos – until I saw my name on a whiteboard in the video Terrance sent to me! This simple personal 'shout-out' instantly made me feel special and showed that he made this video just for me.
3. Be authentic
"The last thing to consider is just to be authentic. You don't need to write these elaborate speeches or scripts to make your video effective. Be yourself, say what you've always said on the phones but put it in video form."
Watch the full video…

Ready to use video in your sales process?
At the end of the day, video may not be for every business. But it's relatively easy, low-cost and low-risk to create a few test videos to see if it will work for you. Why not give it a go?

Got burning questions about using video for your business? Connect with Terrance via LinkedIn or book a meeting with him to chat. Also, you'll definitely want to head over to Vidyard's website, blog and Twitter for more awesome tips on using videos for business.
A big thanks to Terrance for being a part of this interview! Join us for the next installment of Expert Series.
Want to learn more about strategies that connect sales and marketing? Tune in to our webinar with Hubspot about Unify Sales and Marketing Efforts For Revenue Generation: