The year 2018 is already in full swing, and is fast becoming interesting for SEO. The rules of the SEO game change often, and reaching the first position in the SERP is no longer the ultimate goal. As search engines evolve, new opportunities arise for increasing search traffic, which are not necessarily related to organic search.
Targeting trends such as the popularity of snippets, visual content, and voice search can often provide better results than an emphasis on rankings. Therefore, it's important to think about how to combine established and growing trends to develop a truly effective SEO strategy for the next year.
While more traditional techniques will continue to be effective, the SEO trends and tactics mentioned in this post can significantly change the way we perform search engine optimization. In this article, we examine ten trends in the world of organic traffic that should be on everyone's list.
Check out these must-haves to stay ahead of the competition!
#1. Mobile-first index
In 2018 Google promises to introduce a mobile-first index into active use. This is currently being tested.
About a third of people between 18 and 49 years old use smartphones for online purchases, and 57% of all Internet traffic occurs on mobile devices.
Adapting your site for mobile devices can increase conversions by 1.5 times. And the stable popularity of purchases via Internet indicates that the number of users who buy using a mobile phone will also grow.
Therefore, responsiveness is essential if you want your website to be displayed in search mobile devices. And as soon as Google launches its mobile-first index, this will even more true.
The main rule of adaptation for mobile is simplicity and speed. The site should load quickly and offer a smaller number of options for purchase (not 50 or 100, but 10-20).
Also, the website should be convenient for use: text must be read without scaling, and hyperlinks should be comfortable for pressing (rather than clicking).
#2. Secure HTTPS protocol
In 2017, site owners actively changed the protocol of their sites from HTTP to HTTPS. And they'll keep doing the same in 2018.
Now, having HTTPS protocol on your website is crucial. In short, sites that work on the HTTP protocol are today labelled as unsafe, and dropped in search results.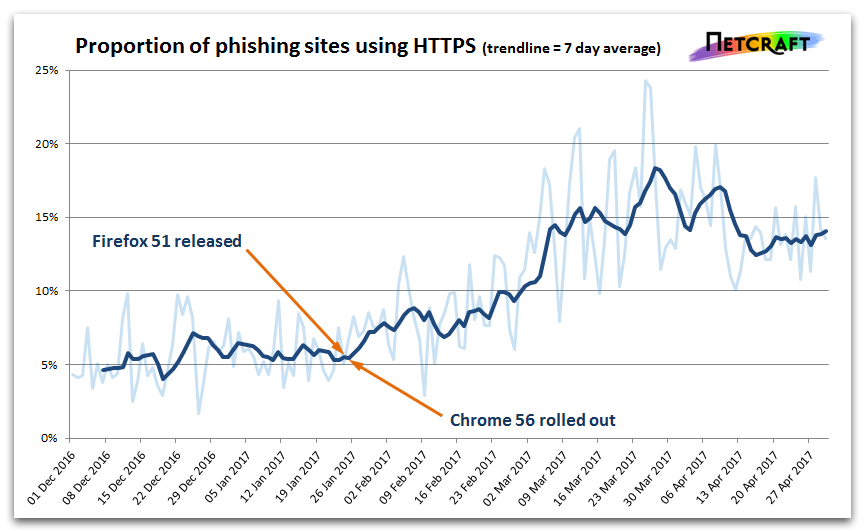 (Netcraft News)
At the moment Google Chrome denotes all websites that are not HTTPS as insecure, regardless of whether you are asked to enter any private information on the page or not.
What does HTTPS give you?
The HTTPS protocol makes the site safe for visitors. It's about protecting information that is passed on to the site from the user.
Most often it's personal data – a payment card, an address and so on, but there are more "innocent" data, which is better protected from other people's eyes anyway.
What could this mean?
If you visit, say, the news site http://www.bbc.com/ (which does not use a secure connection), then all the information you enter into the search field of the website can be made available to third parties.
Sites containing forms for email addresses, for instance, pose particular problems. If there is no warning on the site that it is unsafe, you will not even know that your mail may be in someone's bad hands.
So, to avoid such situations, Chrome also plans to restrict access to all websites on HTTP due to safety.
Therefore, if you're dealing with any data on your site, make sure that your site is translated to HTTPS.
Sites that stick with HTTP:
Will be marked by browsers as unsafe regardless of whether there is a form on the site or not.
Will be lowered in the search results pages because Google doesn't want to send users to unsafe pages.
Will be perceived by users as suspicious and distrustful.
Have no advantages over sites on HTTPS.
Why you need to upgrade to HTTPS
1. It's free. It's not necessary to use paid certificates; there are free options (for example, Let's Encrypt).
2. HTTPS is the future (or even the present). Almost no sites are now only on HTML, and soon sites on HTTP will be perceived as obsolete.
3. This will increase your position in SERPs. And in time this will become even more noticeable. There are even examples of site ranking improving when switching to HTTPS. As a rule, the changes are most visible on large and old sites; new sites may not have such a significant difference.
4. Pages with HTTPS will be displayed by browsers as safe and will give more confidence to users.
If you're wondering how quickly you need to translate a site into HTTPS, here's a little hint:
• If you sell something, and customers need to enter bank card details and other personal data – move right now!
• If you collect email addresses (for distribution), or you have a search on your site – move as soon as possible.
• If it's a blog or a business card site where there are no entry fields for visitors – you can move later (but still we recommend moving!).
#3. Voice search
For some, voice search is still a curiosity. But it's already regularly used by more than 50% of teenagers and about 40% of adults. And these searches account for about a fifth of all requests.
The number of voice requests is also growing. It's quite possible that tomorrow your target audience will use voice search, which means you need to take care of optimizing your site.
To do this, you need to extend the semantic core of your content with phrases that are most natural and typical to live speech. Studies have shown that in 27% of cases people ask questions like where, when, how, etc. If there are no articles on your site that could answer these questions, write them (you can make a reference or FAQ).
The wording of these pages should be as close as possible to what ordinary people are say and ask: "what is hyperbole," "where to buy a skateboard in Wisconsin," "how to cook a pie in half an hour," etc.
#4. Media monitoring
It's no secret that many users make choices based on feedback and overall brand identity on the Internet. Therefore, the image of the company (or website, or service) needs to be clean and appealing. Any negative review can cause an outflow of customers, while positive news and feedback can help increase the conversion.
In 2018, it will be necessary to keep an eye on the information space (mentioning the company in publications, discussions, etc.).
You can get help from Google Alerts or Mention services and receive notices whenever your company name is mentioned in any publication.
One more hint: you can contact the site that posted information about your company, and ask to put a link to your site (of course, assuming it's positive). Notifications also help you react quickly and eliminate negative mentions.
Media monitoring is one of the most powerful free marketing tools that 70% of entrepreneurs don't use. Are you among them?
This service will become a source of new ideas, help increase traffic, improve your company, attract hundreds of new customers and double your income.
Using Google Alerts or Mention, you get a ton of information directly to your mailbox about:
News in your industry
Competitor behavior
New interesting content in your niche
People plagiarizing or using your content without permission
With the help of these tools, it'll be easier for you to choose the right strategy for content marketing.
#5. Chatbots to decrease bounce rate
Chatbots became a hot topic in 2017 and are helpful for any online business now. Especially when used to provide answers to trivial customer questions. A finely tuned chatbot can significantly optimize the time of your staff.
First, the undeniable advantage for the user is the speed of communication in comparison to the morally outdated IVR system. How long does it take to navigate through the voice menu of a mobile operator or bank?
Chatbots reduce the time required for clients to receive the necessary information.
Second, your chatbot is a working assistant in the search and aggregation of content. The search for content and its aggregation is now widely used in the chat functionality of famous news agencies, allowing the user to retrieve accurate news on any topic given. In some cases, you can organize the search for products by keyword.
Finally, bots are perfect for software companies as they help users in the process of choosing a product and making a purchase.
How will the expansion of chatbots affect SEO? Search Engine Journal tried to find an answer to just this question. For this, they surveyed members of their community of followers on Twitter – mainly optimizers and webmasters.
The overwhelming majority (78%) of the respondents said that at this stage only a small part of their clients (less than 25%) use chatbots on their websites. At the same time, only 7% of respondents use this technology actively (chatbots are used by more than 75% of respondents' customers in this group).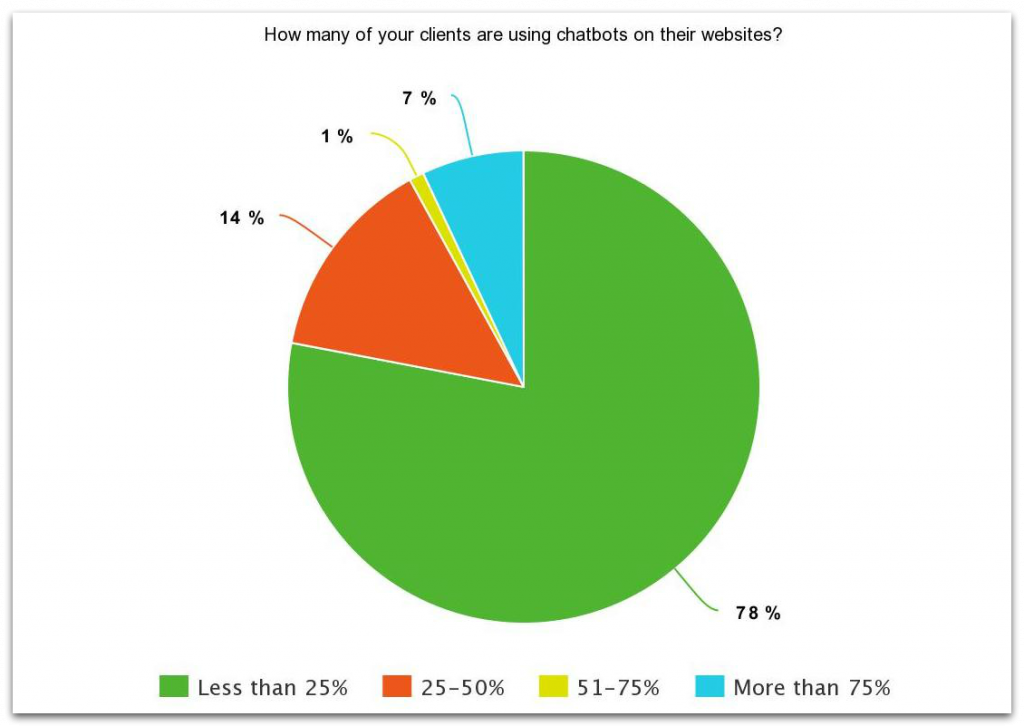 The results of the survey show that chatbots are not yet widely used. But, according to analysts, in the future, everything will change. After all, this technology offers some benefits like the following:
1. Chatbots act as representatives of the company and respond to simple inquiries from customers who do not want to waste time writing emails or sitting on phone calls.
2. Chatbots increase customer involvement, acting as an excellent alternative to traditional ads or depersonalized videos. Users can conduct natural conversations with chatbots, and this interaction can have a great positive impact on potential customers.
3. Chatbots can provide customers with support 24 hours a day. This is especially beneficial for brands or companies with customers around the world who may be in different time zones. As a result, you decrease your site's bounce rate and improve behavioral factors that affect SEO.
#6. Seasonality in SEO
Even a first-grader knows about natural seasonal phenomena. But the notion of "seasons" or "seasonality" is also present in search engines.
Seasonal queries for search engines are low-frequency queries that are relevant at certain times of the year. These requests include "how do you cook a turkey," "where to buy skates," or "flowers for Valentines Day."



(Growing interest over time for "flowers for Valentines day" in Google trends)
Awareness or seasonality is the ability to promote the website effectively depending on the "season" or the temperature outside the window.
The advantages of promoting a resource for seasonal requests can be boiled down to:
Low competition, because for most of the year these terms are not sought after.
Cheap content if you're buying it on copywriting exhanges.
Great popularity among readers at certain times of the year, and the possibility of going "viral."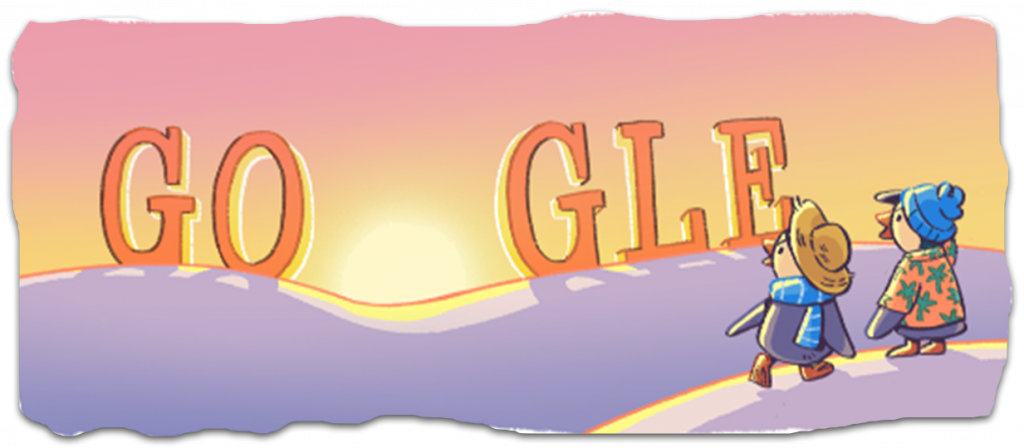 Follow Google Doodles example and start to make your visitors a bit happier ☺
#7. Behavioral factors
Another trend that got up to speed in 2017 and will remain relevant in 2018 is the orientation towards user behavior. This means your website should be interesting, understandable and useful.
The following indicators affect SEO:
Time spent on the website
Average page depth: how many pages user visited
Bounce rate: how many visitors left the page rapidly
Conversion actions: adding to the shopping cart, filling in forms, etc
These engagement indicators show to search engines which pages are interesting and useful to users, and which ones aren't. Therefore, it is necessary to monitor the usability of your site and improve it.
Nowadays companies often use surveys to assess how comfortable visitors are on the site, to find out what they would like to improve, etc. This is a simple step, and the results may surprise you.
And if your users are reluctant to interview, you can offer them some bonus like a discount, a gift card, or a freebie.
#8. Visual content
Visual search is a combination of technological innovations and achievements in user experience that can bring search to a new level.
Today, the Internet is becoming more and more visually oriented. Leading technology companies such as Google, Amazon and Pinterest are already developing powerful visual search engines in an attempt to capitalize on this trend.
In 2018, SEO experts should consider how we consume visual content, and how search engines go beyond text to explore changing search habits. Visual materials are becoming more involved, and using the achievements of neuroscience and innovation forms an interesting and competitive market.
The battle for users is intensifying, and companies should pay even more attention to optimizing their visual content for SEO.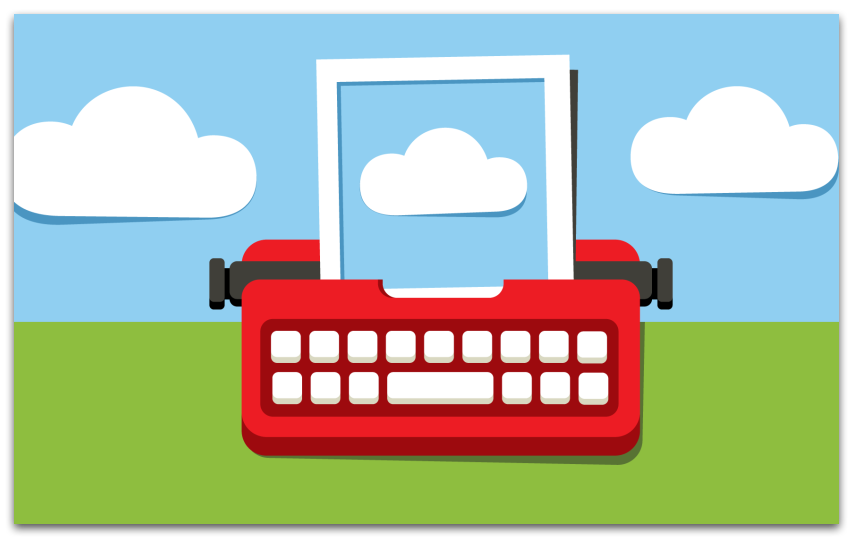 Pay special attention to the images that are used in your resources. Do they respond to the content of the companion text? Are their size and format optimized?
You should also take make sure that your site's pages download as quickly as possible. Otherwise, you run the risk of losing visitors. Moreover, by optimizing all the visual content of your site, you have additional opportunities to attract traffic straight from Google Images!
A separate conversation concerns video content. If you want to get more SEO traffic in 2018, we recommend you create and optimize content specifically for YouTube.
And although today there are more videos on the network than in the whole history of its existence, research shows that users need it even more. The bottom line is simple – if you do not create video content, you're not going to keep up!
Two quick facts:
1. When you publish an SEO-optimized video on YouTube, you improve your visibility in Google as a whole.
2. Google has begun to mix YouTube content into mobile image search results.
#9. Snippets
Blocks of quick answers and all kinds of snippets will become even more popular in 2018. And as practice shows, applying extended snippets significantly increases the conversion.
We know that a block of quick answers appears in about 30% of queries. In the near future, this percentage is likely to become even higher. Therefore, it's essential to make efforts to win this block in 2018.
For this, first, you can make different lists, tables and graphs – they often fall into the block of quick answers. Second, write FAQs – so Google will find it more convenient to extract material for display in the block of quick answers.
Using different services such as Schema.org, you can configure how the link to the site looks in the SERP and social networks. Often based on this, users decide to visit your website (or not).
For example, online stores/services/SaaS can be displayed immediately with the work time/conditions/price, delivery information, and relevant sections on the site, such as in this pre-employment background check B2B service: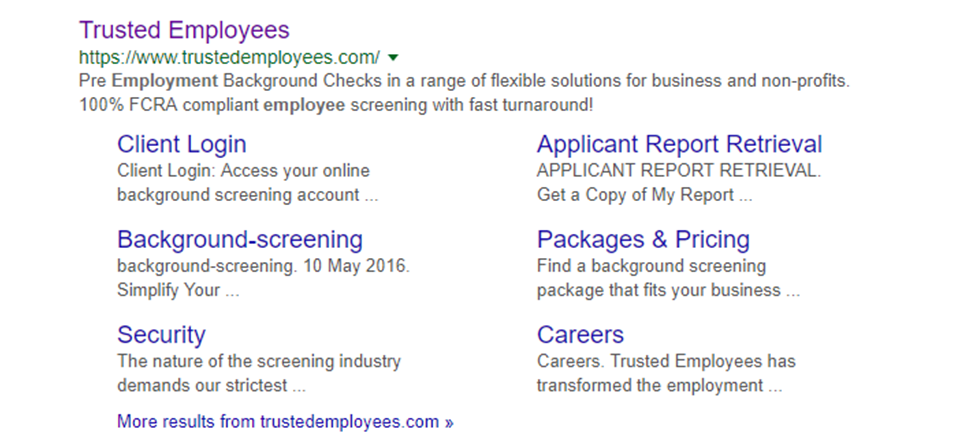 The more attractive the snippet will be, the more people will follow the link and then return to the site – and it will go up in rankings.
It's also necessary to fill in the organization's card with the location of the store (office), contact details and other useful information, like in Grammarly's Google business card: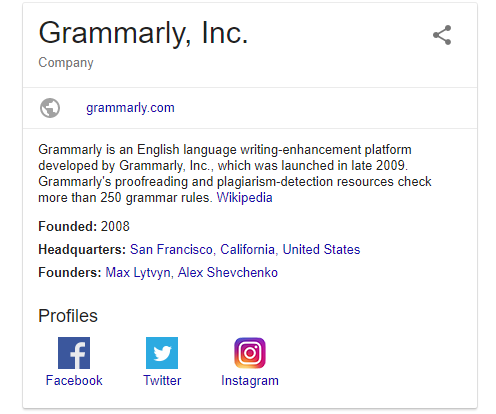 #10. Link building
Nothing says that in 2018 back-linking will disappear. In fact getting high-quality links will become even more important. You will never get to the Google Top 10 without killer content.
When developing a strategy for link building in 2018, consider the following aspects:
1. Traffic and the audience: The presence of a particular core of the audience and its positive dynamics show that the site is not dead and it is interesting to read.
2. Advertising: A large number of ads suggest that the site is trying to monetize, and your investments into it may be unjustified.
3. Content: Topics on the site must coincide with the content of your site. Search engines rely on backlinks from thematic sites more.
4. Authority: The higher the trust level of the resource, the more efficient the link will be.
5. Availability of comments/reposts: Is there any social activity in the form of likes, comments under articles on the site? If not, then the site functions only as a donor for links, and brings minimal traffic.
To check the link mass of the site, you can use various services, as well as extensions for browsers: Ahrefs, Majestic and so on.
Here you can learn what SEO metrics to use and how to distinguish a quality link for back-linking.
Conclusion
Many SEO trends that were relevant in 2017 will remain the same in 2018. No fundamental changes are expected in 2018, but who knows what surprises the search engines have kept for us?
The main tips are to move the site to HTTPS, optimize for mobile, generate high-quality content, and prepare for the growing role of voice search.
Wishing you great SEO results in 2018!