Let's face it.
The thank you page of almost every opt-in offer and lead magnet is nothing more than a placeholder marketers "have to" make.
Most of the time, the thank you page will say something generic like..
"Thanks for signing up, your free prize it's on it's way."
Well, lucky for you, you're reading this post.
Because today is the day that we declare war on the "thank you page as a placeholder" idea.
Today is the day that you will turn your thank you page into a lead generation machine!
(I know, it's a bit over dramatic.)
Anyway, in this post, I list three case studies of smart companies using their thank you page as a true marketing resource.
And I give you the step-by-step instructions for you to do the same thing.
How Snack Nation's thank you page brought in over 884 leads
Chances are, your blog is one of your greatest sources of traffic (outside of your home page).
It goes without saying then, that a large majority of your leads will originate from your most popular blog posts.
Emil Shour, the content marketing manager at Snack Nation, developed an ingenious way to use their most popular posts and a thank you page to generate over 884 leads. (You can read the full case study here)
Here's how he did it:
Step 1: Create a content upgrade on your most popular posts
One of Emil's most popular posts is a behemoth called 121 Proven Employee Wellness Program Ideas For Your Office.
It's a huge post that gets a ton of traffic from social media and search engines. He used that post to create his content upgrade.
Content upgrade offer: Emil's content upgrade offer is the classic PDF. He turns the entire list into a quick reference guide AND adds an additional 10 bonus ideas.
Seriously Emil, how the heck did you come up with 10 more ideas? 🙂
Now that he has his content upgrade, Emil has to let his audience know about it. He does this three ways.
In post CTA
About a fifth of the way down the blog post, Emil has the following text:



This call-to-action is a welcome interruption to people reading the post who want more information.
According to Emil, 55% of the people who click on the link enter their email address.
Exit pop-up
Next, Emil uses an exit popup. Notice that his pop-up takes up the whole screen.
That's not a coincidence. Emil tests everything. He found that the full screen popup converts at 5.58%, compared to the partial screen pop-up, which converts at 2.6%.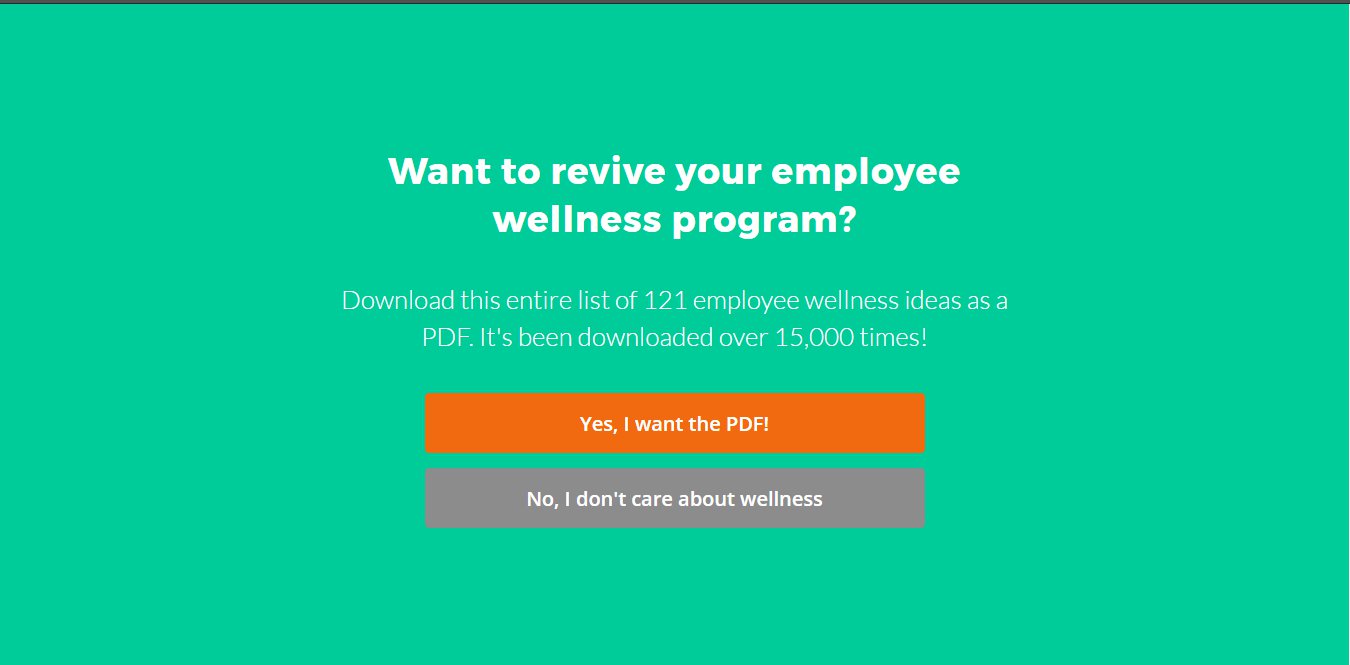 End of post
Finally, Emil puts a link to the PDF at the bottom of the post.
If someone is reading this post all the way to the bottom, you can bet they are VERY interested in employee wellness.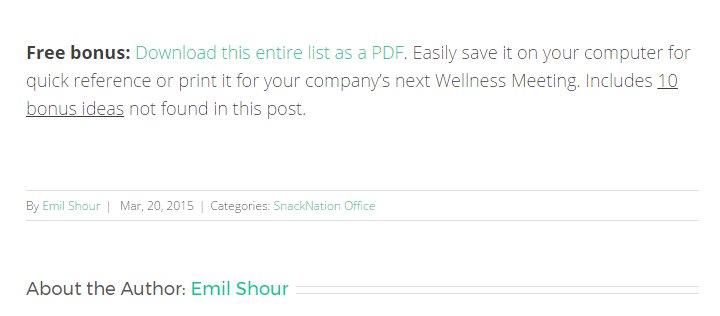 Step 2: Create a lead opportunity
Chances are, if you've been in content marketing for the past year or two, the concept of a lead magnet or content upgrade isn't new to you.
You may have already known everything written above.
But here's where Emil and the Snack Nation team do things different.
Their thank you page gets people into their free trial program.
Their offer is a free discovery snack box plus a $200 Amazon gift card. You also get a discount for life just for downloading the PDF.
Not too shabby.
According to Emil, this offer received 884 new leads (when this strategy was used on all of his popular posts) and 11% of them were qualified.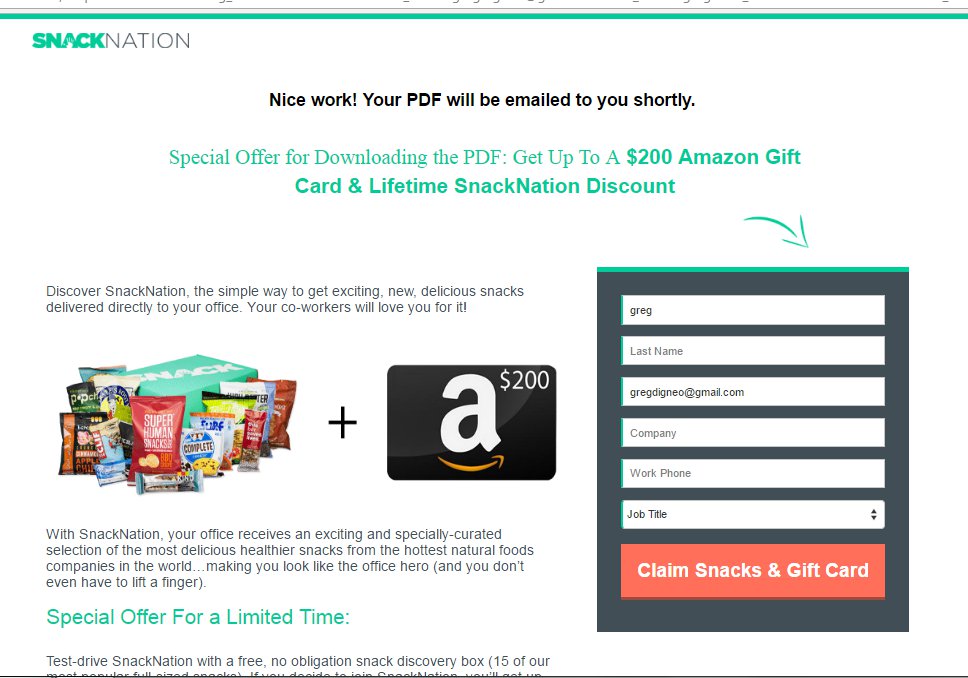 Step 3: Send a reminder in the welcome email
This is a bit of a bonus.
In my experience, the welcome email gets the highest open rates of any email I send.
Instead of squandering a golden opportunity, Emil uses the welcome email to his advantage.
In his P.S., he reminds people of his initial offer for the free trial and Amazon Gift Card and links back to the thank you page.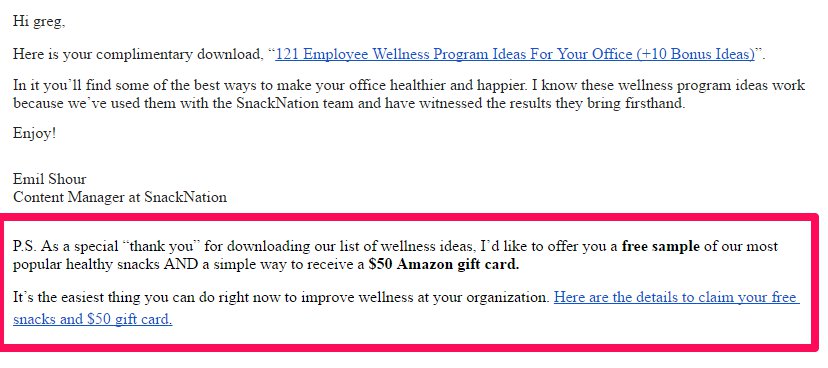 How Reese's webinar went viral
Like so many marketers, Reese Evans uses webinars to make sales for her product.
The simple math goes: More Subscribers + More Attendees = More Sales.
Reese's main goal is to get as many people to subscribe and attend her webinar as possible.
Beyond running ads and emailing her list, Reese wanted to do more to get the word out. To do that, Reese set up a simple referral marketing campaign.
And here were the results: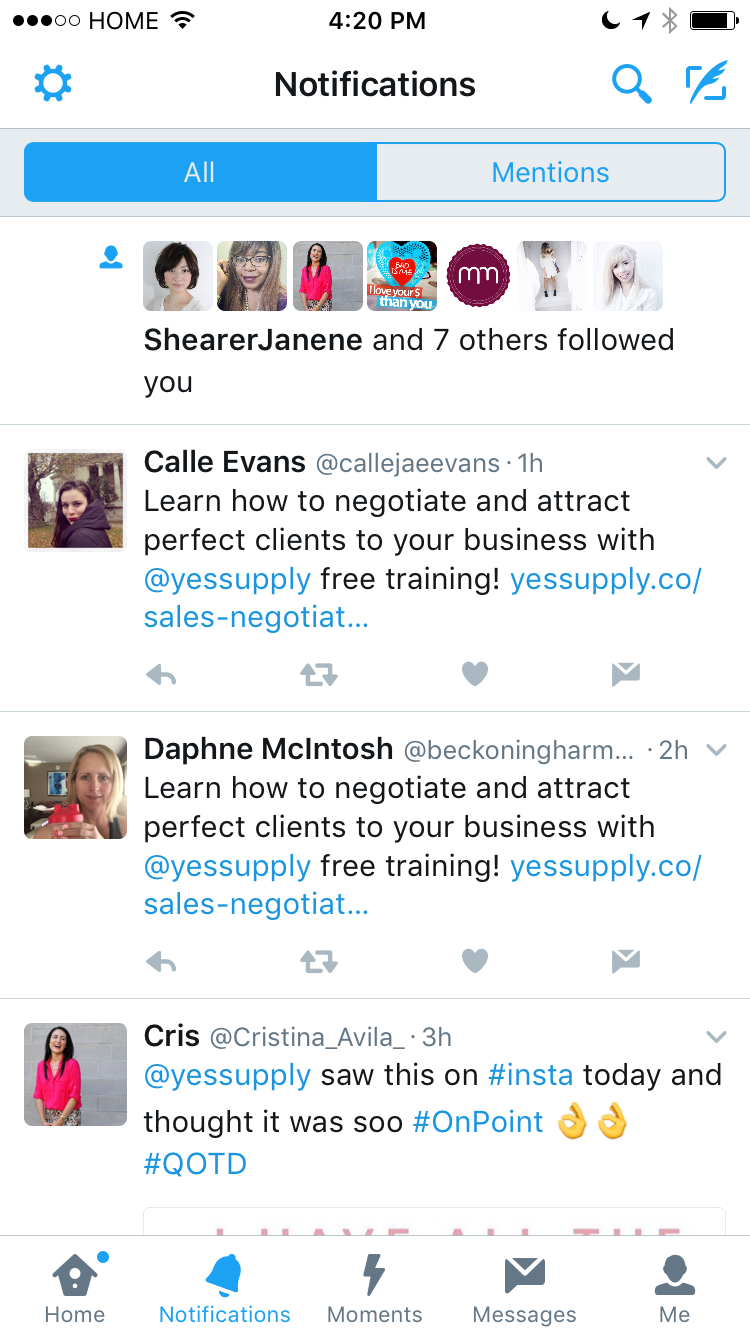 An entire twitter feed of webinar attendees promoting her webinar.
Why does this work?
Because studies show that over half of all people will give a referral if offered a direct incentive to do so. (source)
In other words, if you bribe 'em. They'll share your webinar… or ebook, or course.
Let's break down how you can create a simple referral campaign to promote your webinar, or any landing page for that matter.
Step 1: Create a killer landing page
Reese's landing page is the classic webinar landing page.
She has a powerful headline that tells her audience what the webinar is going to be about. She has a picture of herself and the co-presenter of the webinar to make it more personal.
And finally, she has a list of bullet points that go into detail about the talking points of the webinar.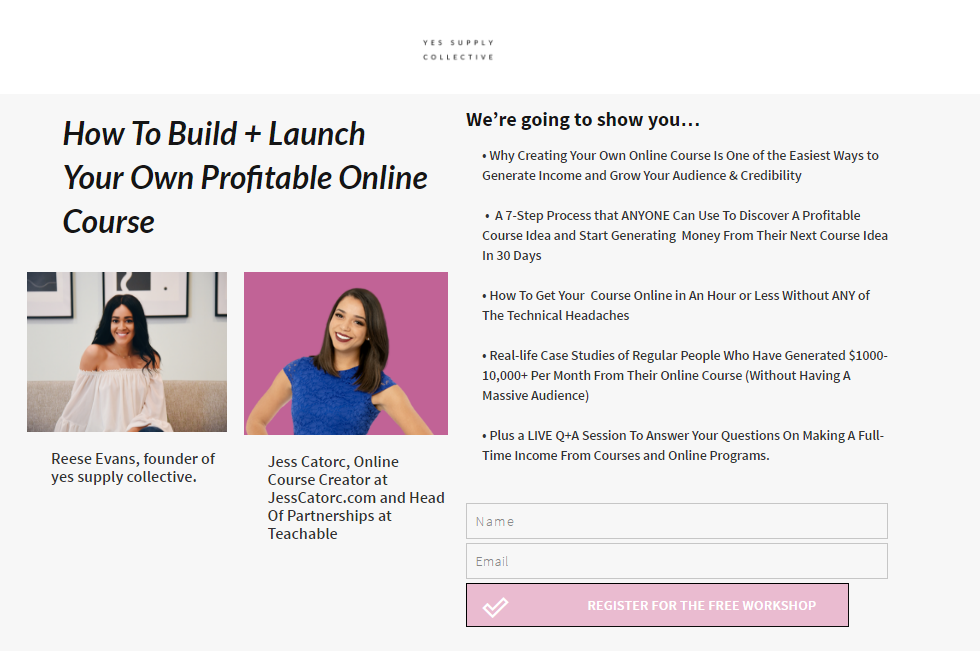 Step 2: Create a bonus resource
Reese then created a bonus content that compliments her webinar.
She knows that most of her audience joining the webinar are new business owners who are "lost and confused" about how to get started. So she created a guide that shows how she overcame these hurdles.
Step 3: Create a thank you page
Most thank you pages simply say "Thanks for signing up" or something generic like that. They are usually a placeholder page, and nothing more.
However, if you're setting up a referral campaign, you need to tell people about it.
Here's what Reese does:
First she tells people to share the webinar with her "business besties" and she'll give you a free guide (gotta love her personal touch 🙂 ).
Then she tells people what the guide is all about.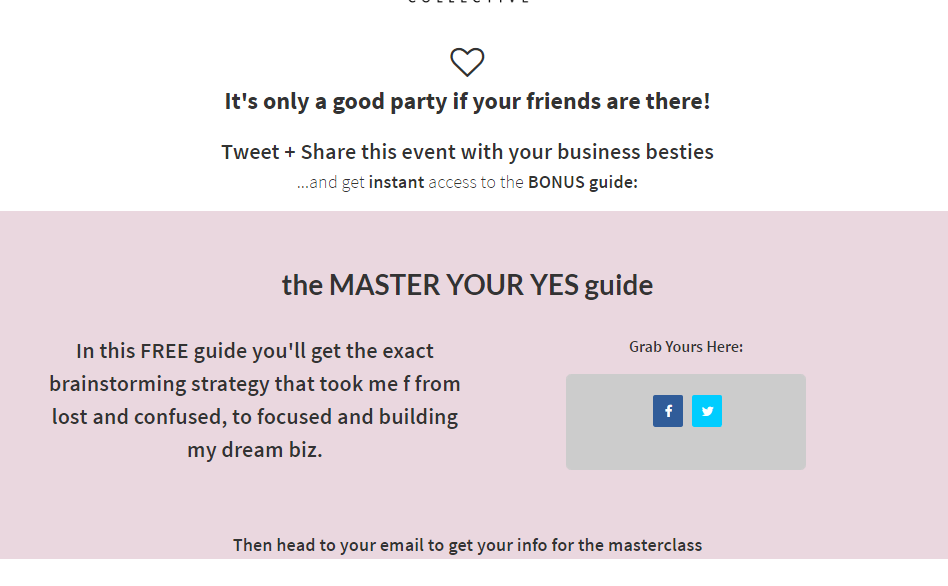 You don't have to get too fancy with this.
Step 4: Create your referral campaign
Next, you'll go over to Entice, or some other tool to create your referral campaign.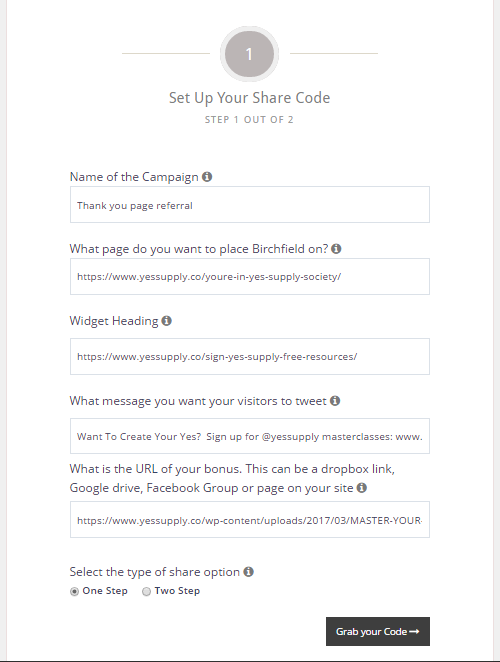 Next, copy and paste the code where you want it on your thank you page.
Once the person clicks either the Twitter or Facebook button, they'll be asked to share the message that you created for them. This makes it as easy as possible for your readers to share your post with their friends and followers.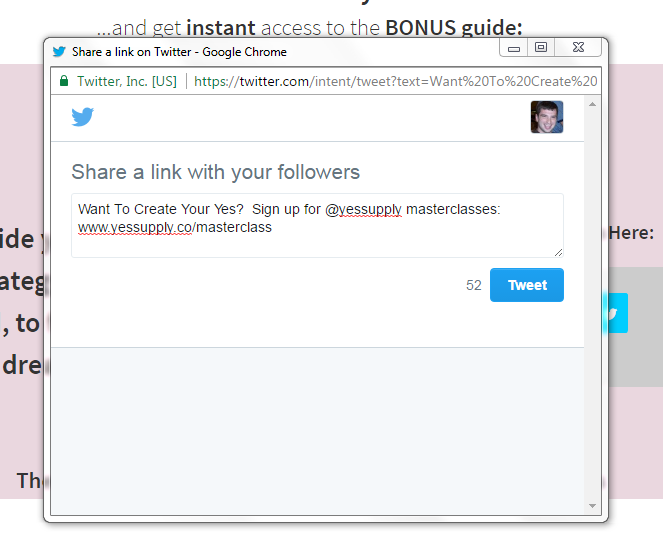 You can get more ideas for your referral program here.
How AuthorityHacker.com earned $2,684 by selling an entry-level product
Let's face it, running ads can be expensive.
Especially if you're in an industry where you don't break even for months, or even years.
The way to help compensate the cost of the ad is to sell an entry-level product. (Internet marketers call this a tripwire. ¯\_(ツ)_/¯)
As you probably gleamed from the headline of this section, Authority Hacker used this strategy quite effectively.
Here's how they did it.
Step 1: Create your lead magnet
Once again, this strategy starts with a high converting lead magnet.
Here's the one that Authority Hacker used.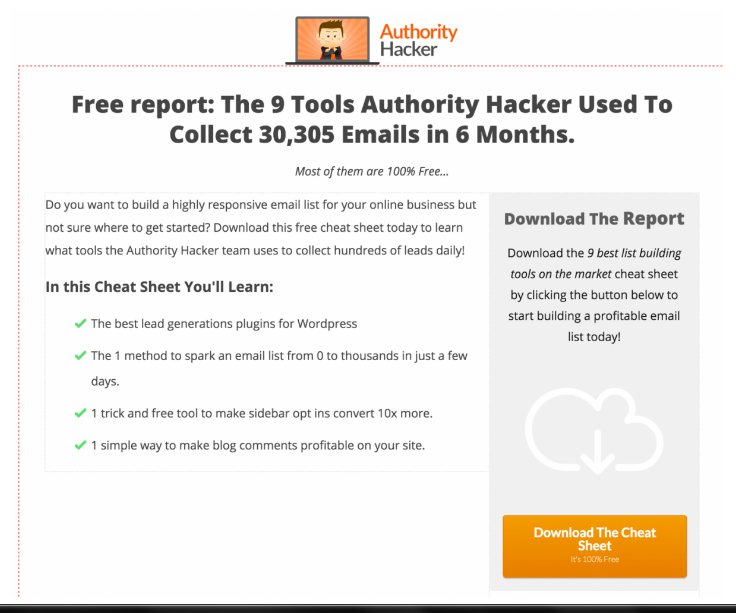 Step 2: Create your entry-level sales page
After a person opts in to your lead magnet, they will be taken to your sales page where you are introduced to a low cost product.
In the case of Authority Hacker, the low cost product was sold at $9.95.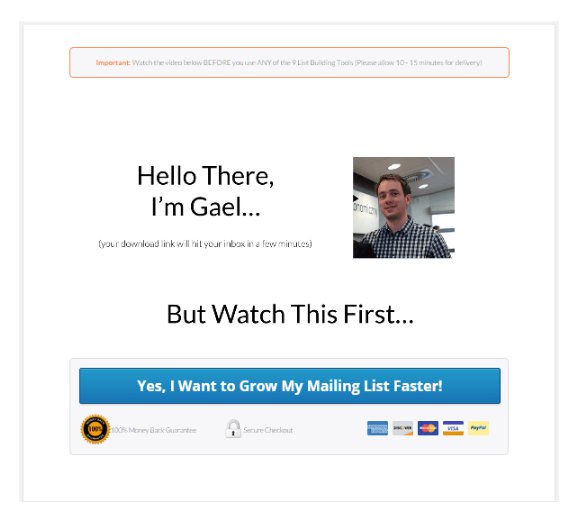 Authority Hacker has a few tricks up their sleeve to make sure the sales page converts well.
First, they have a short video that shows the product to their potential customers.
Second, they created a little "heads up" at the top of the page. Before you use any of the tools in the lead magnet, you should watch the video first.



And third, the page is very simple. The only thing a person can do on the page is click the call-to-action (or close the window entirely).
With this simple formula, Authority Hacker was able to collect 301 new emails and make $2,684.
(Note: Here's the breakdown of that revenue. The entry-level product, which they sold for $9.95 earned them $298. They have a more expensive upsell product which they sell for $297 and earned them $2376.)
Now it's your turn…
Emil, Reese, and the Authority Hacker team understood how critical it was to turn their thank you pages into a way to advance their current marketing strategies.
Whether they were offering free trials of their service, getting referrals so they can collect more leads, or offering an entry level product, these companies made use of a previously ignored asset.
Look.
You can read this post and nod your head and think to yourself "well, that's a good idea" before closing it forever.
Or you can implement one of these tactics immediately.