Local SEO plays an essential part in the development of an effective SEO strategy. With 78% of local searchers resulting in a purchase in-store, missing out on a well-developed and effective local SEO strategy could be losing you valuable leads.
What is local SEO?
Today, it is estimated that around 46% of all searchers on Google are looking for local information and solutions. Search terms involving location-specific phrases, such as "near me" have skyrocketed by an eye-watering 900%!
With greater emphasis consumers now place on finding local solutions for their requirements, the need for local SEO has never been higher.
Local SEO works by optimizing your website's presence in local and localized search results for better visibility. Unlike traditional SEO however, local SEO predominantly focuses on 3 pillars. The 3 pillars of local SEO are:
The proximity of the business to the searcher
The prominence of your business online
The relevance to the search query
A different set of ranking algorithms are also used to determine the results in local and localized searches. You may have an effective SEO strategy that helps you to stand out well in the organic search results, but you'll need to implement additional methods for local SEO.
Local search results are typically displayed on Google in 2 ways: 3-pack results and map results. Here's an example of a local search query: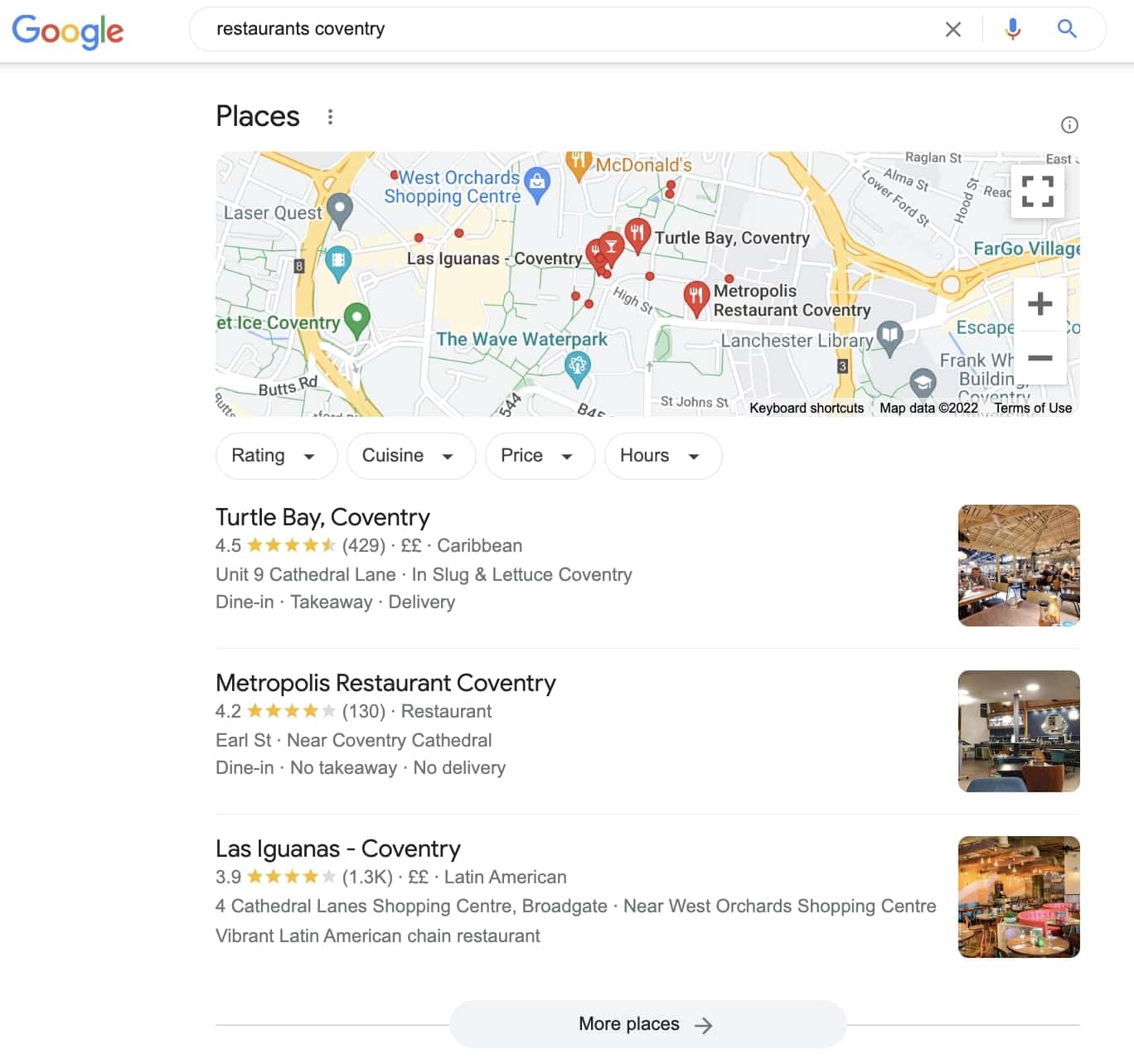 Local SEO is most advantageous to stores with a physical location (brick-and-mortar stores). If you are a small business, local SEO is your way forward. An effective local SEO strategy will help you to stand out in the search results, as local and localized search results appear above the number 1 organic result.
The benefits of local SEO
Alongside the increase in visibility, you can achieve with an effective local SEO strategy, you can also gain these great benefits:
Higher quality traffic
Build authority and trust
Attract customers with a purchase intent
Increase sales
More customers contacting or visiting in-store
Better conversion rate, including higher mobile conversion rate
Build a strong review portfolio
Gain a competitive advantage with continued business growth
Tips for developing an effective local SEO strategy
Now you know what local SEO is and the benefits you can gain, it's time to explore some tips for how you can start developing an effective local SEO strategy today! Here are 10 tips to get you off to a good start:
Table of Contents:
Tip 1: Set Up Google Business Profile
One of the very first things you need to do for effective local SEO is to set up (or claim) your Google Business Profile (formerly Google My Business). Google's Business Profile is one of the best ways to help boost your visibility.
If you don't take the time to set up and maintain your Google Business Profile, you'll have a hard time appearing in Google search results. That's why it's extremely important to claim your profile to help boost your online visibility.
To start, you'll need to either set up or claim your business profile. Search for your business in Google and see if your profile appears in the search results. Underneath the information included in the profile, check if "own this business?" is displayed. Click on this, then follow the necessary steps to claim your business listing.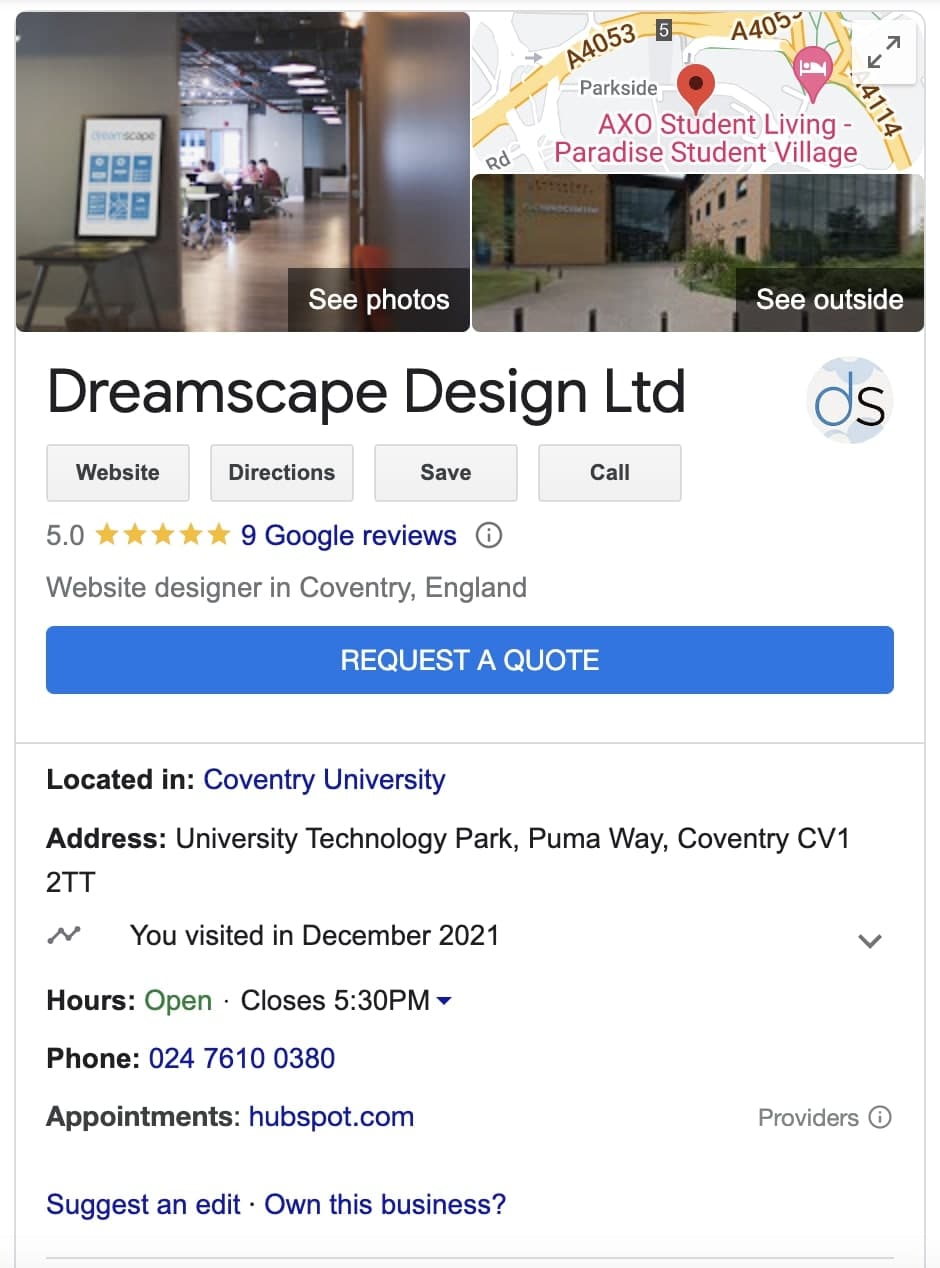 If the business profile is missing any essential details, you may be asked to provide these when claiming the profile. Details such as name, address, phone number, and category are all essential details required for a Google Business Profile.
Once you've claimed your profile, you need to verify the listing. Verifying your listing indicates to Google that your business is legitimate and that you represent the company. Verification is done via phone, text, email or video.
Without verifying, you won't be able to make any changes or view analytics. Verifying your listing will also allow you to provide additional information to your profile. The additional information you can include:
Opening hours
Options for contacting your business
Photos
A description
Questions and answers
Reviews
Products and services
Here's an example of an optimized Google Business Profile: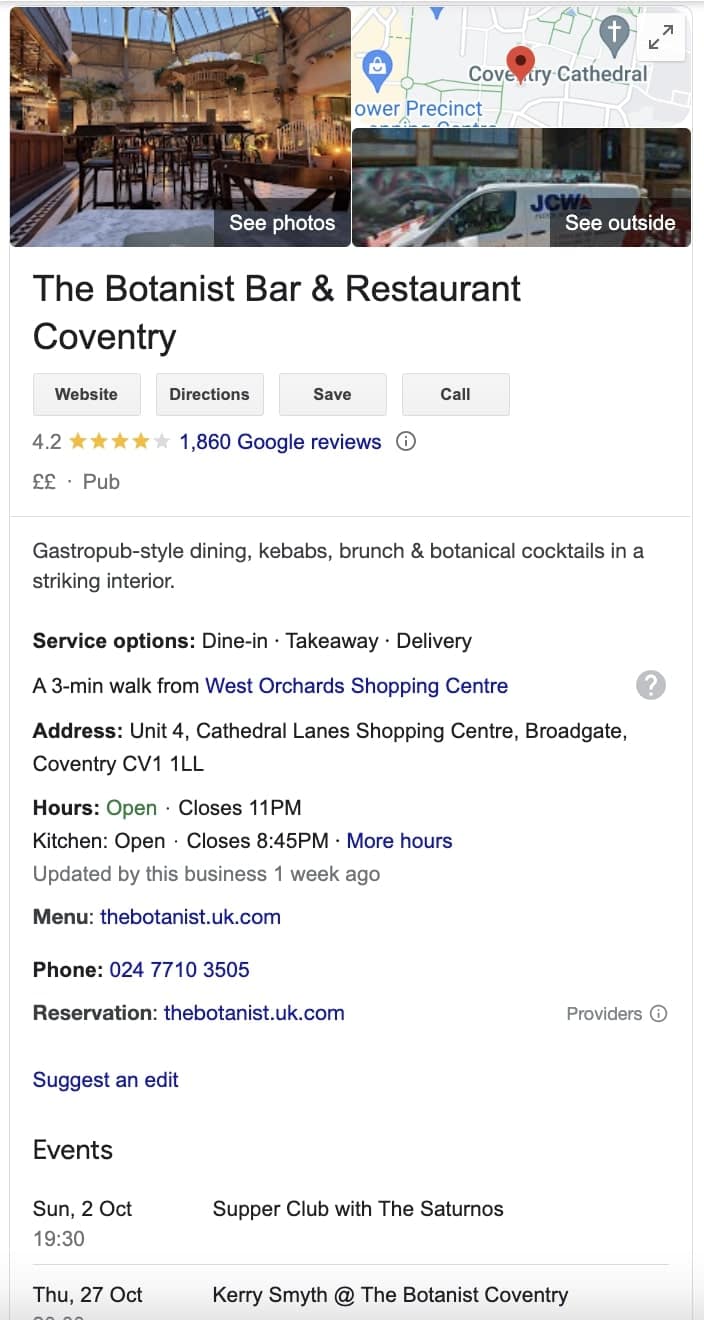 Tip 2: Incorporate Google Features
Now you've set up your Google Business Profile, it's time to continue using Google features on your website to help you develop an effective local SEO strategy and gain higher visibility.
Did you know that incorporating and embedding Google features into your website is a good way to gain a ranking boost? Alongside your Google Business Profile, you can use the following Google features:
Develop a contact page, embedding a Google Map with your location pinpointed
Create an XML sitemap with links to all your website pages and submit it to Google Search Console
Upload and embed YouTube videos to your site
Use Google Analytics and Google Search Console to monitor your SEO performance
Daisy's Flower Boutique incorporates a Google Map onto their contact page to allow customers to easily find the store on the go: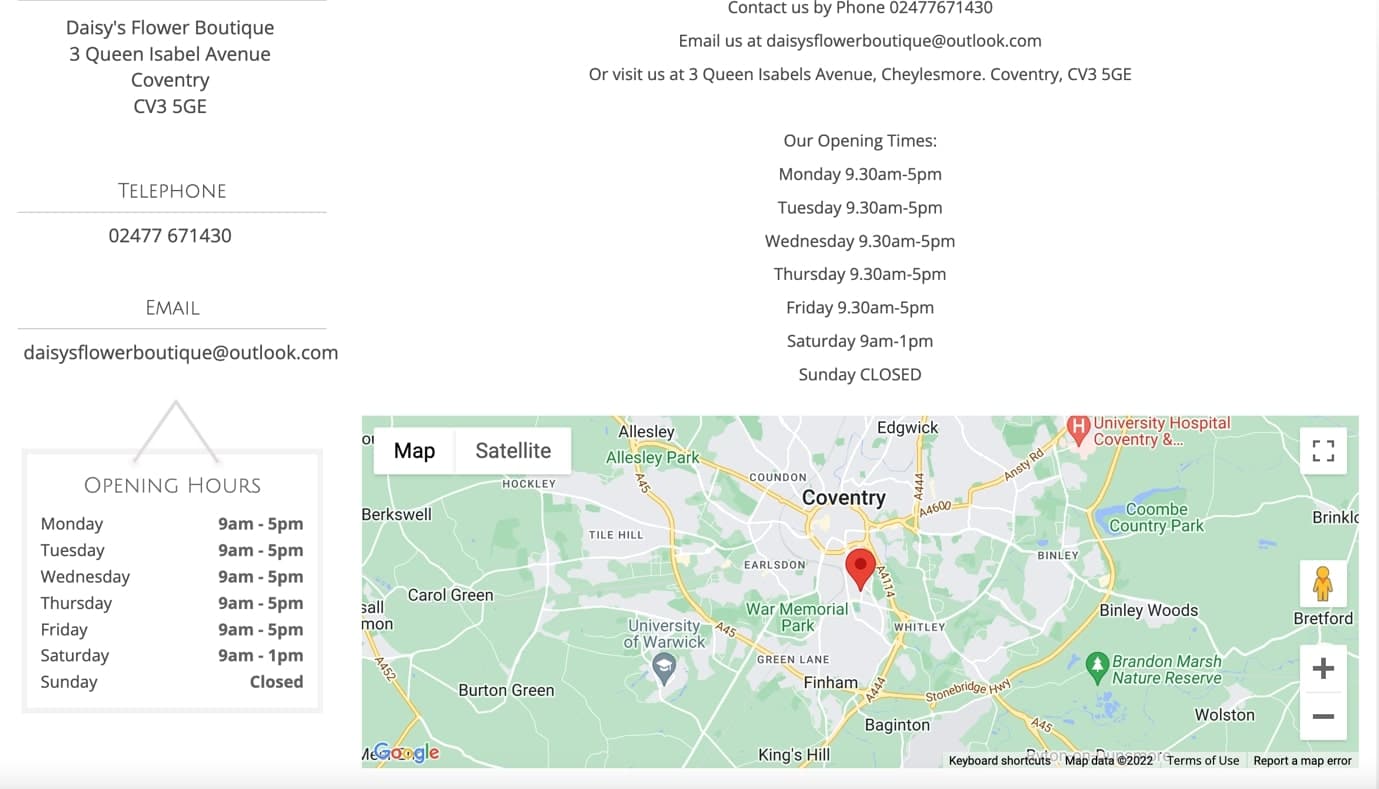 Tip 3: Consistent NAP Citations
The next tip for developing an effective local SEO strategy is providing consistent NAP citations. NAP stands for name, address, and phone. Not only are NAP details essential for local SEO, but they help improve your online visibility too.
However, NAP citations can extend further than the traditional 3 details. Other details you can also include are your website, business hours, and email address. Providing as many contact details as possible ensures customers can quickly and easily contact you.
NAP citations need to be consistent. This means ensuring the details you provide are exactly the same on your website, Google Business Profile, directories, and social media.
Here's an example to show how NAP inconsistencies can occur:

Tip 4: Reviews
Customer reviews are extremely impactful in influencing potential customers' purchasing intentions. As reviews are left by customers and not managed by the business, reviews have a very strong impact. As many as 69% of customers trust reviews as much as personal recommendations, indicating how influential they can be.
Building up a portfolio of positive reviews not only helps in influencing customers, but it is another way to develop an effective local SEO strategy. The more positive reviews you receive on your Google Business Profile, the better for your local SEO ranking. Reviews on business directories and e-commerce sites can also help influence purchasing decisions.
Getting reviews isn't that difficult either. All you need to do is ask your customers to leave a review. When around 70% of customers who are asked to leave a review, will do so, this shows there's no harm in asking.
Here's how reviews are shown on Google for a local wool shop, Busy Fingers: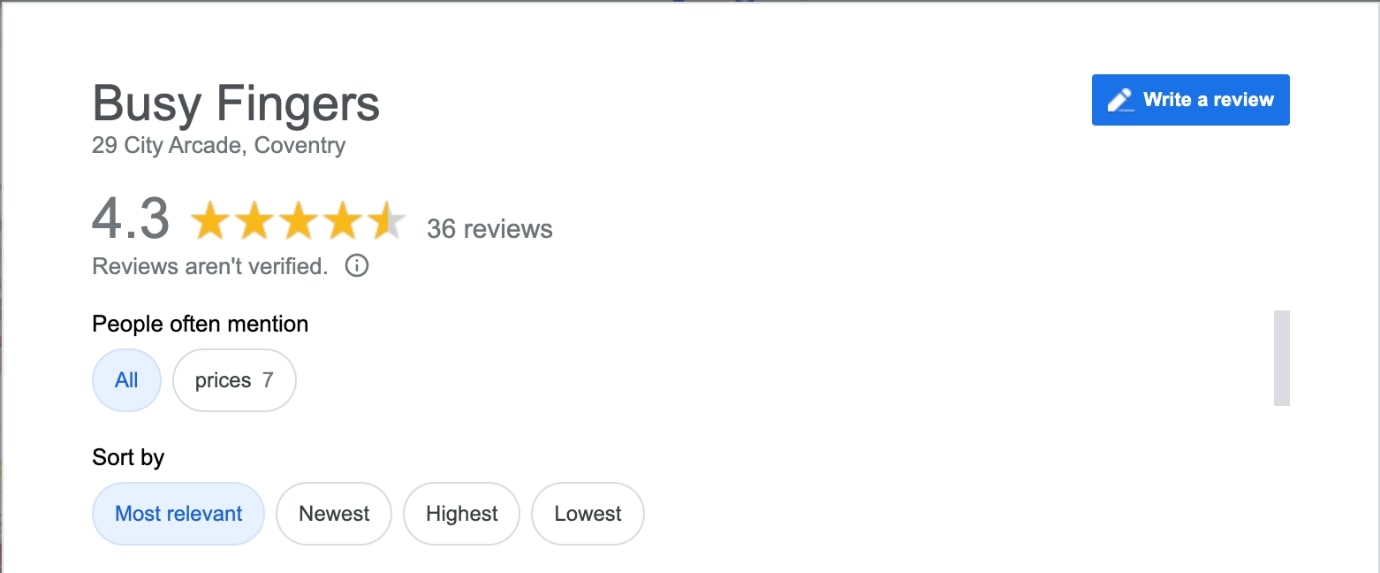 Tip 5: Optimize for Local Keywords
In the same way you need to optimize keywords for your traditional SEO strategy, the same is true for local SEO. You need to target local keywords, including location-specific keywords. Once you've found the keywords to target, you can implement them throughout your website. One of the biggest benefits is creating location-specific content, such as landing pages for designated areas. If your business operates in multiple areas, consider creating landing pages targeting each area individually.
You can also optimize your metadata accordingly, including titles, meta descriptions, URL slugs, and image alt tags. Make sure you follow the same tactics for every location-specific piece of content you create. Check out these 9 successful content marketing secrets to boost traffic.
Tip 6: Regularly Update Social Media and GMB
Do you regularly update your social media profiles with new posts? If you do, you are already working towards another step in developing an effective local SEO strategy. If not, consider regularly posting to your social media pages to promote your business to local customers.
The more active and engaged you are on social media helps to build customer engagement and trust, and increase the awareness of your business. The more reviews you have on social media can also benefit your local ranking too.
But as well as being active on social media, you should also regularly post updates to your Google Business Profile. Similarly to sharing a post on Facebook or Twitter, you can post status updates to your Google Business Profile to keep people updated on events or special offers. Regularly posting to your GPB helps your local SEO ranking efforts too!
The Botanist regularly posts to their Google Business Profile: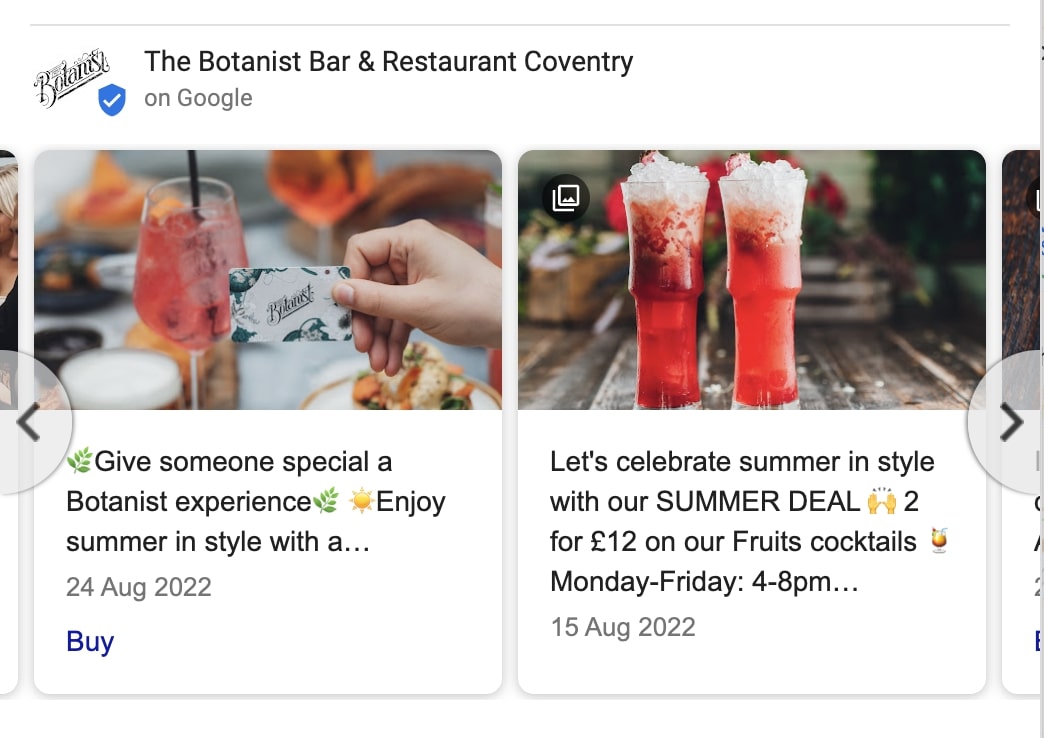 Tip 7: Business Directories
We touched upon business directories briefly when we covered consistent NAP citations. But given how important directories are for letting customers find you, it deserves its own tip.
It's estimated that 94% of people have used a business directory within the last year for information about a local business. Directory sites are structured citations (which need to be consistent).
If you haven't claimed your business listing on directory sites, there may be outdated or incorrect details present. Make sure you search on directory sites for your listing and keep them up to date so that it doesn't reflect badly on your business.
Business directories to consider include:
Yelp
Yell
Hotfrog
192 Places
Bizify
Not only do business directories provide a way of increasing visibility, but you also have the opportunity of gaining a backlink to your website. When coming from high-quality directories, you could get some nice link juice passed on. It's a win-win!
Tip 8: Link Building
You may already undertake link-building activities for your traditional SEO efforts. Link building is another great way to improve your local SEO performance.
Make sure that any backlinks you are obtaining come from high-quality sites, ideally with a higher domain authority than your own. Ensuring your backlinks come from quality sources will help to provide you with that all-important ranking boost. You can gain high-quality backlinks for your local SEO through sponsorships and partnerships with local organizations, guest blogs, or scholarships. Building connections and relationships with other local representatives can aid in your link-building efforts.
Also, make sure you include internal links on your site to any location-specific content and pages so the Google crawlers can find and index those pages much easier. An effective link-building strategy of internal, external, and inbound links is essential for higher rankings.
Tip 9: Metadata
To help improve the indexing and visibility of your website in local search results, you need to optimize the metadata on all your pages. The same goes for local content and searches too. Every page on your site needs to be optimized for high-volume keywords. Metadata helps you accomplish that.
Make sure that for each page, including location-specific landing pages, that you are optimizing for high-volume keywords within:
The heading and titles
URL
Meta description
Body of the content
Image alt text
The metadata you set will allow search engines to better understand the content of your pages, as well as how the listing appears in the search results.
Including location-specific keywords within your metadata tells both searchers and search engines you offer your product or service within a particular area. Doing this will help ensure that your website appears in local search results.
Tip 10: Set Up Schema
Our final tip for developing an effective local SEO strategy is to set up Schema on your site. In particular, you need to incorporate local business schema to help boost your online visibility.
Similar to schema, local business schema is a structured data markup that makes it easier for search engines to identify your business alongside your products and services through a common group of tags. It also informs search engines you are a small local business as opposed to a big brand.
Find out how to implement local business schema into your website for higher visibility.
With these 10 tips, you should be well on the way to developing an effective local SEO strategy. But remember, local SEO is a companion to your traditional SEO strategy and should work together. A local SEO strategy is not a replacement for traditional SEO.