We all know that the future of banking is online.
In addition to 10 of the world's biggest banks (check out our live tracker and free report here), we analyzed the content of 150K+ conversations mentioning the keywords: Apple Card, Revolut, N26 and Aspiration.
While these services don't generate a much noise as the institutions that have been on the market for many more decades, we thought that it would be worthy to analyze the topics they are associated with on social media, to identify the key trends all banks should focus on in the coming years.

Here's what we found.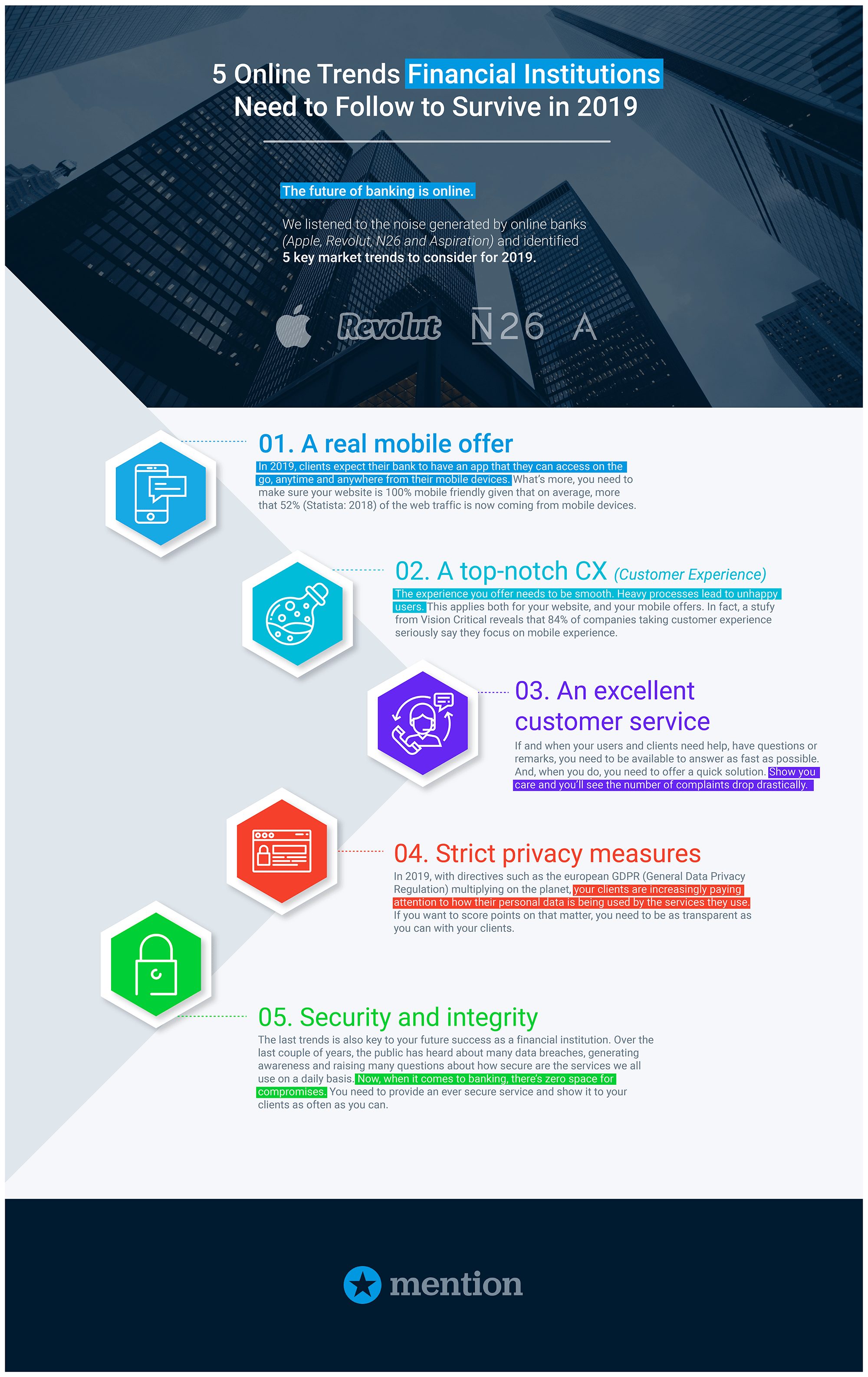 1. A powerful mobile experience
In 2019, clients expect their bank to offer an app that they can access anytime and anywhere from their mobile devices.
If you lack inspiration or are unsure of your app's features, take a look at The Balance's top 8 banking apps for 2019. They made their selection based on what you're trying to achieve:
Best overall: USAA Mobile Banking App
Best for staying on a budget: BB&T Mobile App
Best for ease of use: Capital One Mobile App
Best for transferring money and online banking experience: Ally Mobile App
Best for cash back: Bank of America Mobile App
Best for appearance and clarity of information: Chase Mobile App
Best for bill pay: Wells Fargo Mobile App
Best for notifications: PNC Mobile App
What's more, you need to make sure your website is 100% mobile friendly since, on average, about 52.2% of the web traffic is coming from mobile devices (source: Statista – 2018).
2.Top-notch Customer Experience (CX)
CX is the main differentiator when it comes to choosing an online banking service.
This means the customer experience when it comes to using your services and products, needs to be as smooth and pain-free as possible. The heavier the processes, the less happy your customers.
This goes without saying for the experience you offer on your website, and on mobile (website and application). In fact, according to a study from Vision Critical, 84% of companies saying they take customer experience seriously say they focus on mobile experience.
The best solution here is to make sure the experience you offer meets your users' expectations is to run A/B tests.
How does testing help?
When A/B testing, you randomly split your visitors and users into 2 (or more) groups. Let's stick to two groups, A and B, for the sake of our example.
With an A/B testing solution, you can present the Group A with a version of your website (or application) and the Group B with a different experience.
By doing this, you'll be able to assess which experience helps you to convert more visitors into doing what's expected of them (open an account, ask for a quote, book an appointment, share a referral program, etc.).
Here's an example of an A/B test run by Hello Bank – an Online Bank created by BNP Paribas -, using Kameleoon.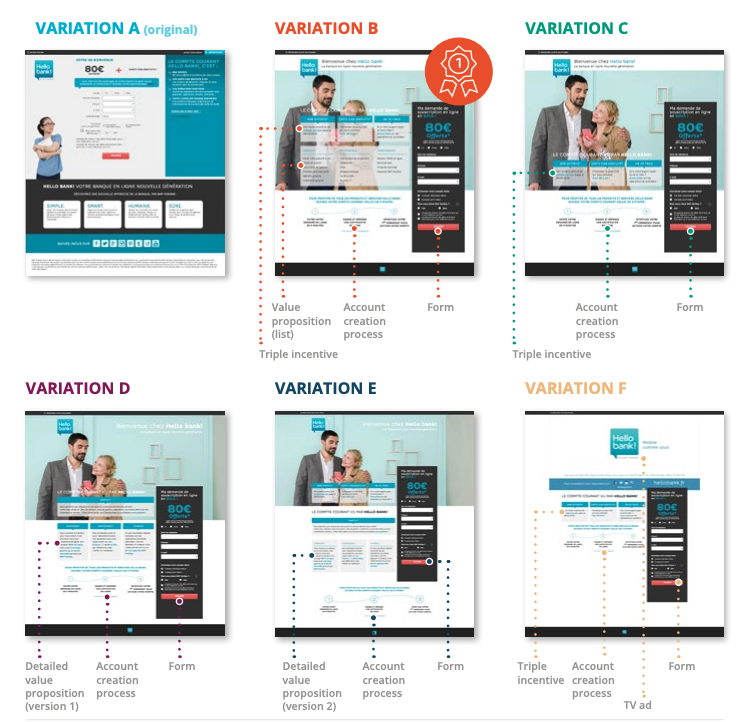 At the end of the day, Hello bank! saw account openings increase of nearly 23% using the second version of their landing page.
3. Excellent customer service
When your users and clients, have questions, concerns, or need help – you need to be available to answer as fast as possible.
And, when you do – you need to offer a quick solution.
Here's an example with Wells Fargo. They managed to de-escalate a situation pretty quickly, turning an angry conversation into a praise.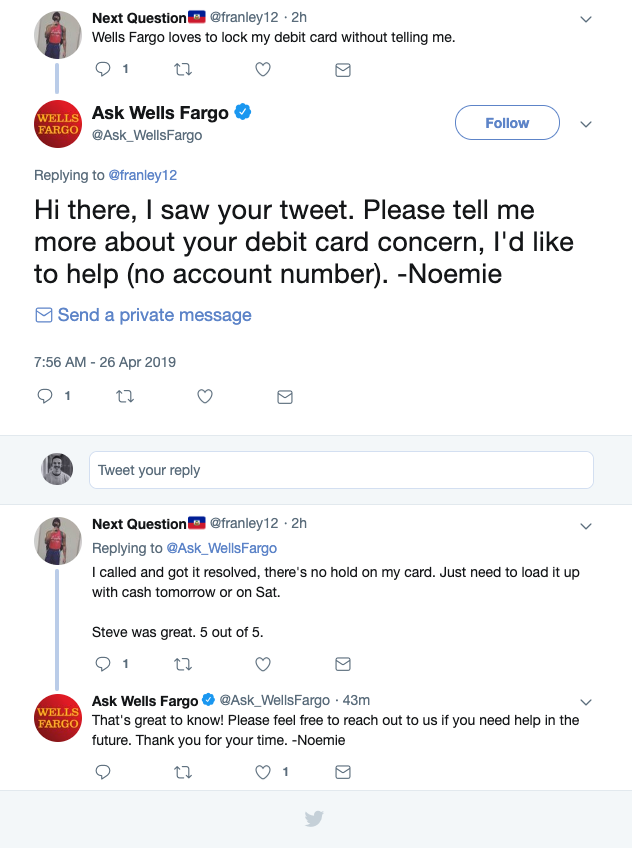 If Noemie, from Wells Fargo, had not taken the time to answer the angry customer, the first message would definitely contribute negatively to the bank's image.
Here's another example, from American Express this time.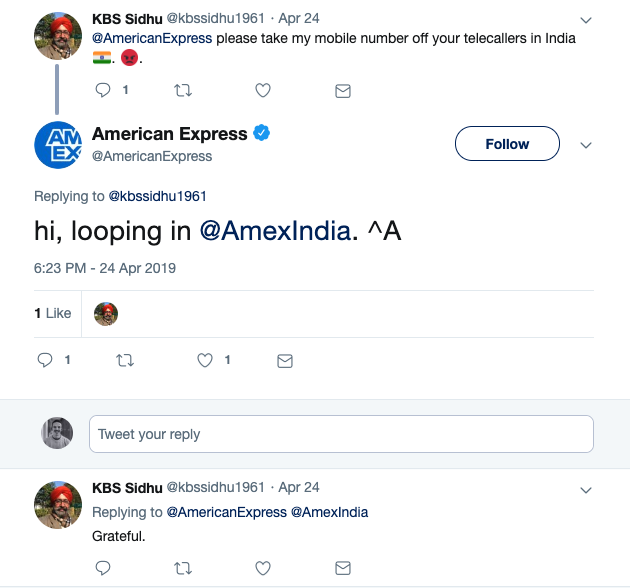 In both situations, the Wells Fargo and AMEX both managed to diffuse situations that were not looking good at first. And this happened only with one tweet.
The bottom line is: show you care.
Besides, it seems that once you show you care, the number of complaints expressed on social media significantly lowers.
"It's about transparency. Whenever you are present on social media, you really see the complaints go down substantially compared to when they think you're not listening."
–Jill Castilla, President and CEO, Citizens Bank of Edmond
4. Strict but user-friendly privacy measures
This is a key topic within the financial world and regulated industries.
In 2019, especially with implementations such as the European GDPR (General Data Privacy Regulation) multiplying on the planet, your clients are increasingly paying attention to how their personal data are being exploited by the services they use. If you want to score points on that matter, you need to be as transparent as you can with your clients.
Here's an example of a one-way conversation still awaiting an answer from @N26. Anabella had a bad experience with the service and she's now complaining about it on social media.
She also suggests that N26 is not being GDPR compliant as she says it will take 2 days for them to erase her personal data. In reality, a company has 30 days to erase an individual's personal data upon request. But regular Joes don't necessarily know about this and receiving no answer from the bank clearly doesn't help.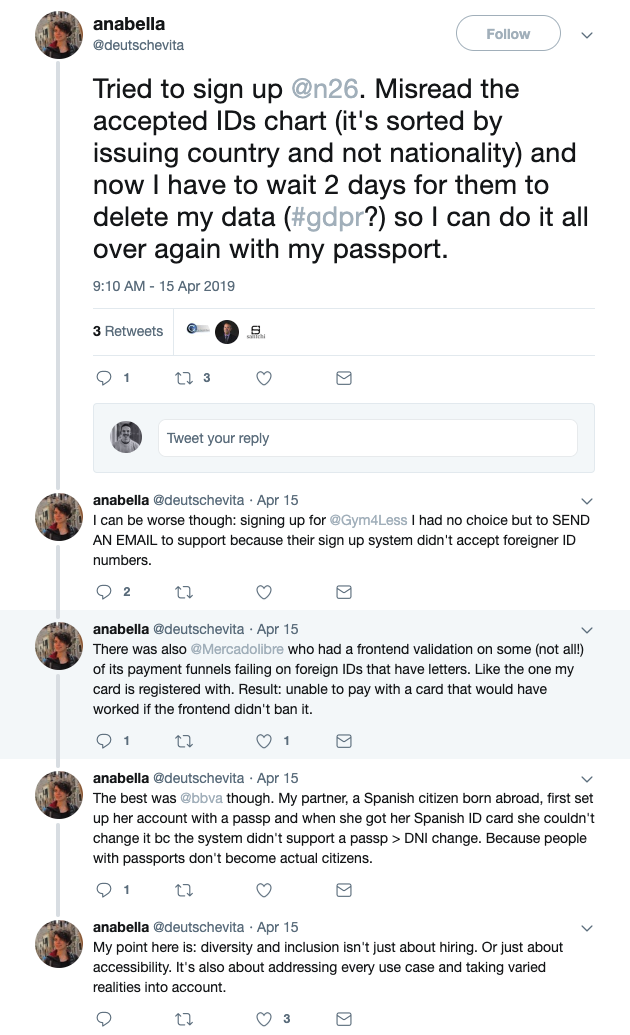 Using a tool like Mention, for example, N26 could set alerts on messages including "N26" and "GDPR", not to miss any of these critical conversations.
5. Security and integrity
This latest online trend for 2019 is also key to succeed as a financial institution.
Over the last couple of years, the public has heard about many data breaches – generating awareness and raising many questions about the security of the services we all use on a daily basis.
Now, when it comes to banking, there's no possible compromise. You need to provide an ever- secure service and reassure your clients as often as you can.
What's more, even if you guarantee safety and security to your customers and users, if the way you manage it is not user-friendly, you're exposing yourself to situations like these:



Let's not forget that banks deal with a highly sensitive matter: our money. We pay fees and trust them to keep our data and funds safe. In return, we also expect premium, reliable service.
Understand the trends – And make new ones!
To keep their customers and attract new ones, banks and other financial institutions needs to excel and lead the way. On the one hand, this means that they need to master the current market trends. On the other hand, this means they have to be innovating and iterating all. the. time., removing all the potential roadblocks along the way.
Are you a marketer or a communication professional working with, or for a financial institution? What do you think of these emerging trends for 2019? Do you think your institution is ready to tackle them? Are you already there or maybe lagging behind? Share your thoughts in the comment section below!