In the past, if you made a customer unhappy, you lose the customer, and maybe a few friends they talked to.
Nowadays, if you make a customer unhappy, you lose the customer, and his 6,000 Twitter followers who saw the angry tweet complaint. And it'll take your brand a while to recover from the public shame and embarrassment.
I'm not exaggerating. A study by Zendesk revealed that 88% of customers are influenced by customer service reviews when making buying decisions.
And customers are happy to write reviews and share experiences with other customers online. Especially when they're bad. Ninety-five percent of customers share bad customer support experiences with others.
Including me:
very bad customer service and purchasing experience. Seriously considering buying from somewhere else! @LaRedouteFr #laredoute

— Joei Chan (@joeei) August 18, 2016
As customers share buying experiences on social media more often, brands need to increase their support presence on these sites as well.
You can't stop customers from complaining online. But you can learn how to deal with them better. In this blog post, I'll show you how to provide social support more efficiently and win back dissatisfied customers.
Struggling with building customer loyalty? Download our free guide to creating a great customer experience.
Here are five important tips for delivering satisfactory support on social media.
1. Use a monitoring tool to catch these complaints
Only 30.72% of tweets contain your handle when they talk about your company. If you aren't paying attention, you'll miss a significant amount of customer feedback and questions.
Using a monitoring tool to catch all your mentions also means you won't need to watch Twitter, Facebook, Instagram, forums, or other sources individually. Imagine how many hours (and opened tabs) that would save.
Set up alerts for your company and product names, and get notified whenever someone reaches out anywhere online in real time.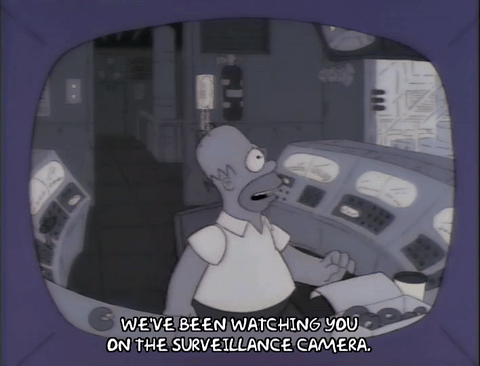 2. Don't ignore the complaints
It sounds like a no-brainer, but a surprising majority of brands ignore online complaints. Unsurprisingly, making your customers feel like they're talking to a wall won't help you keep them.
No, they're not fun to deal with. Complaints can be intimidating at times, and your instincts might ask you to hide in the nearest hole that you can fit in until someone else makes the problem go away. But responding to frustrated customers in time is crucial. Even when you don't have an immediate solution.
Jay Baer, author of Hug Your Haters, says, "Instead of answering some complaints once in a while, when we feel like it, answer every complaint, every time."
Most customers understand that problems cannot be solved immediately, but they need to know you listened, and are doing your best to provide a solution.
3. Have real people manage your social accounts
One of easiest ways to annoy already dissatisfied customers is to respond with copied-and-pasted responses. Or worse, with bots. Especially if they aren't very smart. Like ASOS's responses: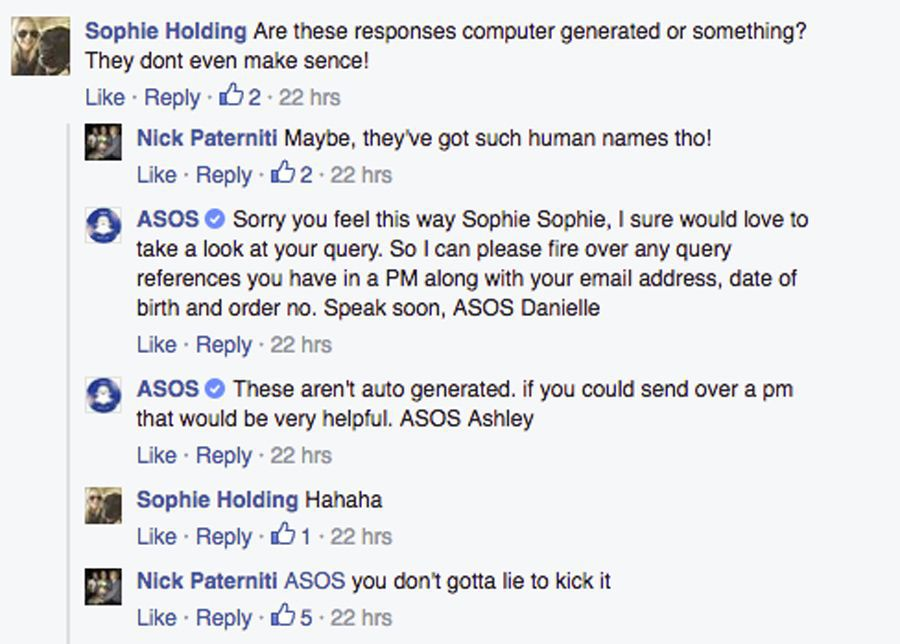 If you must use bots, at least own up to it. Because that's not convincing at all, "ASOS Ashley." Customers are smart and will pick up on it quickly:


Nope, "ASOS Erica", using emojis and contractions didn't help.
So please, hire real people to talk to your customers. It'll definitely cost you less than what you'd need to spend trying to get back customers you annoyed away.
4. Use the opportunity to build rapport
Instead of freaking out or just saying sorry when a customer complains, try to make the most of the situation. Use the opportunity to have fun and connect with the customer.
Like the way Sainsbury's customer support rep, David, did in this Twitter conversation with a customer, Marty Lawrence.
Marty complained about the fish not having a bar code and made a fish pun:
I tried to buy some battered fish from @sainsburys but it didn't have a bar cod! — Marty Lawrence (@TeaAndCopy) January 10, 2014

David picked it up and replied with more fish puns, and the conversation got really punny: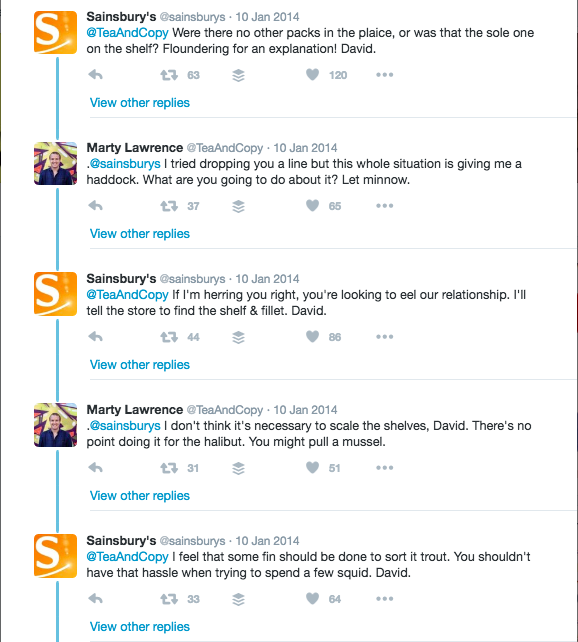 These tweets went viral on Twitter, and Marty was so impressed by David's witty responses that he didn't mind that David couldn't really help with his problem. He appreciated the exchange and concluded that this was the "finnacle" of his tweeting career.
The takeaway? Don't be afraid to break the ice by having fun with your customer; they'll love you for it.
5. Continue the discussion in private, if necessary
Not every social media complaint can be resolved in less than 140 characters, especially if the issue is technical or when the customer has many grievances to air. It's also not great if the customer keeps a thread going, cluttering your Twitter feed with angry @replies.
So it's important to know when to take a conversation from a public page to a private message, or perhaps off social media altogether.
Like this Twitter complaint about Buffer: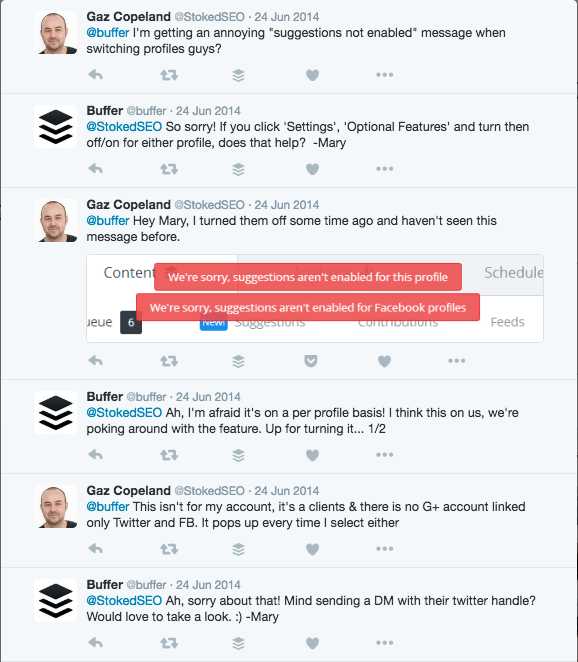 In order to resolve the situation, Buffer needed information that wouldn't be appropriate to share publicly (a client's contact info), so they let the customer know how to contact them privately.
Generally, you should continue the discussion in private when:
The issue is complicated and there are too many back and forth replies
Sensitive personal data like phone numbers or credit card details are involved
And if you do have to move a customer's support to another channel, make it seamless for them. We'll talk about how to do that next.
6. Create an efficient process for transferring queries
We've all had that experience.
We call the customer hotline, explain the problem, get put on hold, get transferred to a completely different person, and have to repeat our problem from the beginning. She asks us to wait, and we pray so hard not to get transferred again.
And there goes 35 minutes of our lives we'll never get back.
It's the same on social media. When customers tweet to your brand about a complaint, they don't care that you're the social media manager and not the customer service rep.
If it's not a problem your team can solve, don't transfer the customer to another team. Instead, communicate internally and have the other team contact your customer, with full understanding of the past exchanges.
Customers don't want to hear you say, "Hi, I'm John from tech support. How can I help you?" if you're the third person they talked to. They want to hear, "Hi, I'm John from tech support. My colleague explained your situation to me, and here's what I can do for you…"
The only thing more annoying than not getting the help you need is having to repeat your problem over and over to different people in the same company.
Invest in customer loyalty
Customers take social support as a given now. And if you want to keep your customers, you better get pretty damn good at it.
A great way to evaluate your social support is to test it yourself. Make a complaint on social and walk around in your customer's shoes. See how easy or difficult it is to get a response, and how helpful it is. That's the simplest way to create a great customer experience – through trial and error. The more you test it, the more likely that most errors will be tried before a real customer complaint comes along.
Need more help with creating a great customer experience? Download our ultimate guide to customer loyalty.