Have you ever had this feeling you've mastered something?
You know the topic perfectly. You're an expert, a wizard.
And then, suddenly, you realize you were wrong.
Someone mentions something about that topic that makes you realise you knew only a little.
That's exactly what happened for me with Mention.
I've been one of Mention's early adopters. I've been using it for years to track the reputation of the companies I was working for. And I thought I knew all about it.
Turns out I was mistaken.
Recently I became Head of Growth at WisePops, a popup solution.
One of my main missions is growing our organic traffic. After discussing with a veteran SEO guy, I understood Mention could help me a lot with my SEO efforts.
Let's see how you can apply the same techniques I used to improve your Google rankings.
SEO basics
Before diving into the techniques, it's important to review the basics of SEO.
When a search engine prepares the answers to a specific user query, it will look at 2 main dimensions:
Relevance: will the page answer the searcher's question?
Popularity: are the pages popular online?
Google relies on dozens of factors to calculate a global score.
Popularity is measured among other things by the number of backlinks and incoming hyperlinks from external websites a website gets.
Why backlinks matter so much
Backlinks can have a dramatic impact on your SEO traffic.
Look at the last ranking factors study from SEMRush. They analyzed 600,000+ keywords and checked what were the factors which best explained why a given page was ranking in Google's top results. Their conclusion? "As confirmed by Google, a strong backlink portfolio is crucial for website rankings."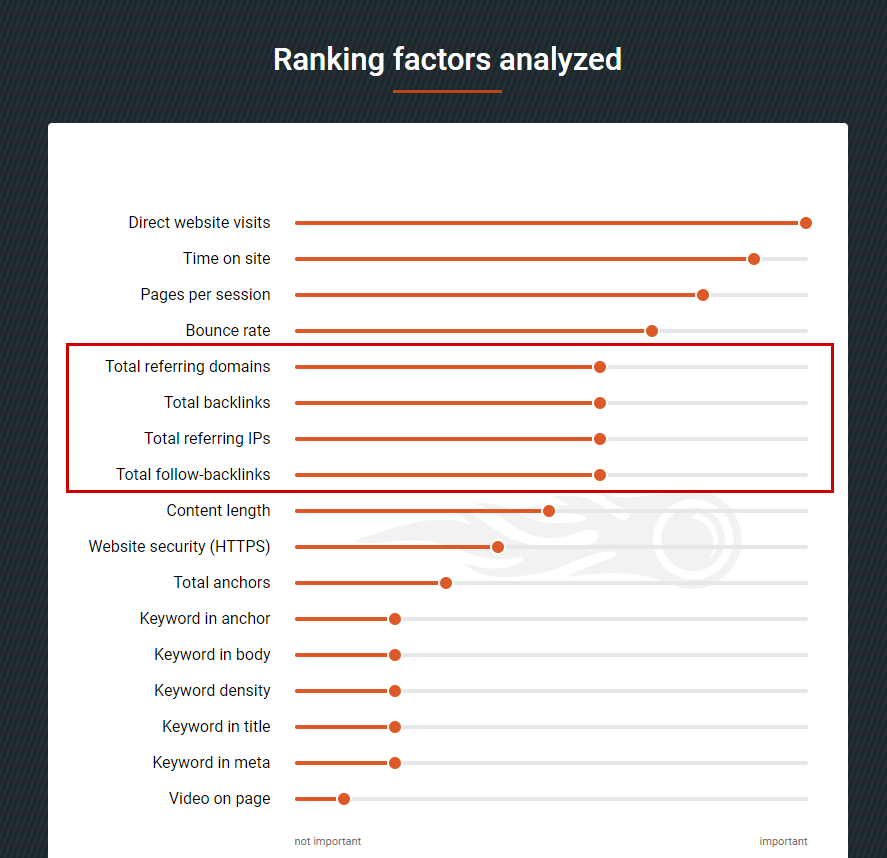 Source: SEMRush
In April 2020, Backlinko found similar results when they analyzed 11.8 million search result pages. Again, the conclusion sounds the same: "Backlinks remain an extremely important Google ranking factor. We found the number of domains linking to a page correlated with rankings more than any other factor."
But all links were not created equal. Two things are especially important to consider:
In 2005, Google introduced an HTML parameter called "no follow". Put simply, when webmasters add this parameter to a link they share, Google doesn't take this into account to estimate the target website's popularity.
The second important point is the popularity of the website linking to you. The more popular this website is, the more impact the link will have on your own popularity.
So when you're looking for backlinks, you must make sure they will be dofollow links and you must make sure they come from popular websites.
How you can get backlinks
If you want to climb up the Google rankings, backlinks should be one of your main preoccupations.
But Google tolerates only "natural" backlinks. Any link which looks too artificial might not be taken into account by the search engine or worse, could result in a penalty.
Most of the Google-compliant ways to generate high quality backlinks take a lot of time.
Fortunately, Mention can help you – a lot.
Here's how to do it.
Technique #1: leverage unlinked brand mentions
One of the easiest ways to get backlinks is to ask people who mention your brand name without linking to your website to add a link.
After all, it makes a lot of sense: if the website mentioned your brand, its owner is probably familiar with your brand. Plus, adding a link is useful for her/his visitors.
That's where Mention comes into play.
All you have to do is to monitor your own brand name and check if the mentions you're get are associated with a link.
Here's a quick example from my own account. This article was mentioning my company, WisePops, but there was no link: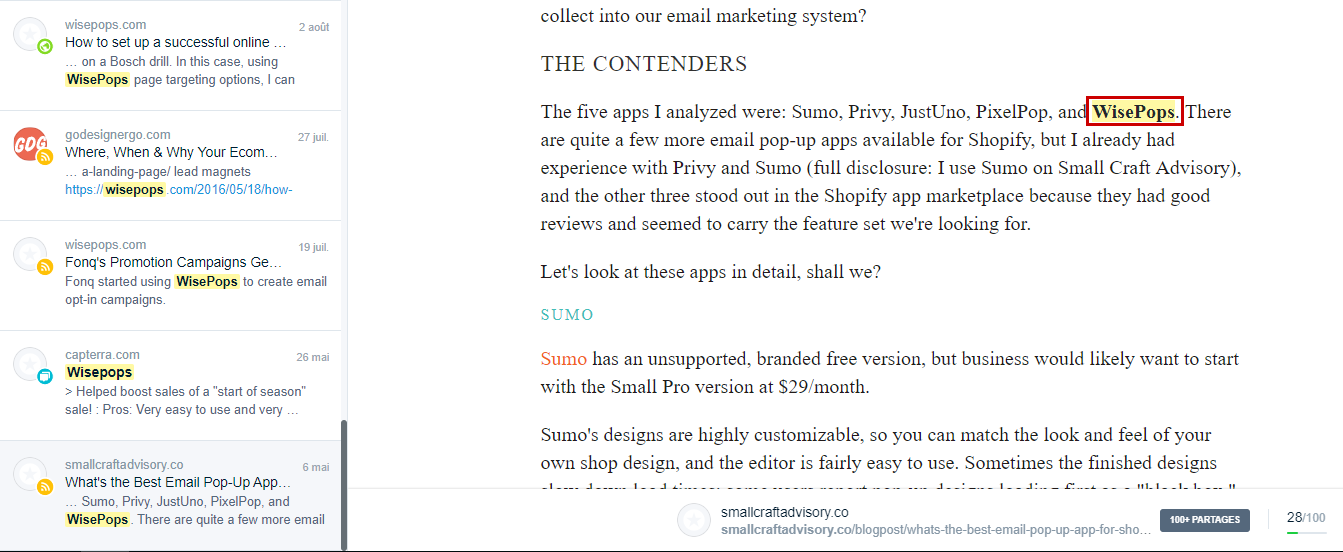 I just reached out by email and the blogger agreed to add a link!
Of course, this technique works best if your company is already well-known and gets organic mentions.
How to make the most of this technique:
Track your brand name and close variations of your brand in Mention (For example, at WisePops, I track WisePops, Wise Pops or Wise Pop)
Focus on the most popular websites as the more popular a website is, the more powerful the link will be (you can use the popularity filter in Mention to retain only the best websites)
Be extremely reactive, the key is to contact the author when she/he still remembers writing the article
Technique #2: request links associated with your products
You can extend that first technique by tracking generic words associated with your company's product/offering.
As I work for a popup solution provider, for me these keywords are "optin popup", "exit popup" or "email capture".
When I see a popular website mentioning one of these keywords without any link or with a link to a competitor, I contact them to request a link to WisePops.
Here's a real-life example with a blog article: I spotted a relevant keyword (popup) which was associated with a competitors' website and was describing features which were not available in their product.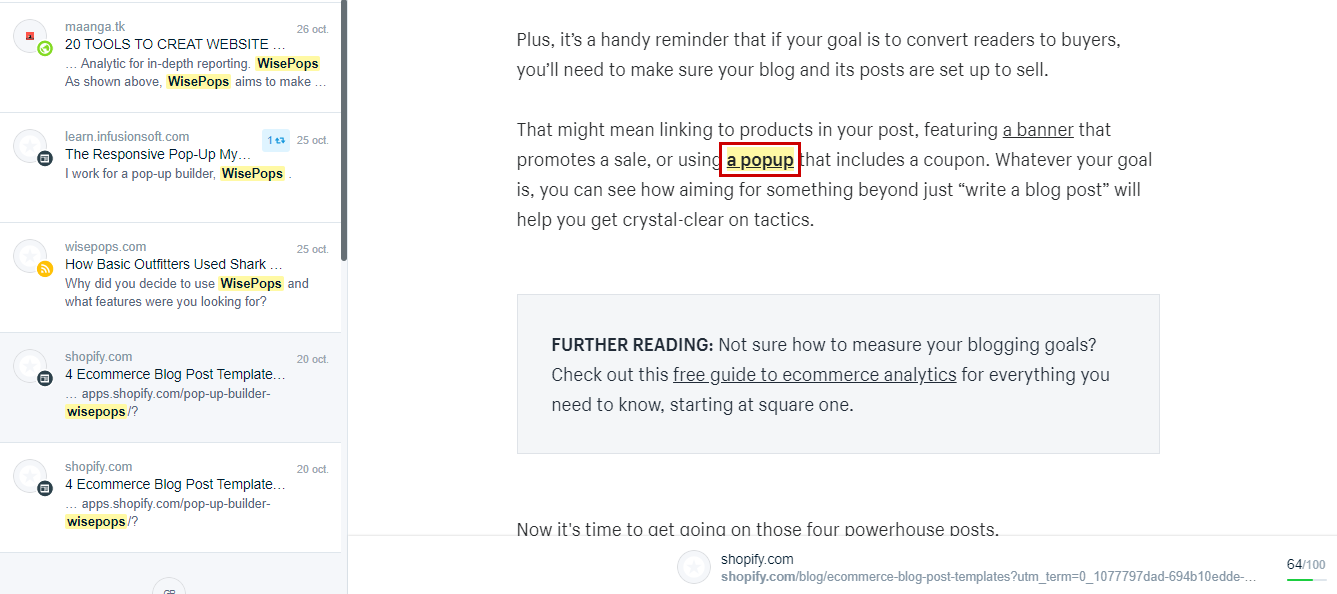 So I contacted the author (I used Hunter to find his email) and… got a free backlink.

How to make the most of this technique:
Track keywords directly related to the services your company offers in Mention
Technique #3: track your competitors' mentions and ask to be included alongside them
Most of the time, you're competing with other companies.
Sometimes, these companies have ideas or contacts you don't. Mention can help you spot them and copy their strategy. How? By monitoring their mentions.
Every time you spot an article mentioning your competitors, you can ask to be included in the article. For example when a blogger reviews competitors, you can ask her/him to be added to the comparison.
How to make the most of this technique:
Create an alert about your competitors
Be extremely reactive
Provide as many elements as possible to save the writer some time
Technique #4: track your competitors' guest posts
One of the most powerful techniques to get backlinks in general is guest posting, writing articles for someone else's website or blog.
Guest posts are very hard to get.
First, because only a few blogs/websites accept them.
Then, there have been a lot of abuses in the past. So webmasters tend to be more and more cautious (here's a testimonial from a prominent blog).
Lastly, because you have to identify websites which accept guest posts AND are in the same industry or could be interested in the topics you can cover.
But guest posts are extremely good in terms of SEO. Because you control the context of your link. And the context of links matters, because it helps Google distinguish it from an artificial/spammy link.
By tracking your competitor's names in Mention, you can quickly identify where they publish guest posts and contact the same websites. It saves you A LOT of time. That's the technique which has helped us get most of our current backlinks in the recent months.
Building your website list is just step 1. You then need to convince the writer to "let you in".
To do so, you need to work hard on your approach. I strongly recommend the CoSchedule article on the matter to prepare yourself. And then, of course, you'll have to write the post…
How to make the most of this technique:
Track your competitor's' blog posts
Carefully choose your words when contacting the websites
If you're not a great writer, get some help, otherwise your post will get refused
Wrap-up
As you've probably understood, getting backlinks requires hard work. Using Mention helps you save a lot of time by spotting link opportunities quicker.
One of the side benefits of these techniques is that they help you identify and connect with influencers in your industry. Oftentimes, you'll find that a guest post request ends up leading to a broader partnership – so it's not only good for SEO.
A special thanks to Tom, co-founder PixelMe and retargeting pixel expert who helped me refine this article.