Business success requires strong planning and communication skills. Social media marketing is no exception.
Your campaigns need to be well-coordinated, and your audience interaction needs to be timely.
These are both challenging tasks. However, each can be made easier by having the right tools:
Each of these tools provides powerful solo functionality. But they also conveniently complement each other to drive maximum ongoing social media engagement. If you want to keep your entire social media workflow organized, from planning to execution and beyond, they're essential.
You may be wondering how the two of them even work together – no worries. In this post, we'll lay out exactly how to use them for maximum power.
Download this free ebook for more ways to amp up social media engagement!
How can monitoring & your social media calendar drive engagement together?
Before we move too much further along, let's take a moment to explain each type of tool.
Content calendar: This is a calendar to plan your content marketing in advance (blog posts, social media messages, or anything else you're producing). They can be created using a spreadsheet or with apps.
Social listening: This term describes the process of monitoring social media conversations related to specific topics and keywords. It's important for understanding what's being discussed in your industry and about your brand.
Calendars are convenient for consistent scheduling. But while they're useful for getting content published on time, they can't cover what comes next: tracking the conversation around your content once it's live.
That's where social media listening comes in.
Why should you use a calendar & social listening tools together?
Content calendars are essential for consistent publishing. They're the core of well-organized content marketing and social media campaigns.
However, too many brands blast social media content without further engagement. In the short term, this shortchanges the potential success of your content. Over time, this cumulatively amounts to countless missed opportunities to build audience connections.
Taking time to mindfully respond to incoming comments is a good start. Proactively finding and participating in relevant conversations, however, is even better. So is monitoring those conversations to help you create content that better engages your prospective audience. Social listening helps with each of these processes.
How to maximize social media engagement with social listening and a content calendar
1. Getting started: listen first, talk second
Let's get started with social listening, since this will help guide the content you'll eventually create. Here are two methods for getting started:
Option 1: the free way
Manually visit each of your social media channels.
Enter search keywords related to your brand or industry.
Monitor and respond to what people are talking about.
In a pinch, this approach is better than doing nothing. But it isn't ideal, nor is it efficient.
Option 2: use a social listening platform
This is the way to do social listening right. These types of software services typically aren't free, but they're worth the investment. Our team at CoSchedule uses Mention.
Getting Started
Step 1: Log into your social listening software of choice.
Step 2: Create alerts or reminders for keywords related to your brand and industry to track relevant posts and conversations. If you're reviewing social media channels manually, substitute this for creating a simple lists of keywords to search within the internal search features.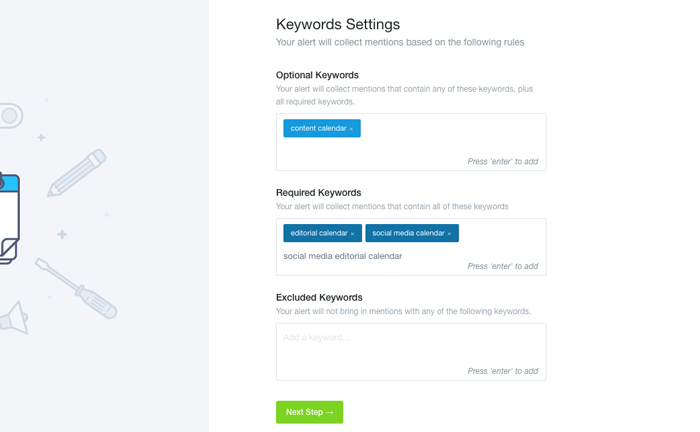 Step 3 (optional): Select which pages and social accounts you'd like to track in addition to your keywords: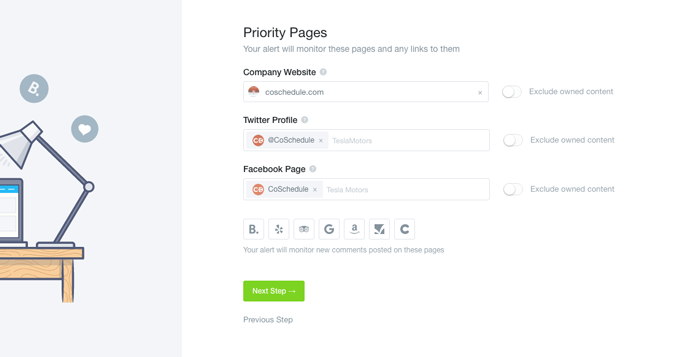 Step 4: Select sources where you'll track mentions from:
This will provide you with a clear view of where your selected keywords are mentioned. Take a little bit of time to dig around and see what's being said.
Step 5: Create a list of content ideas based on what you've learned. It doesn't need to be formal or highly organized. The most important thing is that you get your ideas out of your head and into some sort of document you can reference later on.

2. Build Your Social Media Calendar
If you aren't using a calendar, you'll need to build one. Fortunately, this is easy to do with resources you likely already have.
Step 1: Create a shareable spreadsheet. Either Google Sheets or Excel (within the Office 365 suite) will work.
Step 2: Add twelve tabs (one for each month).

Step 3: Add a row for each month at the top. Then, add a column for each week, time, and day. Merge two cells together for each day (Saturday and Sunday may be added if you publish on weekends).
Step 4: Add a row for Content next. Include a row for Post Text and Image URL under each day.

Step 5: Add labels for each social network and marketing channel you'll be planning content for.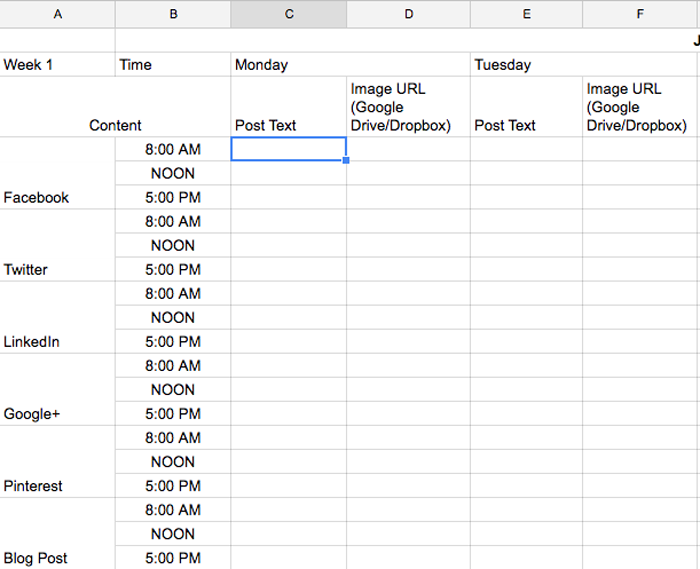 Step 6: Copy and paste all fields below to round out each week in the month. Then, copy everything you've built into each month tab.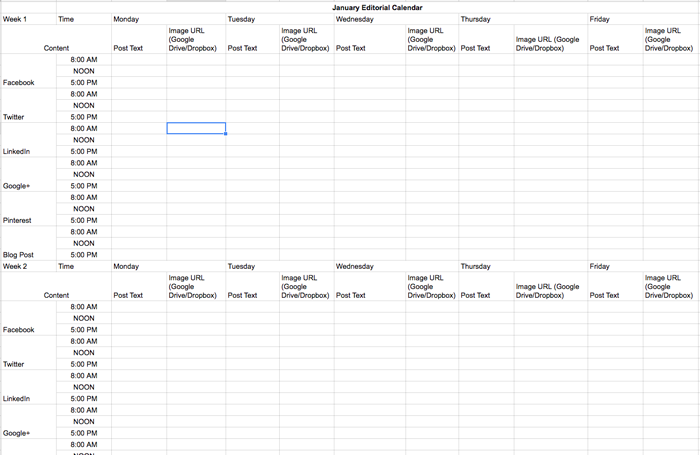 Step 7: Add appropriate color-coding to suit your preferences and make things easier to read. The end product should look something like this: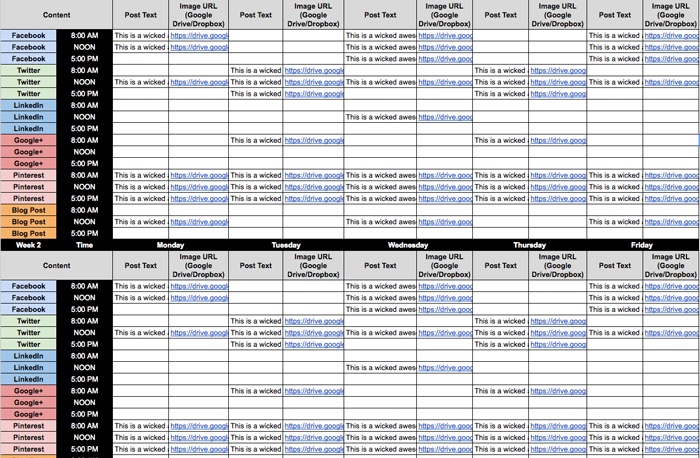 If you'd prefer not to build your calendar from scratch, make a copy of our pre-built template here (be sure to make a copy – we can't grant access to edit the original file).
This calendar is built to be easily editable. Rows and columns can be added or removed to suit your needs. You can also add numerical dates to each day (ex: Monday, January 11).
3. Optimize your posting schedule for top engagement
Before you start filling in your calendar, let's figure out the best times for you to publish.
This can be challenging to figure out at first. However, a calendar can make it easier to:
Refine your posting schedule by providing a historical record of when content went live.
Ensure your posts are published during peak hours of activity for your audience.
Here are two tips for figuring this out on Facebook and Twitter.
Check your Facebook page insights tab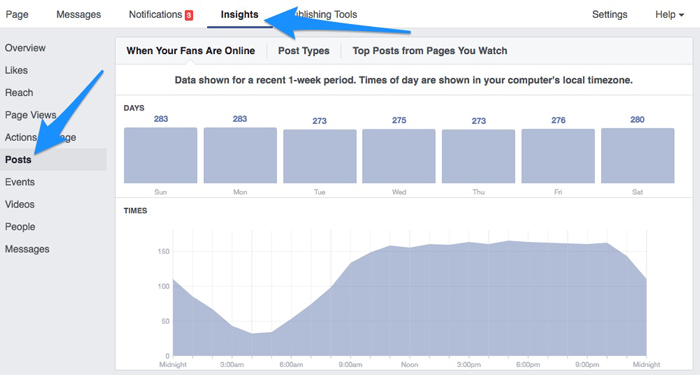 Visit your brand's Facebook page and find your Insights tab. Then, click 'Posts' in the left-hand navigation:
This will default to a window displaying the times your fans are online. This should give you a loose idea which times to post (and which times to not post).
Find when your Twitter audience is most active with Followerwonk
Followerwonk is an excellent freemium Twitter analytics tool from Moz. Here's how to use it to find when your Twitter audience is most engaged.
Step 1: Visit Followerwonk and click Analyze. Then, enter your own brand's Twitter handle and select "Analyze Their Followers."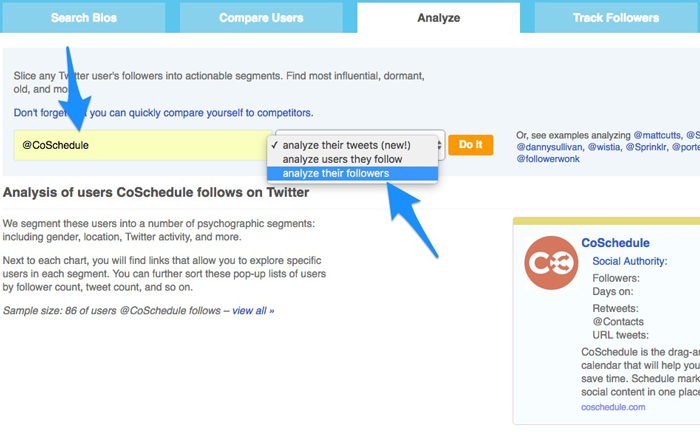 Step 2: Scroll down to find the most active hours for your followers: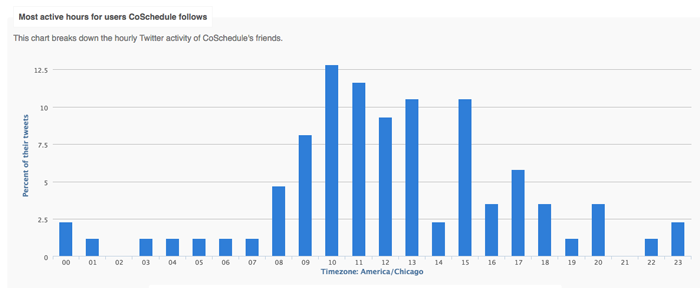 Try scheduling your posts when your audience is most active. Then, adjust for peak performance from there. It's as simple as that.
Follow our best times to post cheat sheet
Your own data is the best data when it comes to finding your best social media posting times. However, having some data-backed guidelines based on broad industry research can be helpful for finding some starting points. If you're still feeling lost, follow this infographic to find optimal times for several popular social networks.
4. Create & schedule posts on your calendar
Now, it's time to actually put your calendar to use.
Step 1: Start by planning content (whether that means: a blog post, social media campaign, or other content) that aligns with the keywords you're tracking with your social listening tool.
Think back to the notes you took down earlier. Consider asking these questions:
What are my audience's interests?
What kinds of wording and language do they use? Incorporate this into your own content.
What problems do they have that my content can address?
Step 2: Next, start filling in your calendar.
Add long-form (blog posts, landing pages, etc.) to your calendar on the dates they'll publish. They can be as simple as hypothetical headlines for now.
Add social media posts and images to your calendar where appropriate.


If you have a corresponding image file, upload it to Google Drive, Dropbox, or another cloud storage service and add the link in the next column.
This will help keep all your social media assets accessible in one place. Continue this process until you've filled your calendar for (at least) a two-week period.
Be sure to check your calendar daily to manually schedule each post. Setting up a Google calendar reminder may help.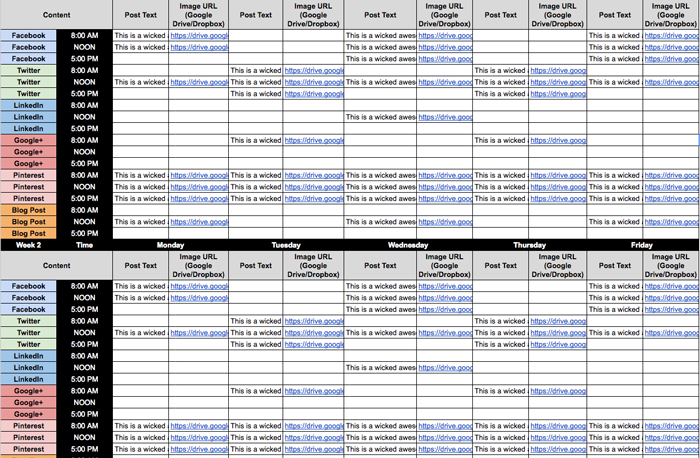 How social listening can help you create more engaging content
Once you've launched your social campaign and you've engaged with your audience, what comes next?
The answer is to use what you've learned from your audience to create even more of the kind of content they want. The more you repeat this process, the more accurate you'll get at targeting content to actual user needs, using the same type of language they use.
Here's your three-part plan for making this work:
Listen to what your audience is saying.
This much is obvious. However, it pays to really listen close. Read between the lines and anticipate unspoken needs.
TIP: Continuously monitor the feedback and engagement your content receives. If you notice particular topics or problems becoming a pattern, add those to your notes file.
Identify needs before you're told directly.
Monitoring conversations on social media can help you discover your audience's interests and concerns without them having to tell you first. That puts you ahead of the game when it comes to creating engaging content.
TIP: In addition to monitoring feedback on your content, go out and listen to what people are saying. Pay attention to comments and social engagement around your competitor's content, and around the social media sphere in general.
If you have a social listening tool, create alerts that go beyond just tracking brand mentions.
Align future content planning with user needs.
Once you know what's important to your audience, you can create content that aligns with their interests. Continue adding ideas to your calendar you think will match what your audience wants, based on what you've heard from them.
TIP: Traditional SEO keyword research is important for understanding what folks are looking for. However, what people search and what people talk about aren't always the same. The sweet spot lies at the intersection of the two.
When planning blog posts, don't rely strictly on search keyword data. Back it up with insights from real people you've gleaned from social listening.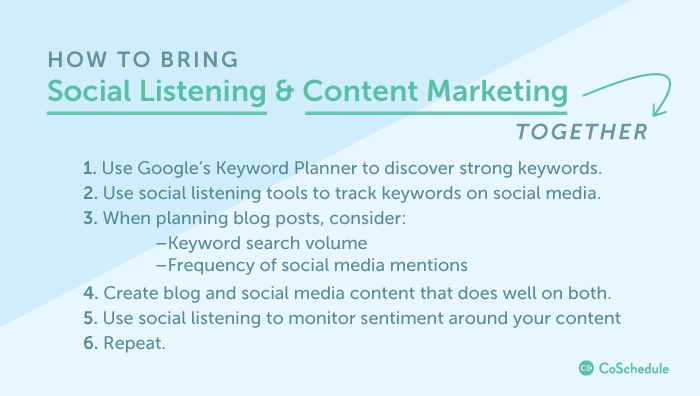 Go forth & engage your audience
You now have the knowledge needed to create the right content, for the right audience, at the right time. Are there any points or tips we missed?