Every agency is looking for the perfect client. A brand that knows what it wants, and trusts you to make it happen.
But it can be hard to know what a prospect wants until you've met with them. Every meeting, proposal, and negotiation eats up valuable time. And even then, you strike out as often as you win.
Plus, there's competition from big agencies and small ones, generalists and specialists.
You want prospects that suit your skills, and are looking for an agency like yours. Media monitoring helps you find them.
Be better prepared for pitches, learn more about a prospect's industry, and make your agency more appealing to new clients.


Here's how monitoring helps agencies find new clients.
For more ways that monitoring helps agencies, download our free ebook.
Find the right prospects
Erin Sagan explains that "successful agencies know how to identify clients that they can deliver good results for and target their sales efforts accordingly."
If you can target the right prospects, your pitches are more likely to be successful. And working with the right clients makes your life easier once you've been hired. You do your best work when you're dealing with familiar territory.
Monitoring gives you two easy ways to pinpoint perfect prospects.
Monitor keywords
Use monitoring to find people looking for a service like yours. Track keywords that suit your skills, such as "SEO agency" or "inbound marketing audit." Monitoring tools search social media, forums, and blogs to find people looking for your help: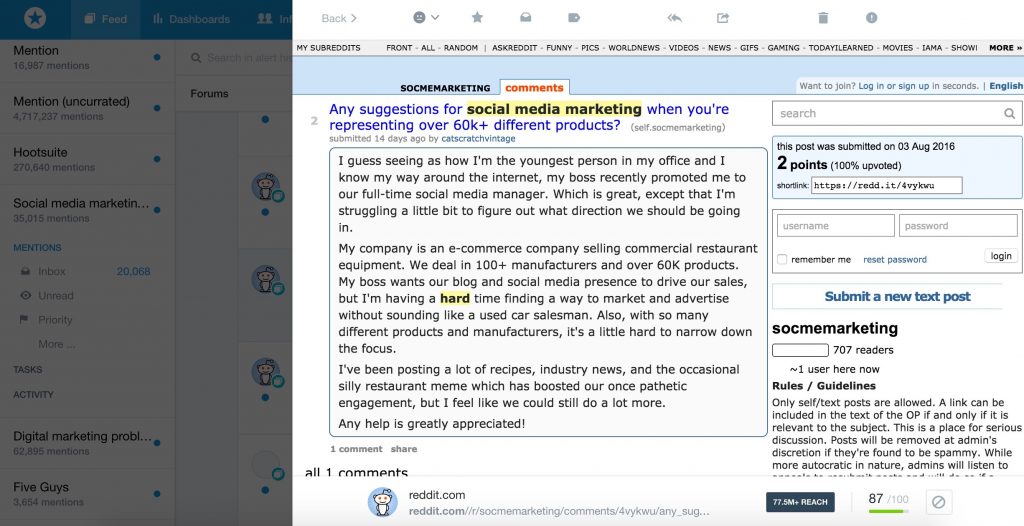 Social media and forums are full of people who need help choosing an agency. Keyword listening finds them for you, so you can reach out and offer them your services. Limit your results by location to ensure you only hear from prospects you can actually work with.
Watch your competitors
There's also another, more covert way to find clients using monitoring. Find ideal customers by taking them from your competitors. Their clients would be perfect for your own agency.
David Szetela, CEO of FMB Media, says to look for serious flaws in their clients' marketing campaigns. When you find them, explain them to the executives of the companies. Then explain how you'd fix them.
Build a compelling case, and you may gain a client and remove one from a competitor in a single move.
Understand your prospects better
There's a common disconnect between agencies and their clients. In 2015, an IPA study found "clear evidence of a widespread breakdown in between agency and client communication." Specifically, clients feel that agencies don't understand their world or their customers.
According to another study by RPA and USA Today, 90% of agencies feel that they understand their clients' businesses. Only 65% of clients agree.
Clearly, agencies need to do a better job of listening to their clients. That starts right from the first pitch. To help separate your agency from the rest, prove that you really "get" what a prospect does.
But how?
Use monitoring to create reports showing:
Industry trends
What competitors are doing
How their social media accounts are performing
Prove that your agency knows what's best for them and is capable of doing it.
Jay Baer says that "the worst thing that can happen in an agency is to consistently finish second in pitches and RFPs." The more prepared you are, the more impressed prospects be.
Identify industry trends
Social listening is particularly helpful to understand consumers. As Jordan Hansen writes, "historical data analysis gives your social media market research the 'big picture' on a brand or campaign's past and present social trends."
Watch for industry pain points on social media and the web. Not only does this serve your current customers, but you'll also have useful insights for pitches. Impress prospects by proving that you understand their industry as well as they do.
McCann uses Mention for exactly this reason: "[Prospects] give us specific problems they're having, to see how we could try to solve those," explains Digital Integration Director Andrea Fallas. "We give examples of how social listening can help brands develop insights that can improve their strategies."
See what their competitors do
According to Ted Vrountas of Instapage, the best way to sign a new client is to convince them they have a problem. "If your prospects don't know they have a problem, they're not going to be on the lookout for your solution to it."
Every company is concerned about its competitors. Show your prospects where they're falling short, and how they can better compete.
To do this, perform a quick competitive analysis. Monitoring tools let you compare social media and web presence between companies:



Wow them by showing:
Their share of voice on social media
Social sentiment towards them and their competition
Industry influencers talking about their competitors
The biggest "wins" for the other companies
Couple this with a solid plan of attack, explaining how you'll help them close the gap or remain ahead of the opposition.
Expand your network
One sure-fire way to attract clients is via referrals. When you're looking for a new restaurant to try, phone to buy – anything – you'll believe the advice of someone you trust.
Finding a marketing agency is no different. Prospects are more likely to go with your agency after it's been recommended by someone they know. Same goes for recommendations from prominent voices online.
Monitoring lets you find powerful social and web users to help get your name out there. This strategy, known as influencer marketing, is a great way to improve the visibility of any business.
More importantly, influencers impact other users' decisions. When an industry VIP recommends your services, people listen.
So how do you find influencers?
First, you listen for anybody using your agency's name online. Monitoring tools assign users influencer scores, to show you who you need to reach out to: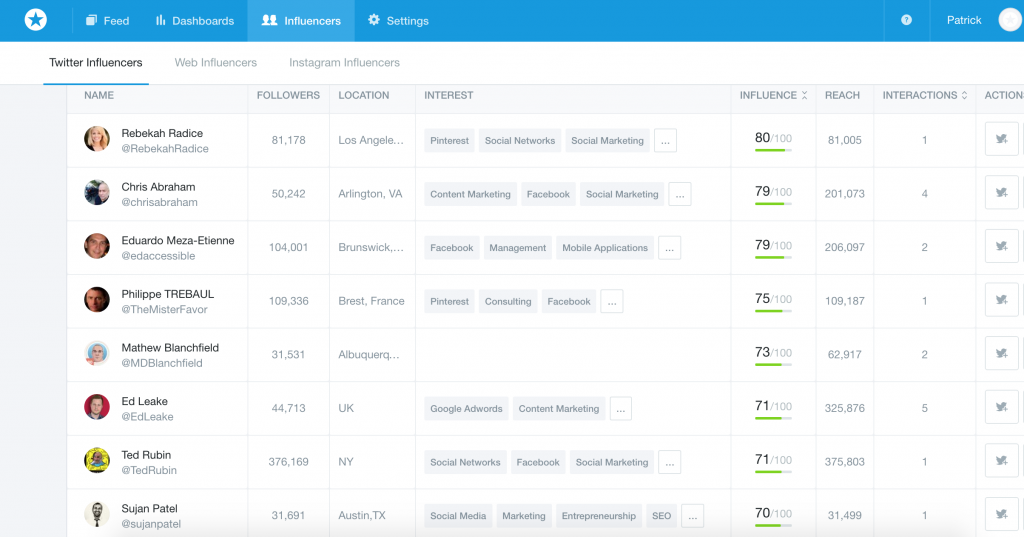 Next, monitor general keywords for your industry. This is a great way to find influential web users to introduce yourself to.
For instance, you might find an influential PPC blog. Since you're a PPC expert, offer to write a guest post for them highlighting a recent strategy you used that proved successful. With one post, you can meet a new influencer, become more visible online, and share a success story that makes your agency look good.
Use that blog's popularity to introduce yourself to a new audience, and generate interest in your agency.
To learn more about how influencer marketing works for agencies, download our short guide.
Find and share social proof
Social proof is all over the internet. Think of client testimonials, reviews, and star ratings on sites like Amazon. According to BrightLocal, 88% of people read online reviews to find out whether a local business is any good.
And social proof is especially important for digital agencies. Potential clients may not understand your business, and can't tell a good agency just from its name. They want to know that other clients have had good experiences.
How can you find social proof? Monitor social media.
Social proof about your agency is available online, whether you've asked for it or not. Good or bad, people love to make their opinions heard on social media.
Search Twitter for "completely unfiltered feedback on an agency." Twitter users are typically frank when discussing businesses and products, and their reviews can be revealing.
When you find positive comments, be sure to share. That can be as simple as retweeting a post and thanking the author. If the comment is particularly kind, consider immortalizing it on your website.
But to do this, you can't just rely on your Twitter feed and notifications. These only tell you when someone talks about you by name. But not every comment contains an @mention.
A monitoring tool will find these comments for you, so you don't have to go searching for them. It'll also catch interesting comments from sources you didn't think of – forums, YouTube, Reddit, and smaller social networks.
Find these posts, share them on your site, and thank the person who sent the message. That'll encourage more people to do the same, and you'll find you have more fans of your agency than you thought.
Now just put it all together
Monitoring helps agencies easily find and sign new clients. Smart web and social listening helps you:
Find better prospects
Learn their challenges for better pitches
Expand your influencer network
Find social proof to bring in more clients
None of these tips is a magic bullet, but they do work. You can use any or all of them to bring in more clients for your business today.