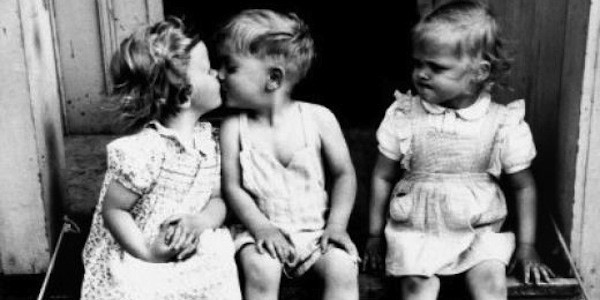 If you're building your brand on social media, you already know it's a tough job. There's a lot of competition, all trying to reach the same sets of eyes and ears.
That's true whether you're a global mega-brand with an audience of millions, or you run a corner store and speak to a few followers at a time.
There's always someone a step ahead, with more followers, likes, and engagements.
We've already seen how to use social media for competitive analysis in just five minutes. You can track your competitors' content, top influencers, and even what their customers say.
And to make all this even simpler, we've just released a new tool for Mention users:
Our new comparative social media reports
Want to keep a close eye on your competitors' follower growth, top content (especially hashtags), and when they post most frequently?
Of course you do! And it's super easy.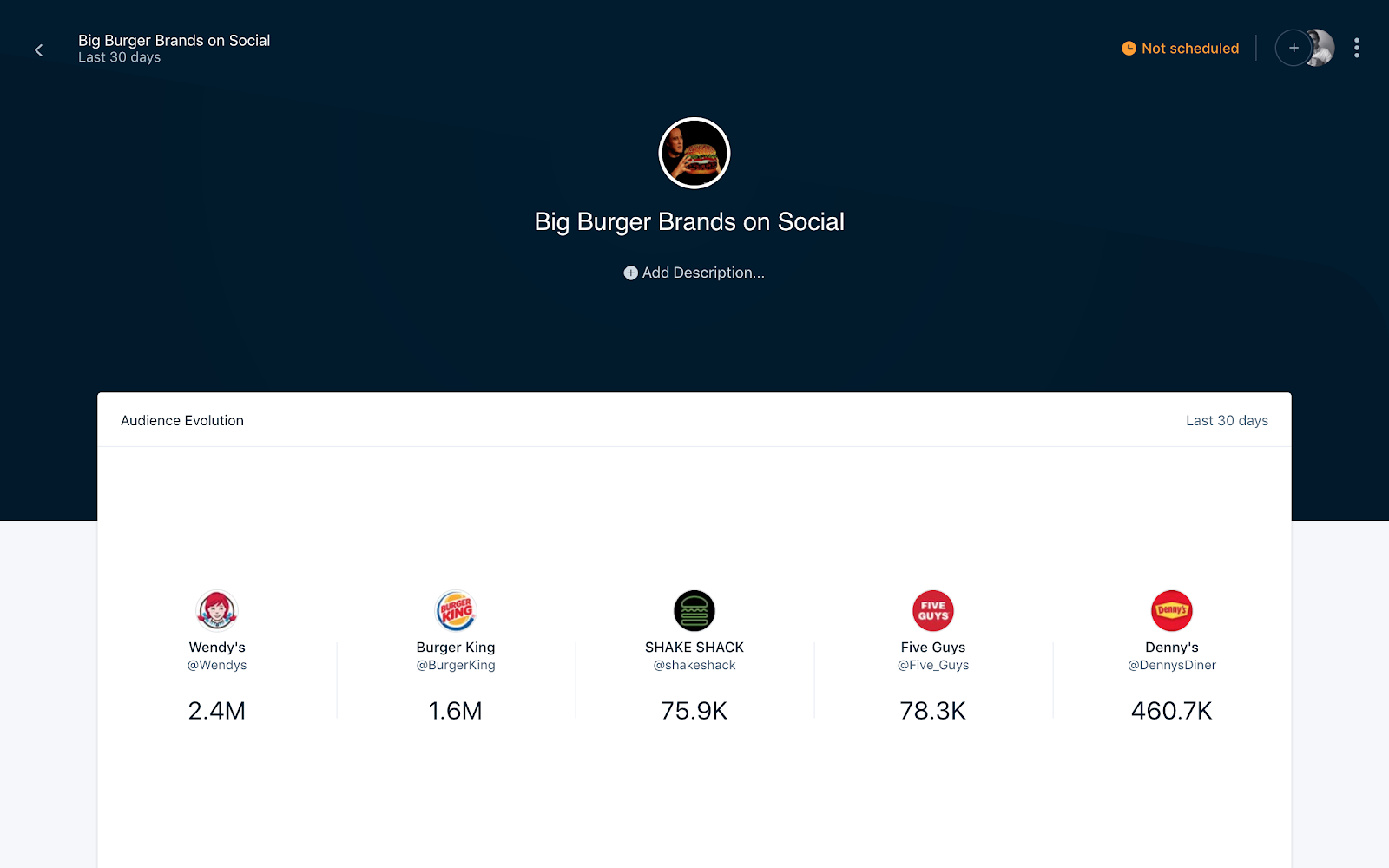 Mention's new comparative social media reports now let you get all this information about any social media accounts you choose, in one place.
We'll show you how to set them up in a moment, but first let's take a little tour.
Above, you'll find the audience size for each of the accounts you want to track. That's pretty straightforward. If your goal is to build the biggest, baddest Facebook or Instagram profile in your industry, it's dead simple to track your progress.
But that's small potatoes.
Just below, you get the top hashtags used by each account over the past 30 days (or whichever period you choose):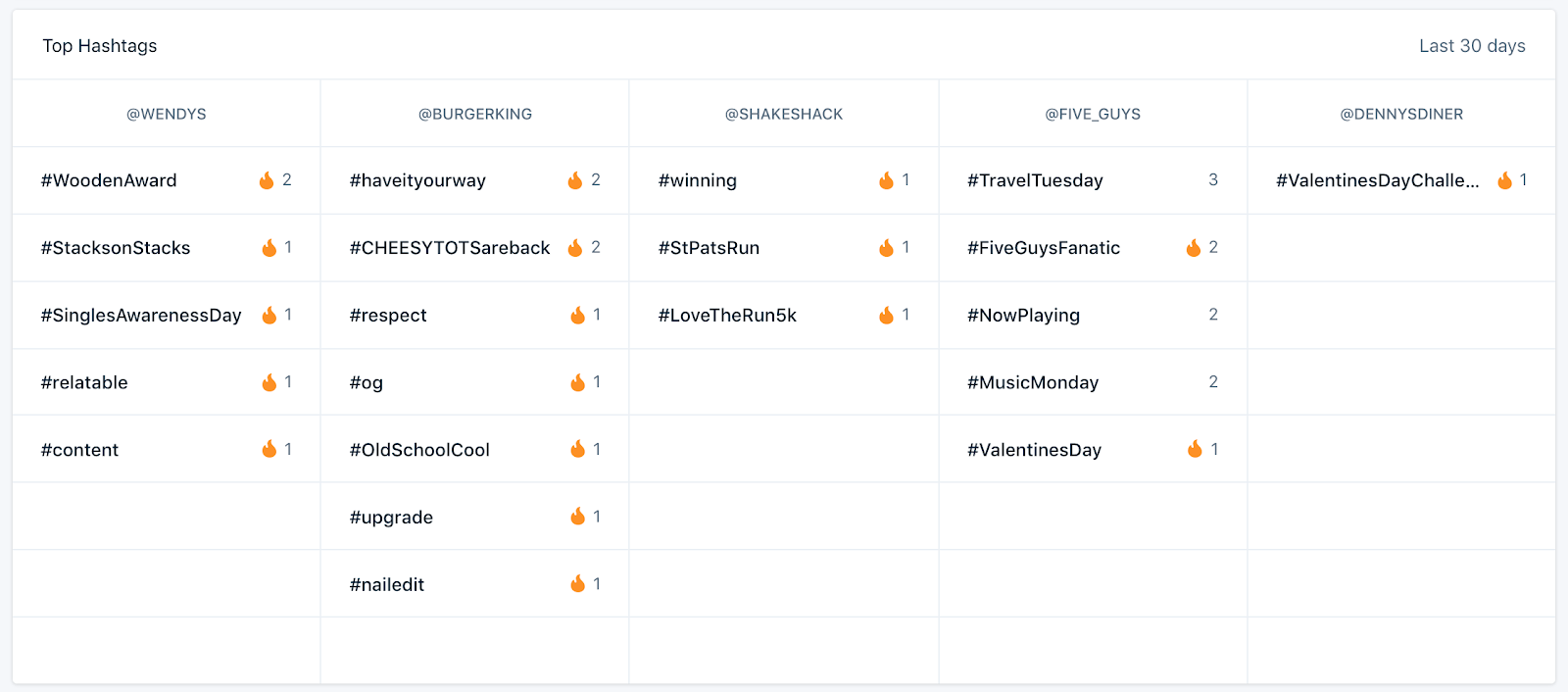 Hashtags are a vital part of most brands' social media strategies, and seeing what your competitors use is, at worst, a great way to get ideas.
And not having to go looking for them is a massive bonus.
Next, you'll see their top posts for your chosen time period:

Again, getting a close look at other brands' best-performing content is incredibly valuable. And all of those posts are links, so you can immediately access the original conversation see the replies.
After that, we see the times that they post to their Twitter, Facebook, or Instagram account: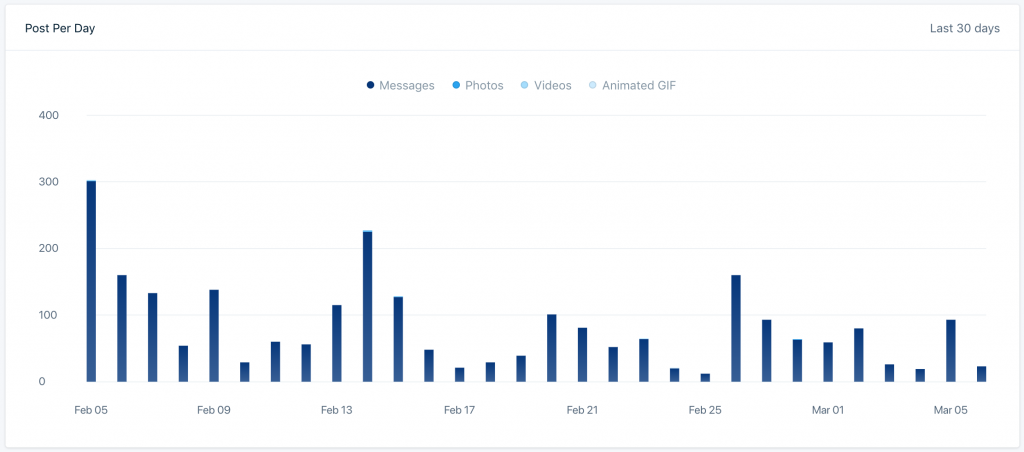 If your brand is new to social, figuring out your content calendar can be tricky. One way to streamline this is to draw inspiration from accounts already doing a good job.
Find out when other brands in your industry post their content, and use that as a basic framework for your own.
It's all right there in the graph.
And you can get all that data – instantly – for any of your competitors' Instagram, Facebook, and Twitter profiles. Nice!
Join our live webinar to learn how to do social media competitive analysis, and get a closer look at these reports!
How would you use this?
Hopefully, that's already pretty clear to you. The more you know about other brands' social media strategies, the more confident you can be about your own.
But just to get the ideas flowing, here are a few concrete things you might do with our new reports:
Benchmark against the best
We call these "comparative reports," but they're really just ways to compare more than one social account. So you shouldn't feel limited to actual competitors.
Suppose you just love what Dennis The Prescott (@dennistheprescott) does on Instagram, and you want to do something similar. Well of course you do – the guy's brilliant:
Start tracking his account (plus a few similar ones), and see what he does to get so many likes. In particular, you'll care about when he posts, and what his most popular posts are.
Monitor their growth
Another very simple thing to do is make sure that your account is growing faster than the others. A little like checking your Alexa rank against your closest competitors.
Just set up a weekly report for your chosen social networks, and include the brands you're competing against. You'll get an email once a week showing you how many followers each of you has. (You could even do this daily).
It's a small thing, but you want to make sure you're growing at a rate at least as good as your competitors, and hopefully much faster.
Watch for sudden changes
And what if one of those suddenly grows significantly? Either they've just bought a ton of followers (never a good idea), or they're doing something clever.
Either way, you want to find out.
Quickly check their tops posts to see if anything stands out. It may be that they've working with an influencer or have launched a killer new campaign.
Track other forms of campaigns
Ok, suppose you don't care about your competitors. Maybe you're the undisputed market leader (kudos!), or competitive analysis just isn't your thing.
No problem. In fact, these reports are ideal for comparing any social media accounts, for any reason. For example, you might want to monitor the main players in your local election.
Or maybe you have branches of your business in different countries, and want to see how they all perform: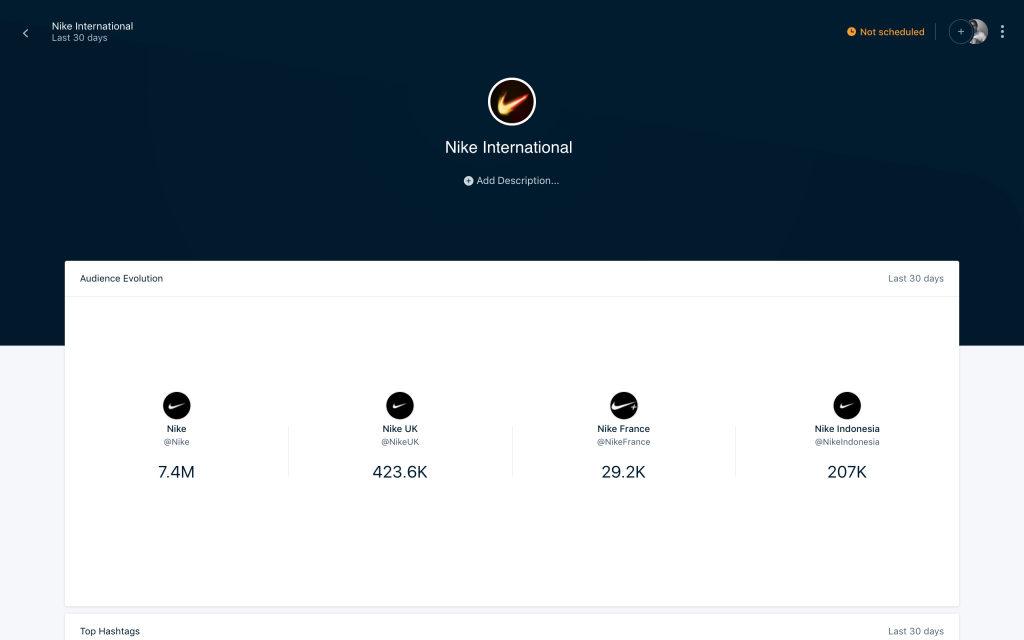 It only takes a moment to set these up. Yippee!
Track content from influencers
Here's another bonus idea. Perhaps you want just want to see the top handful of posts from a few people, daily. And you don't want to have to go looking for these one-by-one on Instagram or Twitter.
Why not create a daily report to show you what they've been saying while you were asleep?
They don't even have to be competitors of one another. You might want to know what Kylie Jenner posted, Theresa May tweeted, and whether the Dalai Lama shared any wisdom. (You're a complex person, after all).
If you already have a Mention account, there's nothing stopping you!
Here's how simple it is:

How to fire up your first report
1. Head to the Reports tab, and click "Create Report."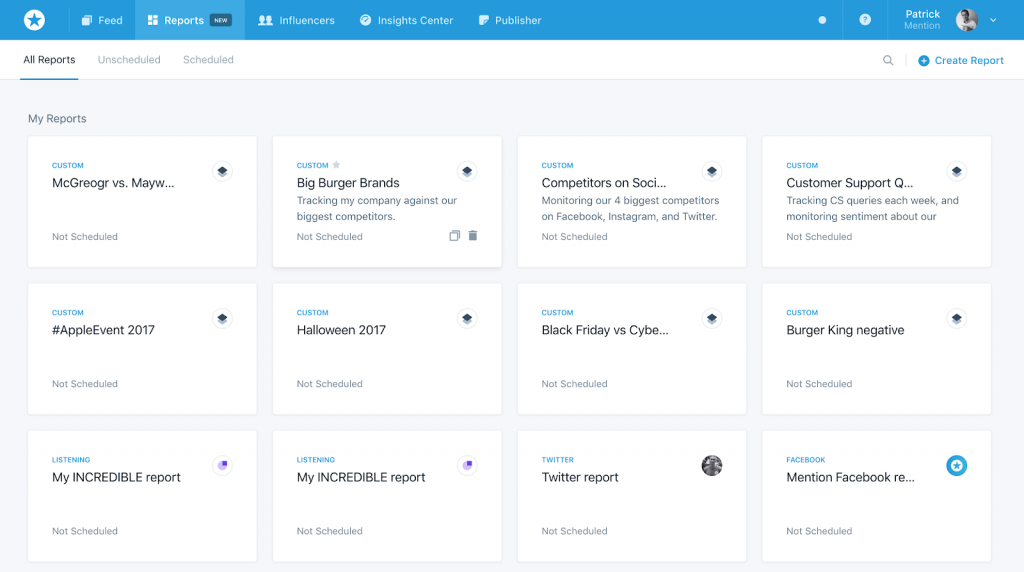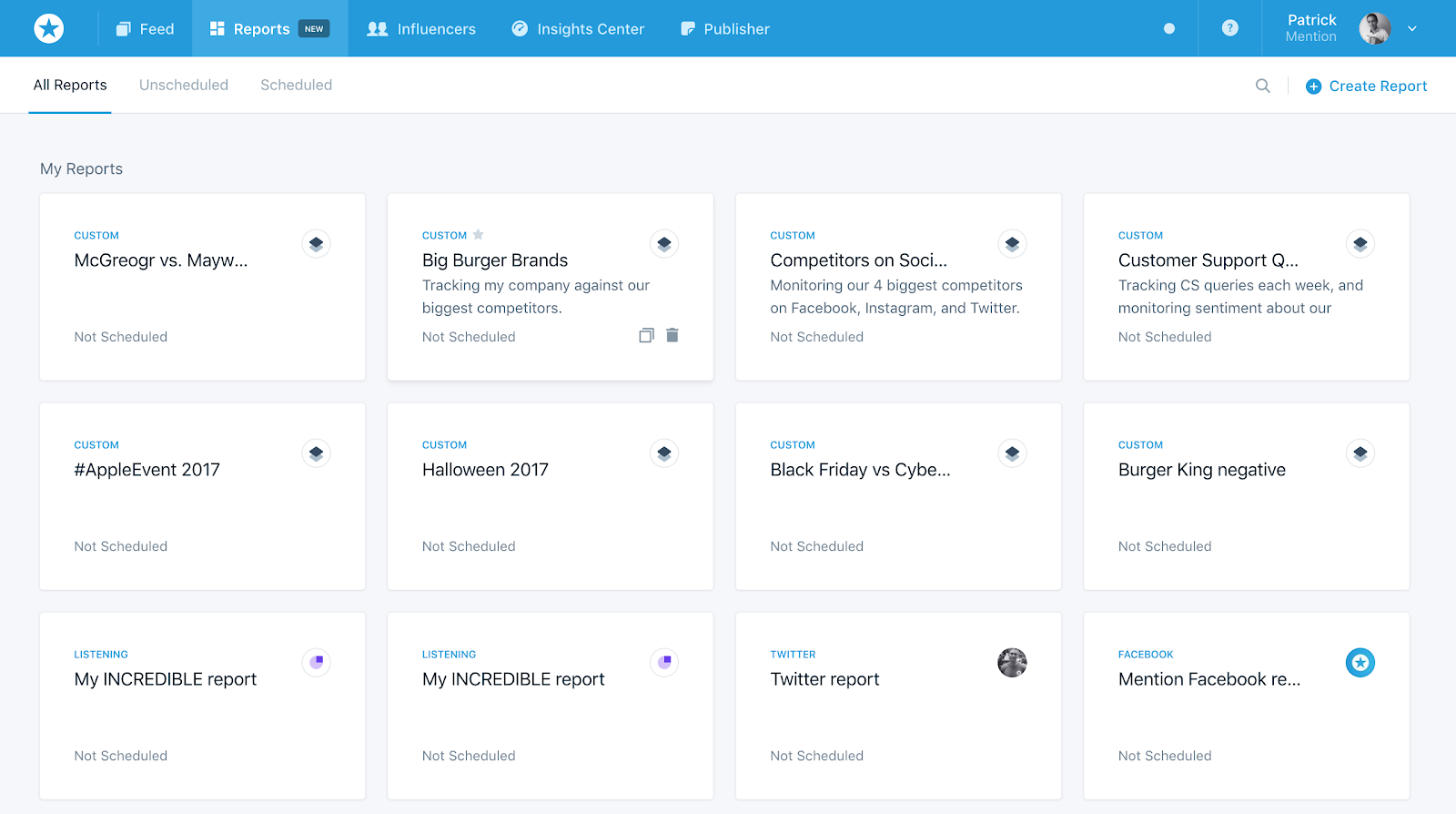 2. Choose which comparative social report you want to create. We'll go for Twitter.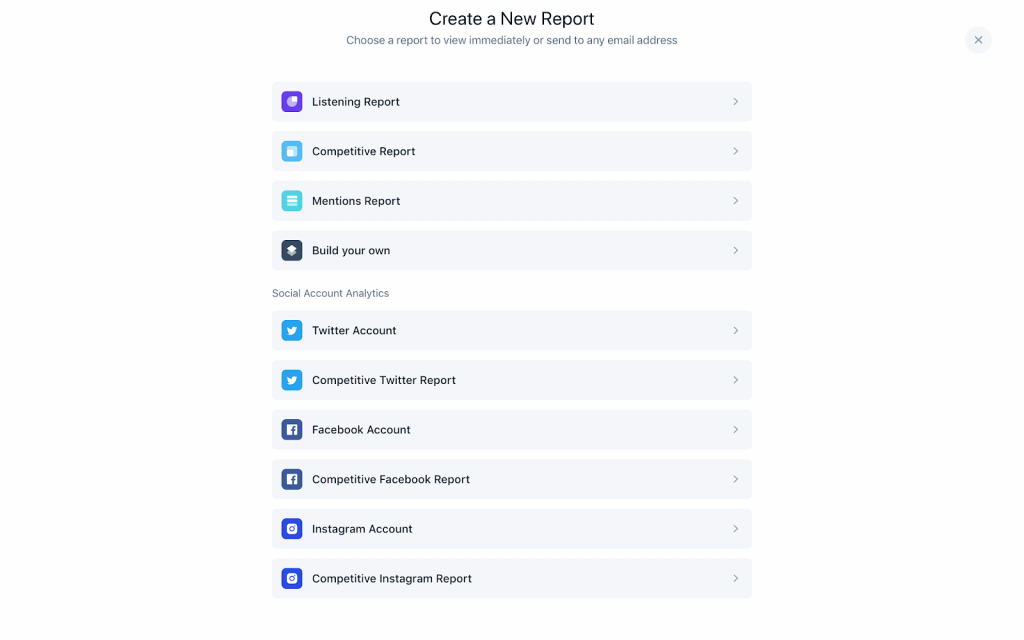 3. Give your report a name, and next is the important bit. Choose the social media accounts you want to monitor. You can add up to five accounts: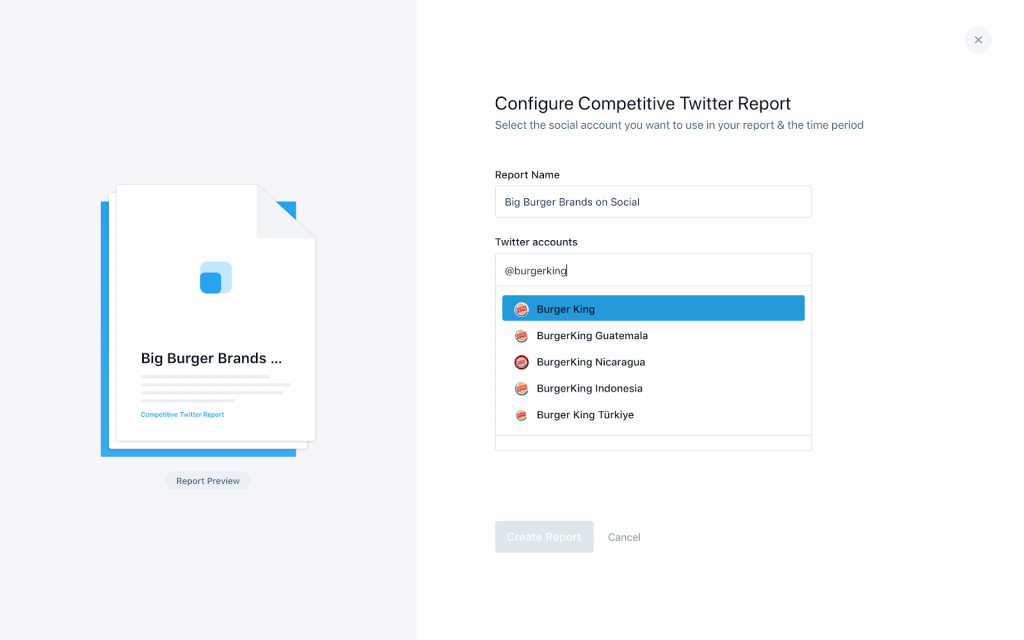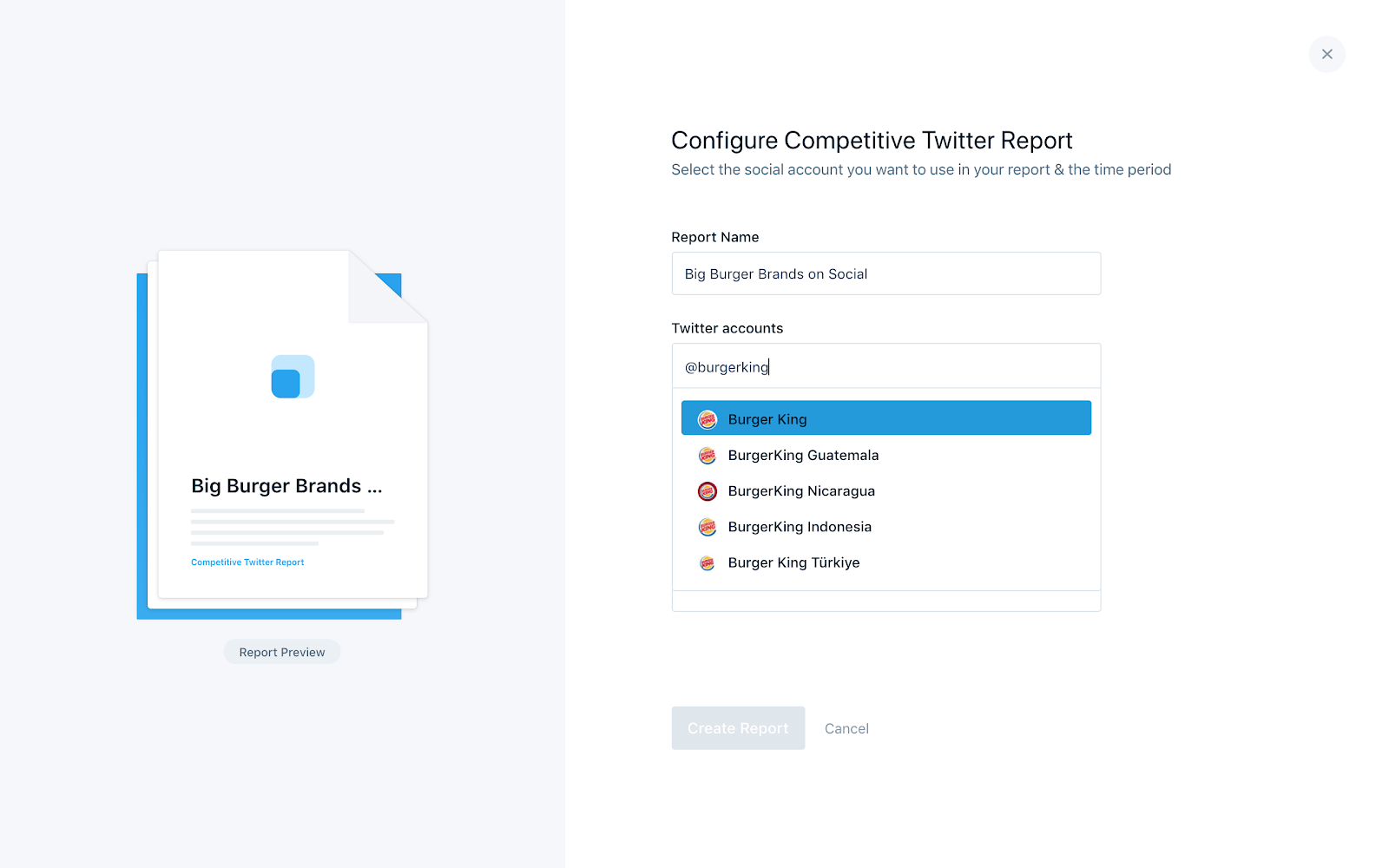 Important note: This does not have to be a social media account you're already monitoring. And it doesn't have to include your own account.
Social listening normally requires you to track these accounts, collect mentions, and then analyze that data. (And by the way, this is still incredibly powerful!)
In this case, we're pulling data about the accounts themselves, and you don't have to track any keywords to do this. Major win for your quota!
4. Choose the time period, add a description, and hit "Create Report."
5. And you're basically done! The report may take a minute or two to load, but you don't have to do any fiddling to see results.
But there are still a few things you can do to customize your report. First, there's the style.
At the top right of your report, click on the three little dots and select "Edit Report Style:"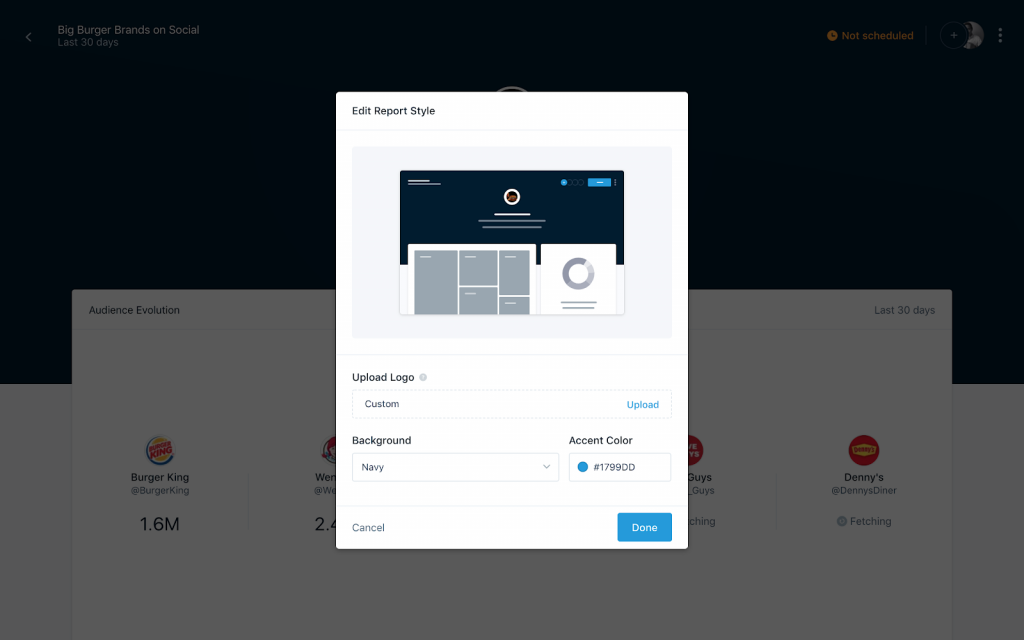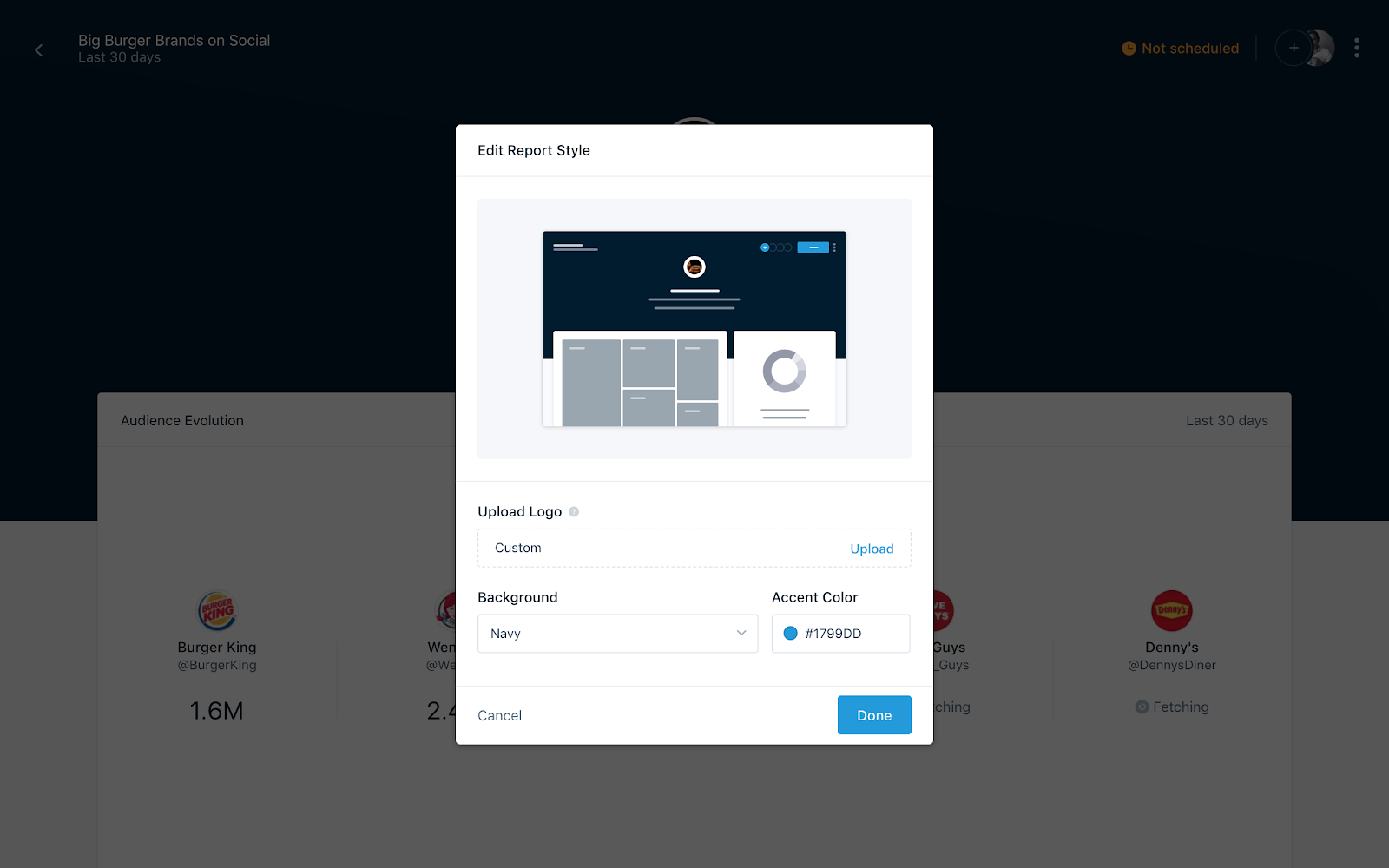 From here, you can your own custom logo (any JPG will do), and change the background color.
6. You may want to schedule your report and have it sent to any email address you choose. If so, just click on the orange clock symbol at the top right (by default, it'll say "Not scheduled").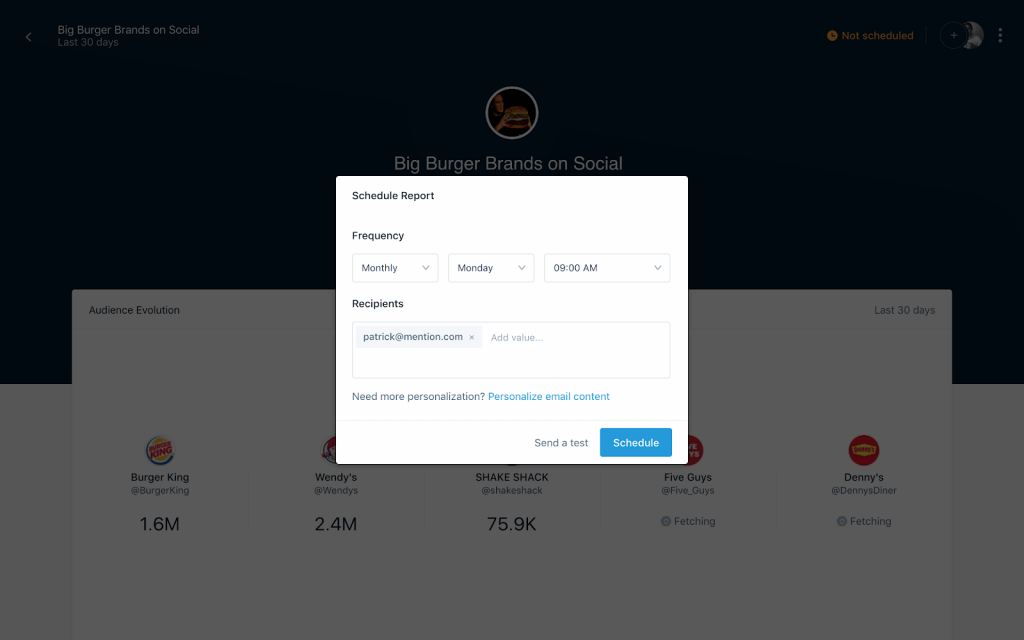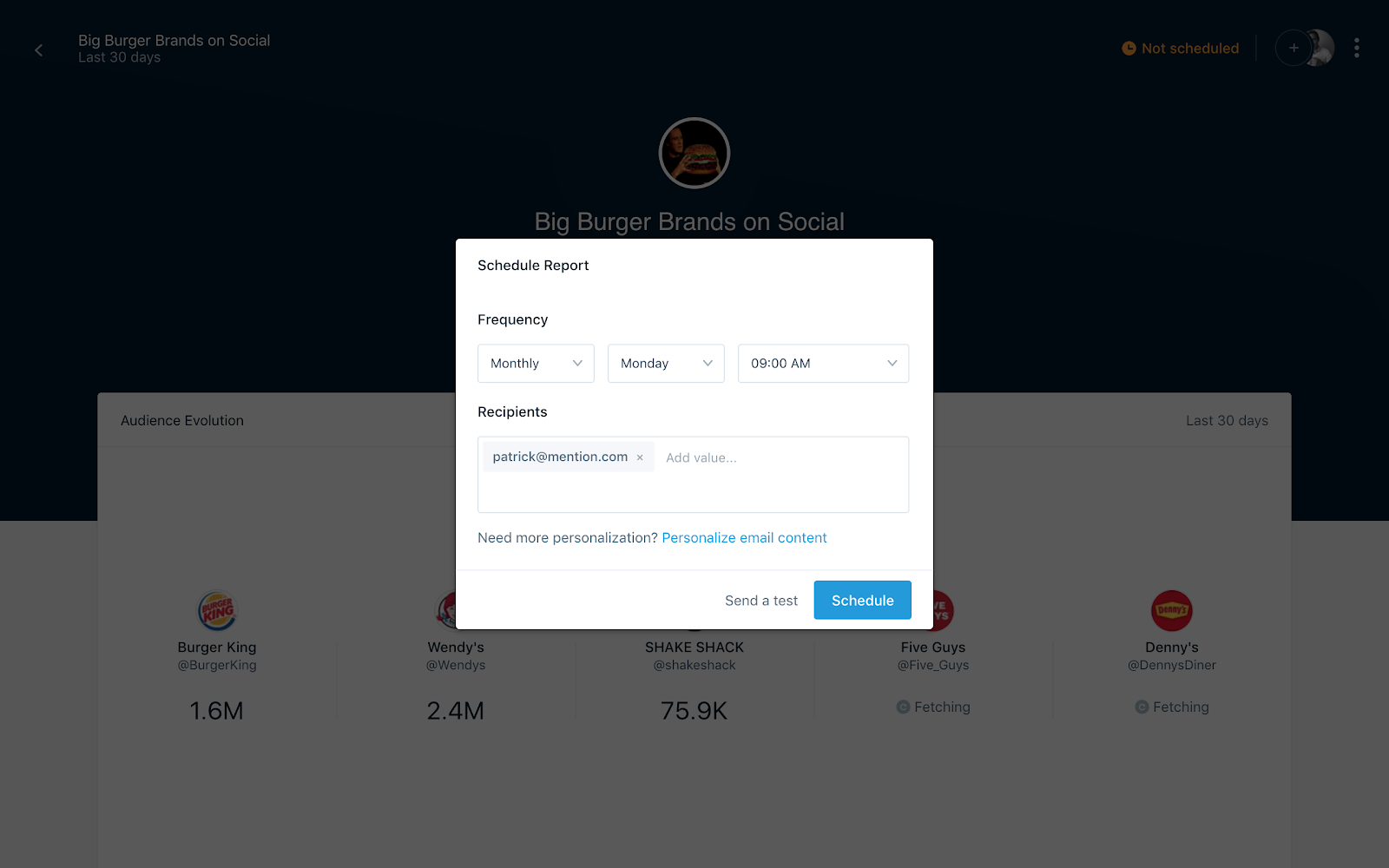 Now, just choose the frequency you prefer, and the email addresses you want to send it to, and you're all set!
This is ideal if you want to report to clients regularly, but don't want to waste time pulling together reports each week. And even better if you're the kind of person who's likely to forget (guilty!).
You can unschedule your report at any time from that same orange clock. And if you just want a one-off PDF report, you'll find that under those three dots in the top right.
Want to learn more?
Like all Mention reports, this new feature is available to Starter and Company plans. You can check out our pricing here.
And as always, if you'd rather just talk to someone directly, request yourself a free demo!