Social media has become an important channel for people to discover and interact with brands. And brands are effectively utilizing the channel to market their products and services. In fact, a study by Aimia has found that 31% of online shoppers are now using social media to look for new products to buy.
So your agency needs to effectively leverage social selling to help meet your clients' organizational goals. You need to reach the audience where they are (i.e. social media) and guide them through the purchase process from there.
Check out the following tips that can help you driving better impact with social selling.

Conduct customer research
Customer research is vital if you're going to do social selling right. The more you know who you're selling to, the better you'll be able to create and market content that will appeal to them. You can conduct customer research in a number of ways.
For instance, you can join relevant groups on LinkedIn and Facebook to see what people are talking about in your client's industry.
The content that your clients share on social media can significantly aid their social selling efforts. If they share content that their audience actively engages with, there's a better chance for of converting them.
So, you need to analyze which types of content seem to be doing well for them. And help them optimize their content strategy based on that.
Use tools like BuzzSumo to discover the top-performing content and trending topics in the relevant industry. This will help you understand just what type of content the target audience will be interested in.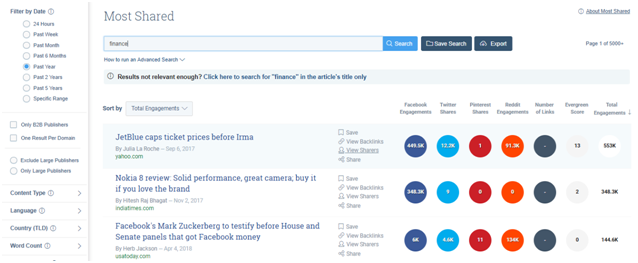 And you'll be able to help your clients optimize their social content strategy through these insights.
Streamline client communication and management
As an agency dealing with multiple clients, it can get pretty difficult to manage and run each campaign effectively. This is where social media management tools or platforms can come in handy.
Tools like Zoho Social, for example, allow you to manage up to 25 client portfolios per account.
This platform also allows you to collaborate effectively with clients by providing them with a customized dashboard. You can communicate with your clients directly, eliminating the need for back and forth emails.
You can also white label your reports and automated emails with your agency logo or branding instead of the Zoho branding.
Additionally, you can track every engagement with your client's social media content and respond to comments directly from the tool. You can even switch between different client dashboards with a single click. It also gives you a lot of flexibility to schedule and publish content for your clients on their social networks.
You can also analyze the performance of posts and adjust your strategy accordingly.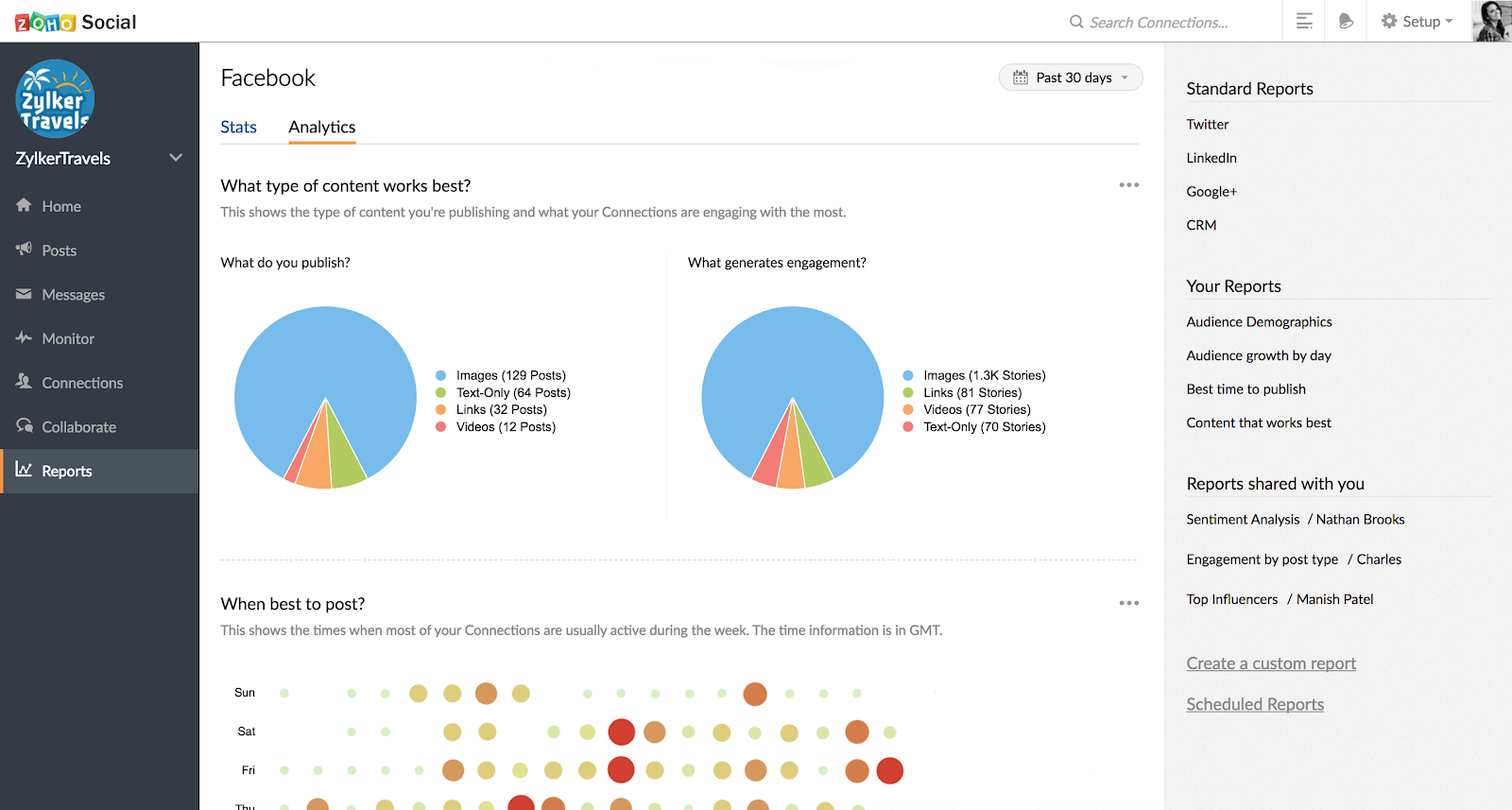 Social selling has a lot to do with timing. By delivering content at the right time, your clients could significantly improve their chances of reaching and engaging their audience.
And when the audience interacts with their content, there's an increased possibility of convincing them to make a purchase.
Streamline client reporting
Your agency can have a simpler time assisting clients with their social selling efforts if you streamline the whole client reporting process. Get a single dashboard that will let you manage data from multiple clients and data sources.
This will help you keep track of what is going on with each client's social selling efforts and social media marketing campaigns.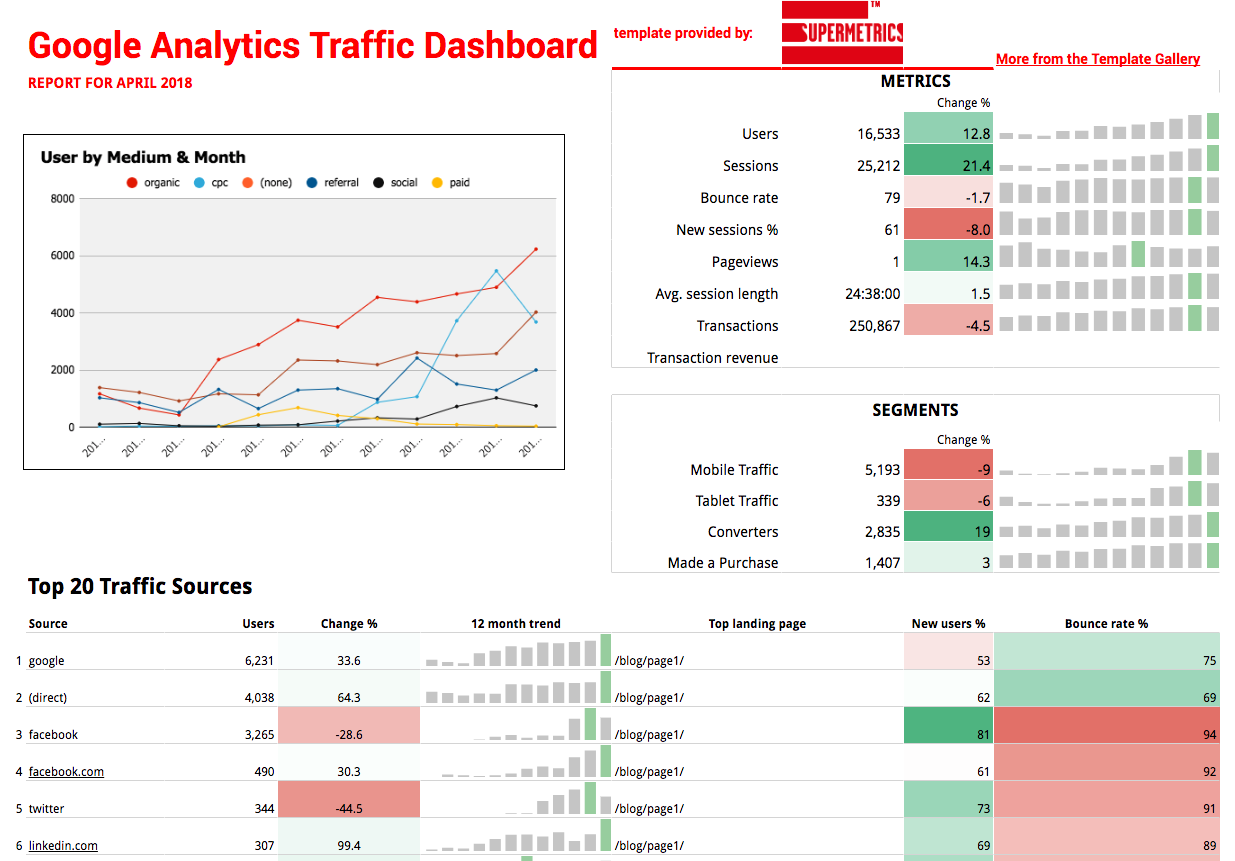 Platforms like Supermetrics are excellent for this, as you can collect data from multiple Google Analytics accounts. You can then link this data to other sources of data such as Facebook, Twitter, LinkedIn, etc.
So you can easily keep track of how your clients' social selling efforts are paying off, and make changes and improvements as required.
Set up a social advocacy program
Referrals play an important role in influencing people's purchase decisions – for both B2B and B2C consumers. According to a Twitter and Annalect study, 56% of users rely on recommendations from friends and 49% rely on recommendations from Twitter influencers.
And colleagues and peers are the top source of information for 42% of B2B consumers in a DemandGen survey.
So in order to help your clients make a bigger impact with their social selling efforts, you should have them set up a social advocacy program. This is to encourage their customers to recommend their brand and products with their social media followers.
They could set up a reward system in which customers can accumulate points, get discounts, or win prizes in exchange for a social share.
You could use tools like SocialReferral to set up employee advocacy programs. Using tools such as these, your clients could encourage their employees to share news and content related to their company and industry with their social media followers.
This could significantly improve their social selling efforts because, as established earlier, recommendations from real people can influence purchase decisions.
Look for queries about your clients and their product category
While most people use social media to interact with friends and celebrities, some may use it to talk about brands they like or dislike. Some may vent about their bad experiences with a brand or rave about their exceptional experiences.
Others may even use social media to ask for recommendations from friends before they make a purchase.
In other words, social media is a channel where people start and engage in conversations about different topics. And it is your job to monitor these conversations when it's about your clients, their competitors, and their industry.
The goal here is to ensure that your clients can easily participate in conversations to boost their social selling efforts. They could provide useful advice that will guide people's purchase decisions.
This is essential because your clients' responsiveness could significantly improve how people feel about their brands. In fact, a Sprout Social study discovered that 48% of consumers would be more willing to purchase from a brand that is responsive to customer queries on social media.
Try to discover conversations in which people are looking for recommendations and asking relevant questions related to your client's product category. You should also look for posts in which people are talking about or asking questions related to your clients or their competitors.
Mention is an excellent tool for this monitoring process. You can easily monitor conversations about certain brands and industries. And you can even view conversations that are more important than others i.e. conversations that seem to attract a lot of attention and engagement.
This will help you understand what to prioritize.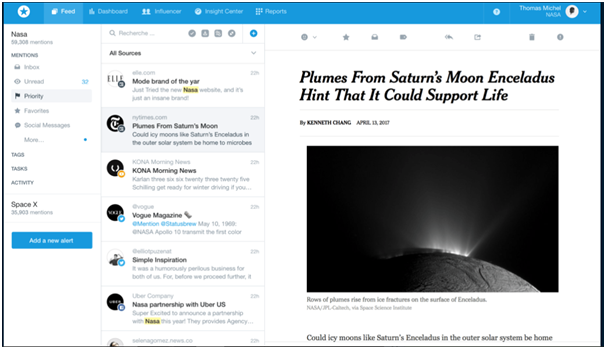 In addition to simply monitoring brand mentions, you should conduct searches on intent to purchase terms such as "looking to buy" or "planning to buy." This will help you discover people who are further down the sales funnel, meaning they are closer to making a purchase.
Finding posts such as these could help you discover opportunities to inspire the user towards a purchase.
You could offer them a discount voucher, for instance. Or you could highlight some of the ongoing deals available with your clients.
This could compel many users towards completing their purchase since they will be getting something in return.
Focus on solving customer issues; not on a sales agenda
Blatant promotion of your clients' products or services could negatively affect their social selling efforts. Instead, social selling should focus on helping their customers. It should answer customer questions such as what the solution or product can do for them and how they can be sure it's the right fit for them.
This would involve responding to the comments and questions they leave in social media posts and inboxes. It also means providing them with content that will actually solve their specific problems or that answers their questions.
42% of consumers in the previously-cited Sprout Social study also said that they're prompted to purchase from a brand that provides them with educational content. So you need to help your clients optimize their social content strategy in such a way that they address their customers' pain points.
You could use your previous monitoring efforts to understand the kind of problems people are facing in your client's industry. And you could encourage clients to create content that will address those problems. Find out what kind of questions people are asking, and then promote content that will answer those questions.
But it's not enough that you simply create content that will help customers. You also need to deliver it in a format that customers will find engaging. Your clients could experiment with different content formats such as blog posts, infographics, live videos, webinars, etc. to provide their customers with educational content.
You never know which content format would be most engaging for your audience, so don't hesitate to try new things. Additionally, you should help optimize your clients' social selling strategy in such a way that they can effectively cater to the unique needs of different customer personas. This could involve creating different social media profiles dedicated to specific interests or categories.
For instance, Deloitte runs multiple Twitter accounts for their different customers. They have accounts dedicated to analytics, digital consultancy, government services, and more.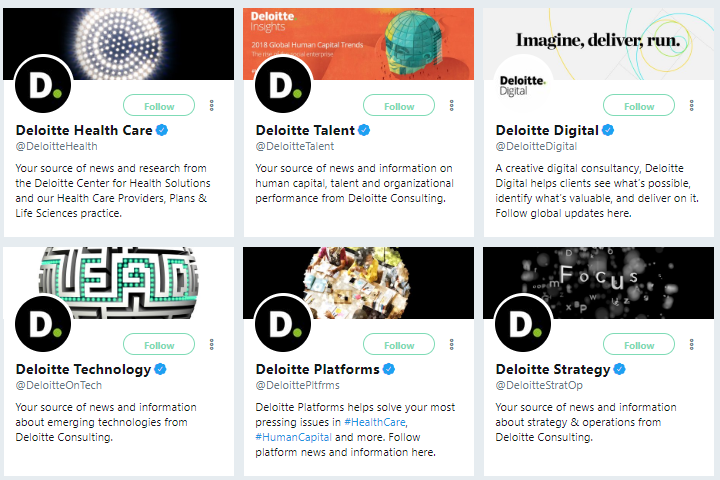 Conclusion
These are some of the best ways in which agencies and teams can help their clients drive better results through social selling.
There is a lot of research involved, and you will need to gain a thorough understanding of the audience you're trying to reach to deliver good results.
Got any questions about the tips provided here? Let us know in the comments.