Everyone knows to keep your friends close and your enemies closer. It doesn't matter what industry you're in, you should keep track of your main competitors.
To beat the competition, you should spy on your competitors' every marketing move. Using an SEO competitor rank tracker, tracking competitors' search rankings, content, social mentions, emails, and anything else they do to boost a business can provide crucial insights.
What's helpful to them can be helpful to you. Here's how: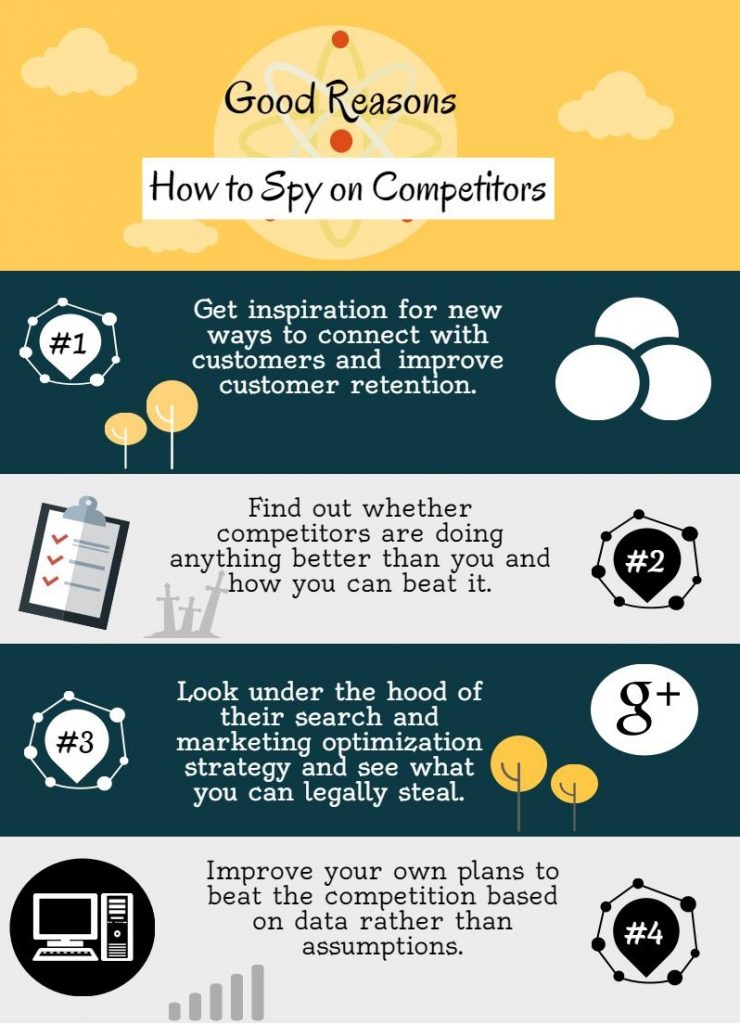 There are tons of SEO tools that monitor not only your website performance but also that of your competitors. The good news? You probably already use them for other stuff.
Tools for SEO competitor analysis
For awesome competitive intelligence, add these SEO competitor analysis tools to your marketing stack:
#1. Alexa – monitor traffic
Alexa, one of the best SEO tracker tools, allows tracking global web traffic of your own and competitor websites."Information is power," and Alexa is one of those must-have tools that you can use to transform data into competitive value for your business.
If you have the Moz toolbar, it will show you any website's Alexa ranking. It lets you spy on your competitors' backlinks, traffic, keywords, etc.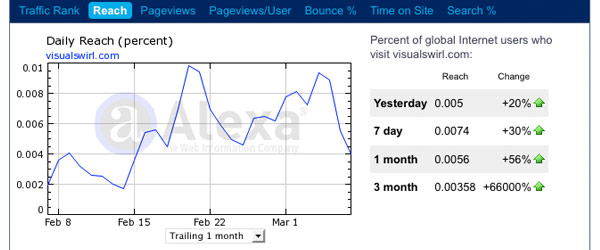 How to best use this tool: It is interesting to compare similar websites in your niche: get data on international competitors and website rankings for an overall picture.
#2. SE Ranking – track rankings
SE Ranking, an effective SEO competitor analysis tool, helps you monitor competitors' search rankings on any engines and target regions, up to five projects per website.
You can get detailed reports on main competitors, including data on their average positions, traffic forecast, and website visibility. You can also gather data for the first page of any tracked query and ordered them by visibility.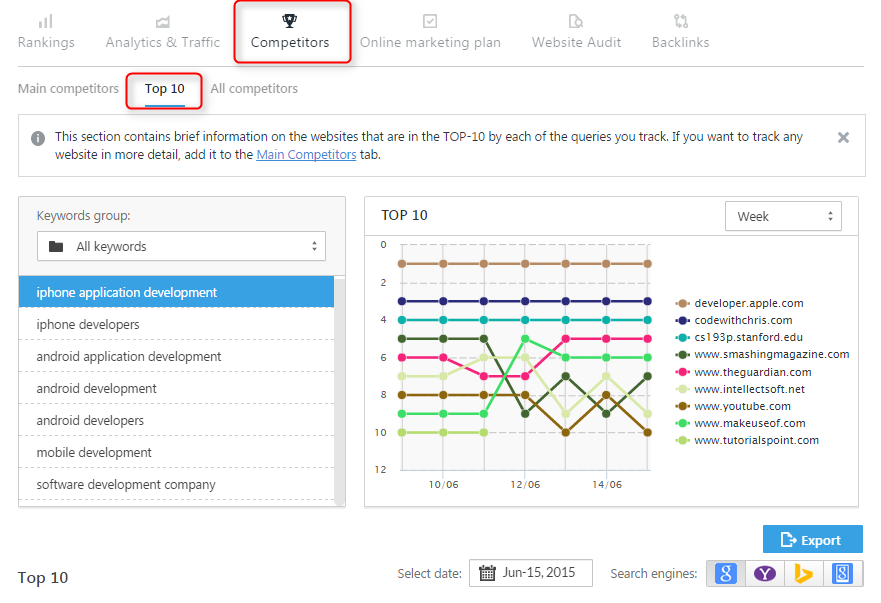 How to best use SE Ranking: The tool gives brief information on the top 10 websites for each of your queries. If you want to track anything in more detail, add it to the 'Main Competitors' tab and track for getting more details.
#3. InfiniGraph – watch social media trends
InfiniGraph tracks trends in social media circles. It's one of the competitor analysis tools that combines consumer-to-brand interactions in real time.
With Social Intelligence, you can easily pay attention to the most powerful influencers and content for a successful campaign.
How to best use the tool: InfiniGraph allows tracking social media trends of your competitors in your niche and gets insight into your target audience. InfiniGraph is not social listening (it's keyword-based Social Intelligence and ranked social activities by the 'relevance' factor).
#4. Monitor Backlinks – look at backlink profiles
Monitor Backlinks, a new SEO analysis software, has already earned a great reputation. You can track various competitors' backlinks, disclose negative backlinks, and find quality ones.
Check out this helpful blog post to learn more about how to generate high quality links.
It can help to analyze the backlinks of bloggers and webmasters in your field to build up your own link building strategy, build quality links from your competitors, and write link bait content.
You can also estimate the traffic increase based on keyword positioning and efforts to boost good backlinks to a certain website.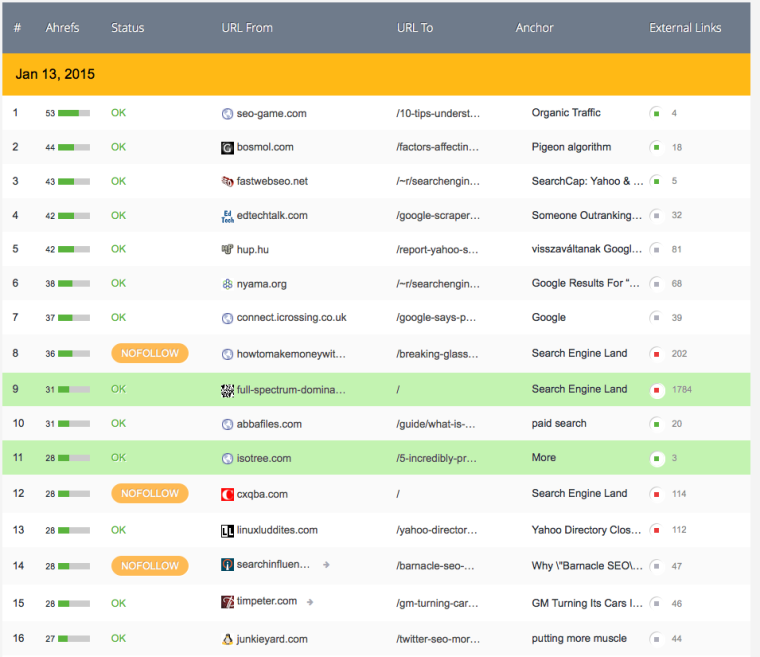 How to best use Monitor Backlinks: You can easily check out new links from your competitors, analyze good and bad links, get an overall SEO snapshot, compare the results, and build up a new marketing strategy.
#5. SpyFu – view competitor keywords
SpyFu is one of the best SEO competitor analysis tools that let you view all data on competitors' keywords in both organic search and Google Ads – and get even more related keywords. You just need to add competitors' keywords and get an overall view of their strategy.
How to best use SpyFu: You can easily get a list of keywords that your competitors are targeting in organic search and AdWords. This is a good tool to research niches, new keywords, and plan tests.
Pro tip: View the destination URL for each ad in order to see how the competition is utilizing landing pages.
#6. Open Site Explorer – monitor backlinks
Open Site Explorer is a well-known and easy-to-use tool from Moz that helps to monitor backlinks. Not only can you follow all competitors' backlinks, but use that date to improve your link building strategies. What's great here is how much you get – data on page and domain authority, anchor text, linking domains, and compare links up to 5 websites.
How to best use this tool: You can easily check out what links you competitors have, compare their link profiles with your links, and boost link building strategies.
#7. Moat – find where ads are running
Moat is a multifunctional tool for advertising industry. With it, find out what ads are running for different websites and top brands. You can view the places and size of recently displayed ads and Moat provides a step-by-step guide on where to place your own ads.
How to best use Moat: You can enter the brand names of the competitors you want to spy on and get an overall report of the display ads they're running.
#8. iSpionage – track keywords
iSpionage, one of the powerful competitor analysis software, makes it easy to see what your competitors are doing organic search. It has a set of tools that includes SEO competitive research, social monitoring, and keyword tracking.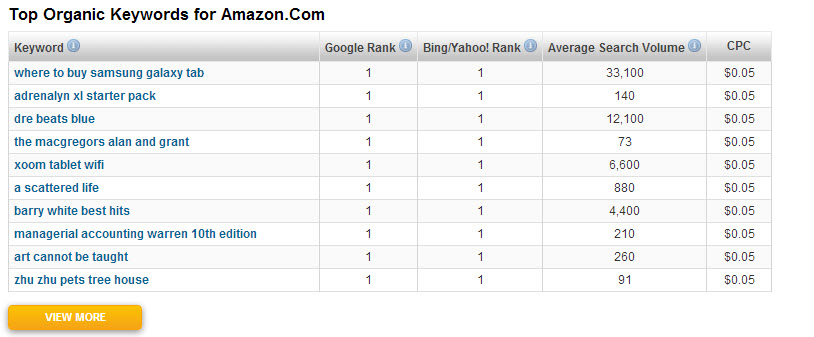 How to best use iSpionage: This tool allows you to enter competitors and check out the best keywords for organic and PPC, how much they spend on both, and see the most effective ad copy. Then it provides comparison graphs for you – no number crunching necessary.
#9. Followerwonk – analyze Twitter followers
Followerwonk analyzes any Twitter profile for free to boost your Twitter marketing strategies. It provides a wide range of details, like recent tweets, bios, locations, and the authority of followers, to get the overall picture of your competitors' Twitter presence.
How to best use Followerwonk: You can optimize your Twitter presence through the analysis of competitors' followers, location, tweets, and content. The best feature is finding users by keyword and comparing them by metrics like age, language of the followers, and how active and authoritative they are. You can also view the progress of your growing, authoritative followers.
#10. Simply Measured – curate social data
Simply Measured, a leader among SEO analysis tools, helps you to find out how your competitors are doing on trends, branding, traffic, conversions, and more.. You can get to access 35 different reports on competitors.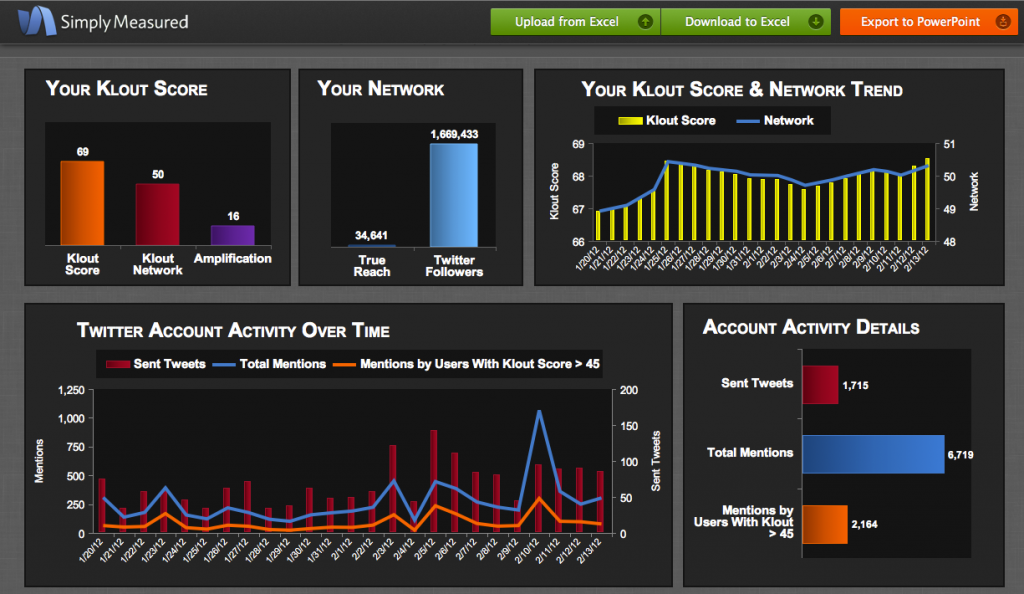 How to best use Simply Measured: The tool gives you a detailed competitive analysis for each network. You can also figure out which competitor strategies work, thus, and which you can beat them at.
You will also see a detailed comparison of all the most important stats like as engagement, follower change over time and average response rates.
#11. Complete PRO – get demographic info
Compete PRO is considered a "digital intelligence" tool, used to track passive online consumer behavior, seasonal trends between competitors, and demographic information (you should register your site to check this info).
How to better use Complete: Complete is best used for data visualization – it makes comparing and presenting data easy.
#12. Quantcast – view audience insights
Quantcast helps get you get to know potential clients via detailed reports on: demographics, lifestyle and interest affinities, website, audience insights, and conversion level.
The reports give you a clear understanding about your audience, help to improve your marketing plans, and make your media campaigns effective.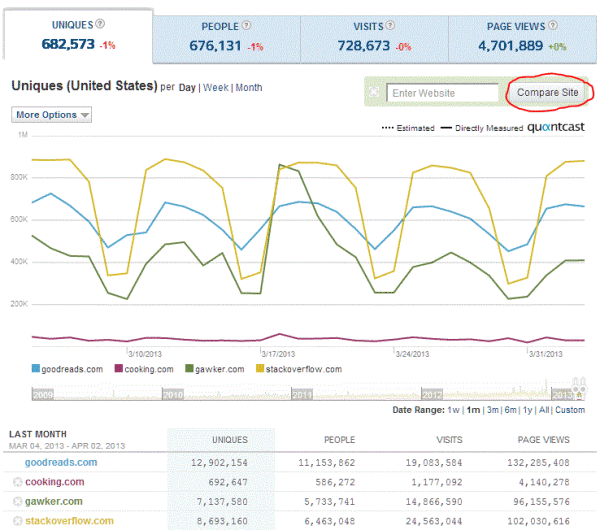 How to best use Quantcast: It's most useful for providing traffic figures based on demographic data to better target your audience in your campaign. Make sure to compare your data against that of your competitors.
#13. SpyOnWeb – see behind the curtain
SpyOnWeb is a well-known tool that's easy to use. It allows you to figure out which websites belong to the same website owner. It provides all information related to the entry on one page, collected from publicly available resources.
How to better use SpyOnWeb: You can gather all information about IP addresses, Google AdSense IDs, Google Analytics IDs, and Yahoo Publisher Network ID. Just n enter the domain URL and you will get results of all IP addresses and a list of domains with the same IP address.
#14. Ontolo – for content marketing
Ontolo is a good tool for backlink monitoring and content marketing. It assists with determining good content topics, finding authors to reach out to, and improving your link building strategies.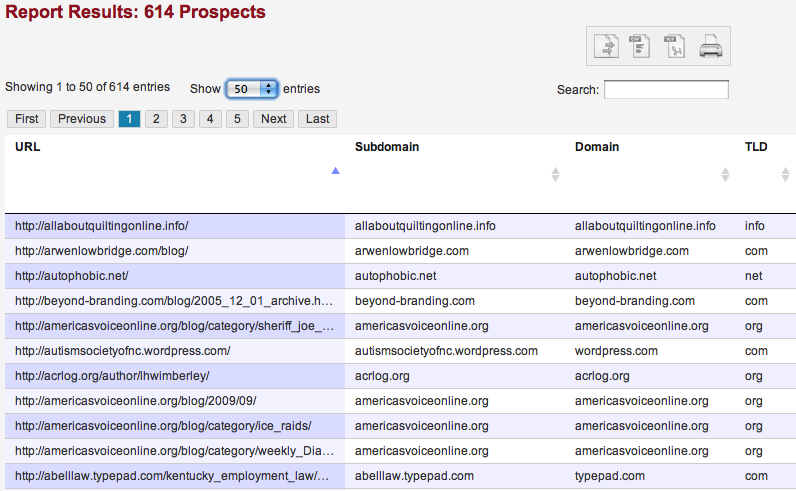 How to best use Ontolo: I really like the idea of filtering out links that can be a waste of time, and finding authors who link to your content. Thanks to Ontolo, I learned how to find the right keyword for a given page.
#15. [Editor's Pick!] Mention – find real-time links and coverage
Okay, you caught us sneaking ourselves in here.
Using media monitoring for competitive analysis lets you track all websites talking about any keyword. By setting up alerts in Mention, you can find get real-time alerts when other websites link to your competitor.
But you can also monitor the websites just talking about your competitor or their products, yet not linking to them. This tells you they're interested in your niche, so you may be able to beat your competitor to the backlink.
How to use Mention better: Head over to the influencers dashboard to quickly sort the websites in your results by influence and Alexa ranking to see which backlinks are probably providing the most value.
FAQs on SEO Competitor Analysis Tools
What is the best SEO tool for competitor site analysis?
Well, it's like choosing your favorite ice cream flavor – it can vary based on what you need at the moment! But many digital marketers, including me, love SE Ranking. It lets you sneak a peek at your competitors' search rankings across various search engines and regions. You get to see their average positions, traffic forecast, and even the visibility of their website. Pretty neat, right?
What are competitors in SEO?
Imagine you're in a race, and the other runners are trying to reach the finish line (read: the audience) just like you. In SEO, these fellow racers are your competitors. They're in your industry, they're fighting for the same keywords, and they're all about snatching your target audience's attention.
How do I find competitors SEO keywords?
Ever wish you had a magic ball that lets you see your competitors' secrets? Meet SpyFu. It's the next best thing. Enter your competitor's URL into SpyFu, and voila – you get to see all the keywords they're dancing with in both organic search and Google Ads.
How do you analyze competitors keywords?
Picture this – you're a detective, and you're trying to crack a case. In this case, the case is your competitors' keyword strategy. A tool like SpyFu is your trusty sidekick. Feed it your competitor's website URL, and it will spill the beans about the keywords they are wooing. Then, it's all about investigating – how often do they use these keywords? Where do they place them? How do they use them in their content?
Why should I use an SEO competitor rank tracker?
An SEO competitor rank tracker is like your compass in the vast SEO ocean. It shows you where your competitors are – their rank in the search engine rankings. This knowledge is gold, trust me. It tells you what they're doing right (or wrong) to be where they are. It gives you something to aim for, or even better, outrun.
Are there any tools that help with social media monitoring?
Oh, you bet there are! One of my favorites is Mention. It's like your ears on the ground in the digital world. You get alerts when other websites are talking about your competitors. This can give you some valuable dirt on what your competitors are up to on social media.
How can competitor analysis tools improve my SEO strategy?
Imagine having a sneak peek into your competitors' playbooks. That's what competitor analysis tools do. They give you the low-down on what your competitors are up to – their hits and their misses. All this intel can help you make your SEO strategy more targeted and effective. Whether it's discovering new keywords, understanding the science behind link-building, or figuring out what type of content works best, these tools can give your SEO efforts a serious boost.
Get started with SEO competitor analysis
I should mention that there are a lot of SEO competitor analysis tools worth using. Make sure that any tool you consider has a free trial. It's important to make sure it works for your team's specific goals.
Take the time to research different SEO tools to determine which one best meets your team's needs.
If you can't find one, contact the company and ask for a test period. You'd be surprised how many companies can give you a free trial, and even offer to extend it in case you need more time to evaluate the service.
What tools do you use to spy on your competitors? Have you ever used the tools that mentioned above? Share your thoughts in the comments below.